Citroen C4 Grand Picasso Exclusive 2014 review
There's a new master in the seven-seater class, adept at carting children and chattels. Can 250,000 buyers a year be wrong?
What we like
Appealing design
Clever interior
Dynamics
What we don't
No third row airbags
Pricey options
Less spacious than Odyssey
What we like
Appealing design
Clever interior
Dynamics
What we don't
No third row airbags
Pricey options
Less spacious than Odyssey
There's a new master in the seven-seater class, adept at carting children and chattels. Can 250,000 buyers a year be wrong?
Yes. They buy compact SUVs in the lemming-like mindset that it's a family car. Compact SUVs proliferate yet there's not a single outstanding example, because it's inherently compromised, a cross of small hatchback and off-roader that typically has the limitations of both and the assets of neither.
If you've the least regard for those genetic replications of yourself in the back, buy a people-mover. The only real limitation of such a vehicle is its label. Yes, they can move seven (sometimes eight) people in varying degrees of comfort.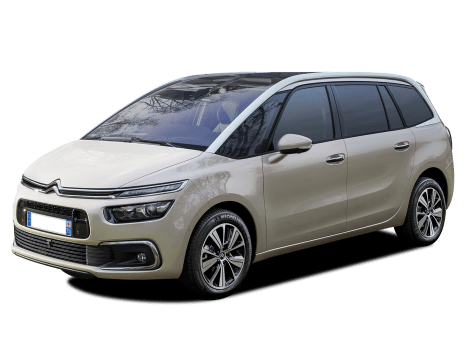 Explore the 2014 Citroen Grand C4 Picasso range
Yet a people-mover's great attraction is versatility. You can have seven up, just the driver or untold combinations of human and/or inanimate cargo. Nor are "people-movers" merely family cars. Anyone whose recreation necessitates large pieces of expensive equipment need look no further. Europeans call them MPVs - multi-purpose vehicles - but do we need another acronym? So Citroen's Grand C4 Picasso, released this week, deserves recognition beyond its Francophile devotees.
Value
At $43,990 before options (of which there are few), it looks compelling, as would a still taller price tag from this driver's seat (which is slightly elevated and so another reason not to delude yourself with an SUV). The instrument display is singular in the Citroen fashion, its form firmly functional. Standard fixtures include 12-inch high-definition screen augmented by a seven-inch touchscreen with multimedia controls. Only last year did a similar setup debut in Benz's flagship S-Class.

The entry price includes blind spot warning, 17-inch alloys, lightweight motorised tailgate, satnav, park assist and - most impressively - rear-view and 360-degree camera. The $2K Drive Assist Pack brings lane departure warning, smart headlights, active cruise, anti-collision warning and active seat belts.
Technology
The diesel, the sole engine, is the first oiler to earn five stars in the Green Vehicle Guide - even if the eye-widening 4.5L/100km (on standard 17-inch wheels) achieved in official testing will seldom be realised in the six-speed automatic (with a torque converter) drives the front wheels. Despite carrying the C4 designation, the Picasso rides on a new platform and weighs in a good 100kg less than its predecessor - at 1440kg, it is no heavier than most family devices.
Design
The various European awards it has accrued already largely recognise the Picasso's little touches, which are myriad and borderline genius. There are dual rear-view mirrors (the smaller one aimed at miscreants seated behind), vast storage spaces including an illuminated one under the central column with outlets for phone et al.

The gear shifter is angled northeast of the steering column so you won't be forever knocking it into neutral al la Mercedes. Cop the torch inside the rear compartment and - of course - the versatility afforded by flat-folding the second and third-row seats.

Then there's the stuff you stumble upon later - underfloor storage for the second row means iPads won't be stamped on and unfinished food will rot to compost. Few of these fixtures are unique but the way in which they're seamlessly integrated is. There's the family car then there's this one, almost redefining that notion. Hard to think the great artist, whose name adorns the tail, would not have been taken with it.
Safety
To the formidable array of cameras and alarms, add crashworthiness. The European safety agency's five-star award includes 88 per cent for child protection.
Driving
The practical motif extends to the drive. Stylish and clever though it is, dynamically the Picasso is filed under "device". What of it? Our test drive taxes it with no greater weight than two upfront but it's hard to see how this drivetrain will labour under load. It's quick to summon all 370Nm at the flex of your foot or, if that's somehow too slow, by clicking the paddle-shifter.

Avoid the swank of optional 18-inchers. These look hot but a bling family bus is not the last word in style - and they're apt to convey within the noise and feel of coarser surfaces. A Picasso steers with zero effort, though the wheel weights up somewhat with speed. We'll take another look when we can collar rear-seat volunteers. Experience indicates that the more on board the more relaxed and comfortable this construct becomes. Which is rather the point.
Verdict
This burgeoning class of car acquires a new leader. This is one we'd have.
Pricing guides
$16,065
Based on third party pricing data
Disclaimer: The pricing information shown in the editorial content (Review Prices) is to be used as a guide only and is based on information provided to Carsguide Autotrader Media Solutions Pty Ltd (Carsguide) both by third party sources and the car manufacturer at the time of publication. The Review Prices were correct at the time of publication.  Carsguide does not warrant or represent that the information is accurate, reliable, complete, current or suitable for any particular purpose. You should not use or rely upon this information without conducting an independent assessment and valuation of the vehicle.