Opel Astra OPC vs Ford Focus ST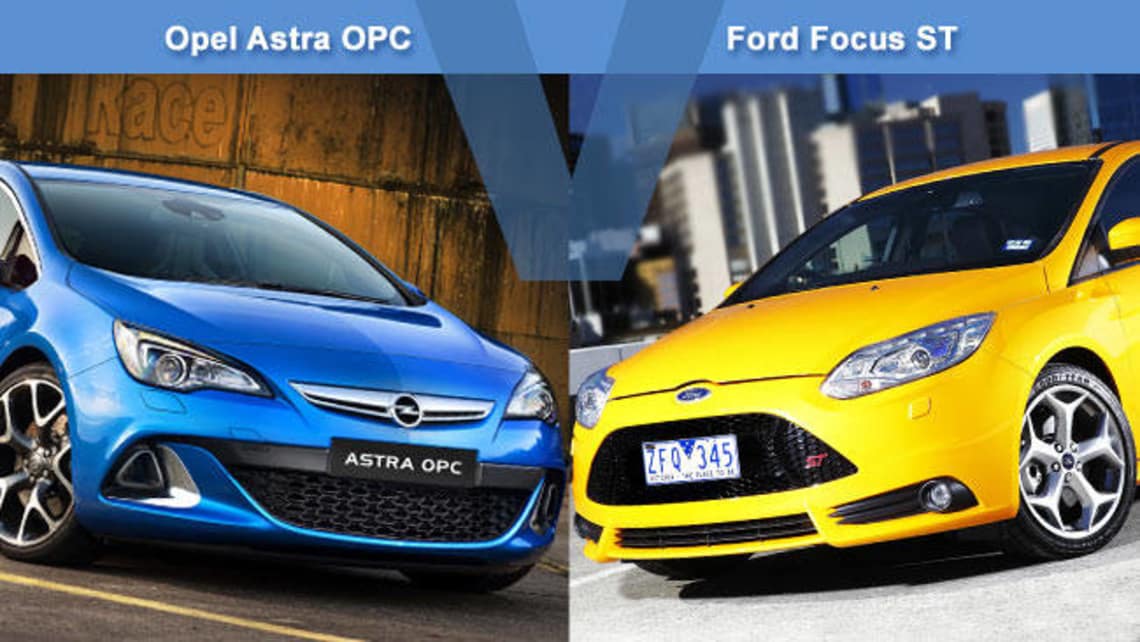 Opel Astra OPC and Ford Focus ST go head-to-head in this comparative review.

Opel Astra OPC
from $42,990
It's plush -- there are satnav, seven-speaker audio with USB, Bluetooth, alloy pedals, auto lights and wipers, Nappa sports seats, slick (but long-throw) six-speed manual, seat heaters, dual-zone climate control, LED interior and tail-lights and 19-inch alloys (with optional 20s).
Ford Focus ST
from $38,290
Sporty Recaro bucket seats (which could adjust a little more), 18-inch alloys, auto bi-xenon headlights and wipers, nine-speaker Sony audio, voice activation for infotainment and dual-zone climate control, satnav, leather trim but (as with OPC) no auto option.
Svelte and muscular, all at once. The three-door lacks the Focus's versatility but it's still practical with a smidge more bootspace. The racing bucket seats are comfortable, with adjustable bolsters to keep occupants in place. Dash layout and controls busy.  
No mistaking this for a standard Focus Sport thanks to central hexagonal exhaust, chunkier alloy wheels and more aggressive front bodykit. Bigger seats erode rear legroom but it's still a versatile little hatch. Dash and controls are too frenetic, almost illegible.
The 2.0-litre turbo four has 206kW/400Nm and is good for a 6.0-second sprint to 100km/h and a claimed 8.1L/100km. The front wheels drive via a tricky limited-slip diff and Opel's HiPer strut front end. Adaptive damping provides considerable lateral grip.
The 2.0-litre turbo four, as fitted to the EcoBoost Falcon, is tuned to 184kW/340Nm (overboost adds 20Nm for up to 15 seconds) and claims 7.4L/100km (of 95RON). The front wheels are kept in check by electronic aids including torque vectoring control.
Kit includes massive Brembo front brakes, three-stage stability control, six airbags, ABS, rear parking sensors (a must-have given the poor vision but no camera -- big fail) and clever front suspension and diff.
ANCAP gives the Focus five stars. Six (dual front, side and curtain) airbags, the above traction and stability aids, rear parking sensors and one of the clearer rear cameras yet seen give it a big advantage over the Astra.
The OPC outmuscles the ST. Its pace is manic, where the Focus is purposeful. Both ride well. Opel's adjustable suspension makes the most of decent surfaces. The steering transmits road irregularities but not annoyingly.
Aural character pairs with considerable and accessible urge to endear the ST. Road manners are compliant and composed. Daily driver duties blend well enough with considerable cornering competence. There's a little torque steer but it's kept on the leash.
Tough split. I'd have either but the Focus's extra doors, rear camera and nicer manners make it easier to live with every day.