Mazda 3 Touring vs Peugeot 308 Active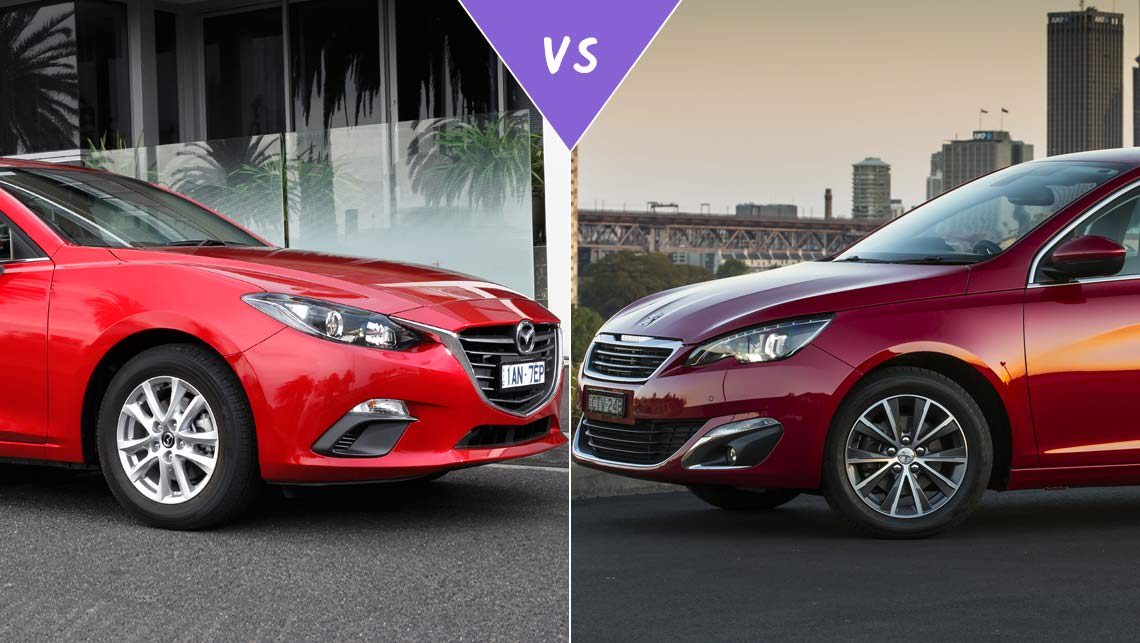 One is a Continental favourite, the other a perennial top-seller down under.
Mazda3 Touring
from $27,490
Aces the Peugeot with satnav, push-button start, reversing camera and leather trim. Smaller infotainment screen and no daytime running lights. Matches the 308's three-year warranty, and has capped price servicing, although 10,000km intervals mean that three years of average driving (15,000km) will involve four services to the Peugeot's three, at a cost of $1356 versus $1219. Resale is superior at 52 per cent.
Peugeot 308 Active
from $27,340
A little short on gear for the price. Highlights include easy to hook up Bluetooth, dual-zone aircon, leather-bound steering wheel, daytime running lights and rear parking sensors. You have to move up the range to get a reversing camera, satnav, park assist, sunroof or leather trim. Metallic paint is optional too. Service intervals are 15,000km and capped price servicing is available for five years. Resale is 47 per cent.
Muscular haunches make for a more imposing presence than previous model. Inside the quality of materials and finishes has stepped up as well, with leather trim and faux carbon fibre. Iinfotainment screen isn't as big or as neatly integrated as the 308, but it's easy to read and navigate.
Conservatively styled for a Peugeot and, as such, likely to have wider appeal. Cabin is classy and uncluttered, with big touchscreen for infotainment controls. Front seats are comfortable and supportive. Rear legroom is a bit tight but headroom is generous, as is the big rear load area.
The 2.0-litre four-cylinder trumps the Peugeot for power (110kW to 96kW) but trails on torque (200Nm to 230Nm). Engine/transmission combination is more refined and the stop-start system less intrusive. Claimed fuel use is 5.7L/100km, but on par with 308 in real world driving.
The little engine that could. The 308's tiny 1.2-litre three-cylinder turbocharged petrol engine is a lively unit that pulls strongly from low in the rev range. Claimed fuel use is 5.1L/100km, although it uses a lot more in heavy traffic. Engine shudders as it shuts down.
Five-star crash rating, six airbags, but adds a reversing camera to the mix. For an extra $1500, buyers can add blind spot monitoring, rear cross traffic alert and automatic emergency braking at lower speeds.
Six airbags, stability control and a five-star safety rating. But more sophisticated crash avoidance technology such as blind spot monitoring or active cruise are available only on the most expensive model.
Near the top of the class as a driver's car. Roadholding is secure, steering is precise and the ride, while firm, is comfortable and well controlled. Road noise has been a weakness and while this new model is a step forward, it still doesn't have the hushed quality of the 308. Seats are comfortable and outward vision is good.
The 308 provides a good balance between comfort and cornering ability. It soaks up imperfections in the road with little fuss, although it can skip a little over mid- corner corrugations. The steering is accurate and nicely weighted, while the sporty steering wheel will please enthusiasts.
A comfortable win for the Mazda over Europe's Car of the Year, based mainly on value and a more refined engine-transmission combination