Chrysler 300 SRT8 Core vs Holden Commodore SS-V Redline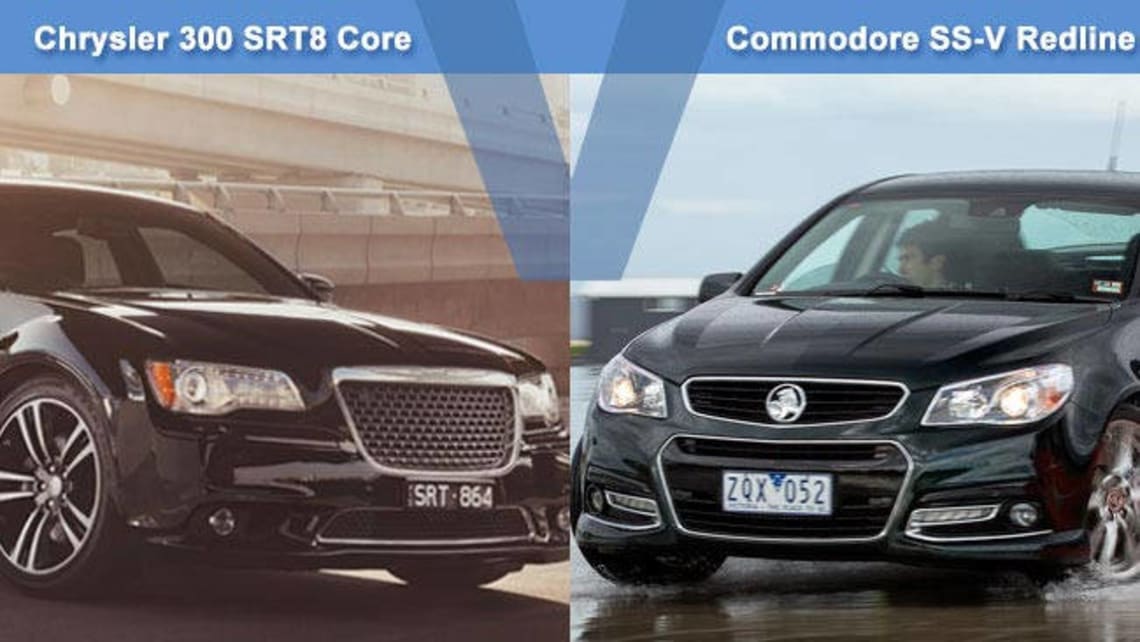 Chrysler 300 SRT8 Core and Holden Commodore SS-V Redline go head-to-head on this comparative review.
Chrysler 300 SRT8 Core
from $56,000
The features list deletions might deter some. It still has a decent audio, satnav, Bluetooth and USB inputs, leather-wrapped sports helm with controls front and rear, dual-zone climate control, cloth- trimmed sports seats, 20-inch alloys, dual-zone climate control and comprehensive trip computer.
Holden Commodore SS-V
from $51,490
Keyless entry and ignition, dual-zone climate control with rear vents, sunroof, Bluetooth phone and audio link, the app-equipped MyLink infotainment satnav nine-speaker system, USB input, voice control, multifunction leather-wrapped wheel, alloy pedals, head-up display, electric park brake, cruise control and 19-inch alloys.
The free-revving 6.4-litre V8 (347kW/631Nm) uses 13.0L/100km. SRT Performance pages on the touchscreen give useful info if you like to measure the 1983kg beast's lap times, acceleration or G-forces. There is cylinder dropout function but the five-speed auto is old school (not in a good way) but manual mode is genuine.
The 6.0-litre V8 (270kW/530Nm) gets the lazy cylinder dropout set-up when teamed with the auto, yet combined cycle fuel use is identical to the manual, despite the latter weighing 14kg less at 1766kg. The MyLink infotainment system is useful and straightforward with easy phone integration.
The Yank is bigger in almost every respect than the Holden. That extends to its impact on bystanders. The less slab-sided model update retains the gangsta appeal. The cabin has space for four adults — it would want to be: it's 5m long with 3m wheelbase.
A new nose and tail show global styling themes yet are more appealing. Looking less out-there than the Chrysler, it exudes performance cred, with spoilers, skirts and blacked-out wheels. Ample cabin space and comfort, and user-friendly new console.
Seven airbags, auto adaptive bi-xenon headlights, LED running lights, multi-mode stability control, LSD and tyre pressure monitor. It lacks the collision, blind spot and lane departure nannies, reversing camera and active cruise of the $66,000 SRT8.
Five ANCAP stars. There are Isofix child seat anchors, rain-sensing wipers, auto headlights and LED running lights, forward collision and reverse traffic alerts, front and rear parking sensors, lane and blind spot alerts and rear view camera, but no standard spare.
This is no lumbering leviathan. The conventional suspension rides firmly but adaptive damping is not missed. Cornering is surprisingly agile. Considerable straight line speed is expected, the delightful engine note a bonus. The only let-down is the auto, which could better apply the Hemi's outputs with a couple more cogs.
The Holden has a couple of hundred fewer kilos to move and feels more nimble with light but informative steering. Ride quality from the FE3 sports suspension is a touch more supple than the Core's but both can get the grunt down in short order. It sounds a little too refined for a performance variant.
I'd happily slide behind the wheel of either vehicle for the school run or a track day. The American muscle car has bragging rights with better than 450 old-fashioned horsepower but is hamstrung by the auto. The Redline is more accomplished and punches above its weight.