Audi SQ5 vs Porsche Macan Turbo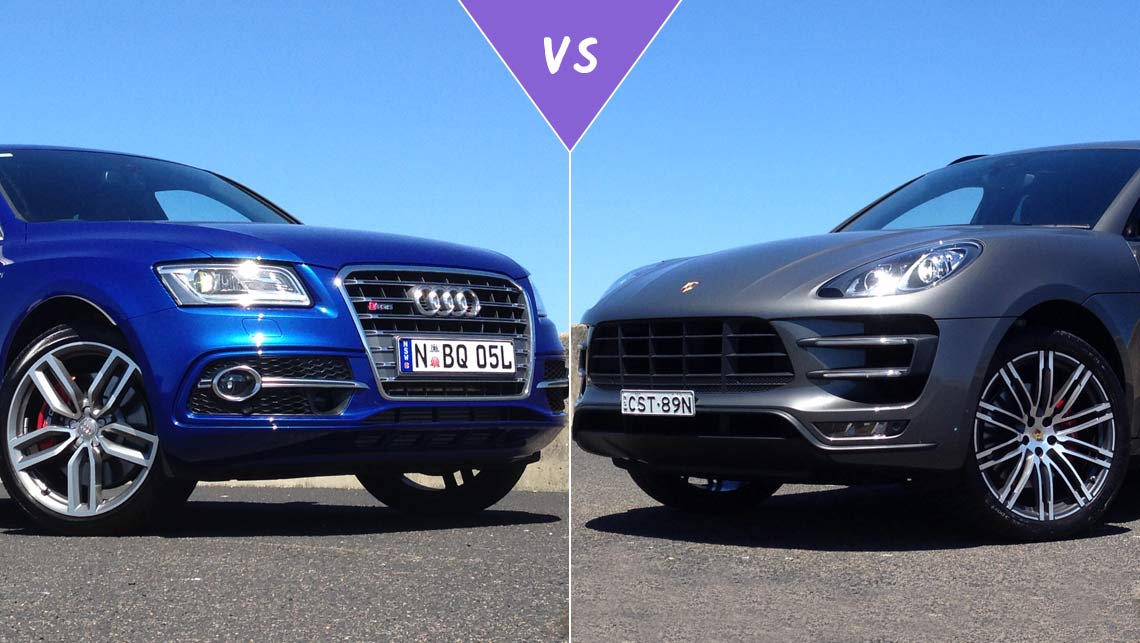 These performance SUVs are twins under the skin - but one is driven by diesel and the other use petrol power.
The $90,600 starting price is a warm-up. On the road it translates to between $100,800 and $104,900, depending on which state you're in, because stamp duty varies. Then there are the options on our test car (including 21-inch wheels, radar cruise control, lane departure warning, premium audio, tinted windows, and auto dipping high beam) which added $13,550.
Porsche Macan Turbo
from $122,400
As with most cars in this price range, the RRP is a tease. On the road the Macan Turbo costs between $134,000 and $137,000. Which is cheap for a very fast Porsche, or expensive for a compact SUV. But $25,670 worth of options blew out the test car's price to $148,000 plus on-roads (close to or in excess of $160,000 drive-away).
The 3.0-litre turbo V6 diesel is tuned for performance (230kW and 650Nm) and delivers a brisk 0 to 100km/h time of 5.1 seconds thanks in part to an 8-speed auto. Fuel economy according to the rating label is impressive (6.8L/100km) given the power but in the real world, around town, it's much less frugal than this (closer to 10L/100km). Servicing is every 15,000km or 12 months.
Porsche Macan Turbo
Engine
The 3.6-litre twin turbo V6 petrol engine (294kW and 550Nm) is a quiet achiever. It blasts from 0 to 100km/h in 4.8 seconds, without the roar one might expect. The V6 makes more of a hissing noise rather than an intoxicating sound, but at least it delivers. The 7-speed twin-clutch auto is a slick operator when you're in a hurry, but around town it can still fidget between gears.
The SQ5 is understated. The fancier grille, LED tail-lights and optional 21-inch wheels are the only giveaways. Inside is classy and functional, if a little plain. If you want to carry cargo, the SQ5 has a bigger boot than the more tapered Porsche.
From the side it can look a like an oversized Mini Paceman but once you've lived with it for a while it really does look gorgeous from any angle. The interior looks a million bucks, and yet the price of the regular Macan starts at less than one-tenth of that.
Comes with eight airbags, stability control and a five-star safety rating. All-wheel-drive provides excellent grip in the wet or dry. A rear-view camera is standard but radar cruise control and lane keeping are optional. Automatic emergency braking not yet available.
Eight airbags and stability control earn a five-star safety rating. A rear-view camera is standard but automatic emergency braking is an option bundled with radar cruise control.
The Audi SQ5 is relatively quiet and refined for such a powerful diesel but it does take some time to adjust to the typical initial delay in power delivery after stepping out of the petrol-powered Porsche. The driver's seat also feels flat and uncomfortable compared to the Porsche. The SQ5 is nicer to drive in day to day conditions, but as we would discover, the Porsche has a much greater breadth of ability.
When I first drove the Porsche Macan I feared it would feel the same as the Audi Q5 with which it shares its core structure. But, as hard as this may be to believe, it truly drives like a Porsche. The seating and steering positions are more comfortable, the grip on the open road (once you're away from the city limits) is astounding, and the optional torque vectoring technology ($3590) helps it stay glued to the road in a way that defies physics.
The Audi SQ5 may be the more affordable alternative as a performance SUV but the Porsche Macan Turbo is in another league.