Audi RS3 vs BMW M2 2016 review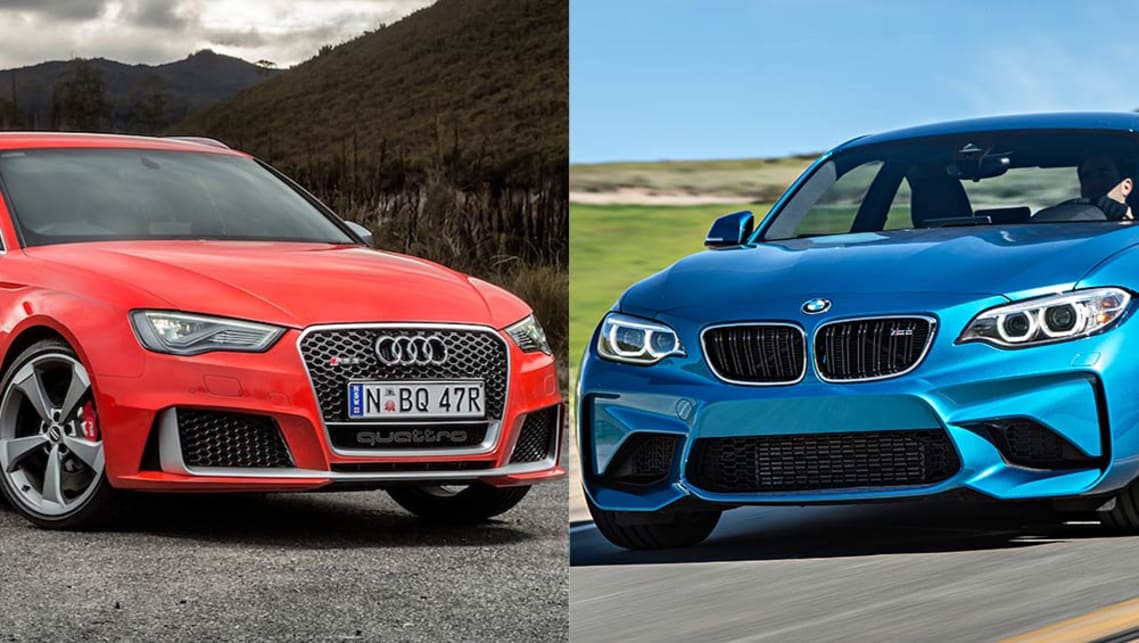 The Audi RS3 is the fastest hot hatch we've tested. The BMW M2 brings backs the company's mojo. But which is the best buy?
The Audi RS3's $78,900 starting price is attractive in this context but there are some options that should be standard, such as adjustable suspension ($1240), radar cruise control ($1420), premium audio ($1340), and collision warning ($540). Even a USB connector is optional! With these and other extras the RS3 tested cost $85,390 plus on-roads.
Compared to a $150,000 BMW M4, the angry ant M2 is a bargain at $98,900. However, alongside the $78,900 Audi RS3 there is a whopping $20,000 price gap (unless you want to drive a stick shift BMW M2 'Pure' at $89,900, still a $10,000 jump).
The Audi RS3 has a more practical five-door hatchback design but it looks anonymous parked next to a BMW M2. Aggressive front bumper and big tail-pipes are among the few clues this is not the base model. The highlight of the simple cabin is the flat-bottom steering wheel from the Audi R8 supercar.
My heart skips a beat every time I see a BMW M2. I can't believe BMW had the guts to turn out such a daring design. Love the matte carbon-fibre interior trim. Loses half a point because design flaws include: no digital speedo, sun visor doesn't extend to block side glare, can't switch off parking sensor beeps even once you've parked.
The RS3 sounds absolutely glorious -- like a Lamborghini V10 (the 2.5-litre in-line five cylinder is exactly one half of the 5.0-litre V10 in the latest Huracan). Almost the same output as the BMW (with 270kW/465Nm) but combined with a seven-speed twin-clutch auto and AWD the RS3 is faster than the BMW M2 in a straight line and out of tight corners.
The 3.0-litre single turbo six-cylinder has plenty of poke (272kW/465Nm) but it's not as quick as the Audi RS3 and more muted. We got 4.8-second times in the 0-100kmh dash in sport mode (BMW claims 4.3 secs in launch mode but this must be used sparingly as it's brutal on the hardware -- and can't be used at traffic lights as it times out after 5 seconds).
Standard fare includes a rear camera and front and rear sensors, and seven airbags (the back seats have curtain coverage but lack side airbags at waist-height) and it earns a five-star crash safety rating. Automatic emergency braking is not available but pre-crash warning, radar cruise control and active lane assistance are available in an option pack.
In addition to 6 airbags it has forward crash alert (but not automatic emergency braking) and lane wander alert (but not lane keeping). Rear camera and sensors are standard. No ANCAP safety rating.
According to Audi, the RS3 does 0 to 100km/h in 4.3 seconds. But in dynamic mode we repeatedly achieved an expletive-inducing 4.0 seconds (using satellite-based timing equipment). It's an absolute missile. The Audi is astonishing in a straight line and more comfortable over bumps -- but the BMW is better in bends.
Perfect balance (50:50 front to rear) makes the BMW M2 feel like an extension of your body. It responds instantly to the tiniest adjustments of the steering, throttle or brakes -- and gets better as you become more familiar with its limits. It requires skill and your full attention to get the most out of the BMW M2, but it's more rewarding to drive than the Audi RS3.
Both these cars make you feel alive. The Audi RS3 is idiot proof, easiest to live with day-to-day and demonstrably faster in a straight line. The BMW M2 is not as much fun in the daily grind but it's a more precise instrument on the open road. It will keep you on your toes every time you drive it.