2020 Great Wall Steed
Pricing and Specs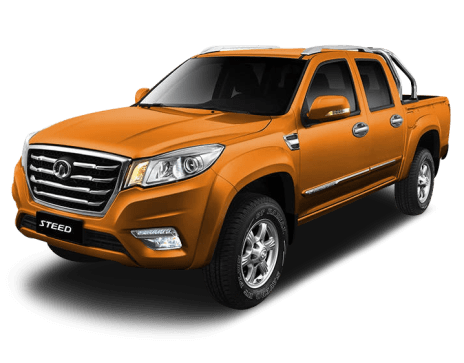 Pricing starts from
$18,990
Based on Manufacturer's Suggested Retail Price (MSRP)
The Great Wall Steed 2020 prices range from $18,990 for the basic trim level Ute Steed (4X2) to $24,990 for the top of the range Ute Steed (4X4).
The Great Wall Steed 2020 is available in Diesel and Premium Unleaded Petrol.
Ute
Great Wall Steed Models
SPECS
PRICE
(4X2)

2.0L

Diesel

Diesel

6 SP MAN

6 speed manual

$18,990

(4X2)

2.0L

Diesel

Diesel

6 SP MAN

6 speed manual

$22,990

(4X2)

2.4L

PULP

Premium Unleaded Petrol

5 SP MAN

5 speed manual

$19,990

(4X4)

2.0L

Diesel

Diesel

6 SP MAN

6 speed manual

$20,990

(4X4)

2.0L

Diesel

Diesel

6 SP MAN

6 speed manual

$24,990
* Manufacturer's Suggested Retail Price
Great Wall STEED 2020 FAQs
Check out real-world situations relating to the Great Wall Steed here, particularly what our experts have to say about them.
Why isn't the central locking system in my 2013 Great Wall Steed working properly?

The most likely answer is that the body computer on your car has a problem. This computer is the one that links all the various functions (and the driveline) to each other, including cruise-control, the instrumentation, lighting, power-windows and, of course, the central-locking.

If the problem is deep within the computer's circuit-board, you may need to swap it for a new one. But before you spend any money, try this: Close all the doors and then hold the lock button down on the remote. Hold it for at least 30 seconds and then see if the central-locking is behaving. If that fails, try disconnecting the battery and leaving the car for at least an hour. What you're trying to do is manually force the body computer to re-set itself. This process doesn't work with all cars, but it does on some and who knows, you might just be lucky.

Show more
Great Wall Steed 2014: Why is the start immobilizer locked?

P0513 is indicating a problem with the car's ignition key, which should have the car's VIN and skim PIN code to deactivate the immobiliser. If you have a spare key, try that. P0 430 indicates a problem with the catalytic converter. There are a number of possible causes for this, it could be fuel system problem, a clogged converter, or a damaged oxygen sensor. Take the car to a dealer and have it investigated.

Show more
Great Wall Steed: Is it a diesel?

Yes, the Great Wall Steed is powered by diesel engines.

Show more
See All Great Wall Steed FAQs
Disclaimer: You acknowledge and agree that all answers are provided as a general guide only and should not be relied upon as bespoke advice. Carsguide is not liable for the accuracy of any information provided in the answers.