Nissan Leaf 2012 review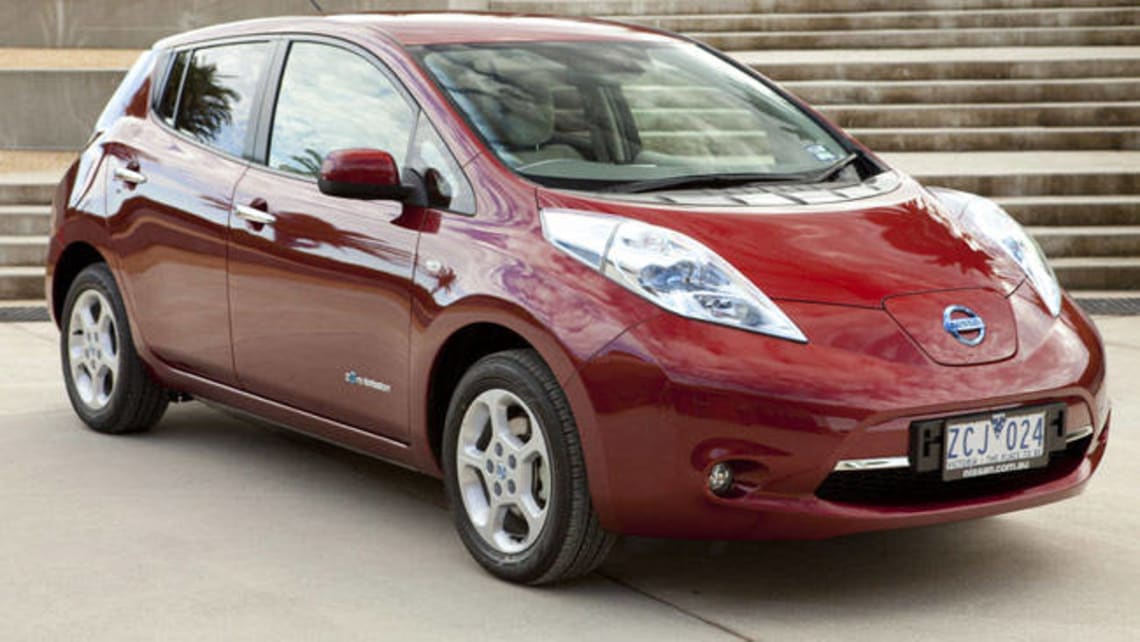 Nissan Leaf is the world's first purpose-designed, mass-production electric car. Australia has become one of the first countries to receive what is potentially the cleanest car of them all.
Value
With a not inconsiderable recommended retail price of $51,500 the Nissan Leaf isn't for everyone, but Nissan Australia is confident it will sell several hundred every year to companies, governments and private individuals keen to do more than their fair share of minimising carbon dioxide output.
Globally, Nissan's midterm plan is to sell as many as half a million Leafs. Economies of scale will help to lower prices, as will better and cheaper batteries. The cost of the battery packs currently makes up about 25 per cent of the price.
The Nissan people we spoke to at the launch of the Leaf are becoming increasingly irritated at the lack of action by Australian governments in supporting electric cars. Assistance could be by direct subsidies, lower registration charges, even simple things like allowing electric cars in transit lanes even when there's just one occupant.
Technology
Mitsubishi's i-MiEV, introduced over a year back, is also a pure-electric car, but is based on an existing petrol model. Though the Leaf can be charged from any normal 10-amp household socket it will take something like 15 to 20 to do so from fully flat. A minimum of a 15-amp setup is suggested.
The latter will charge the car from empty in about eight hours and the installation will cost only a few hundred dollars. Origin Energy has teamed with Nissan Australia to provide fast chargers, These can take a Leaf to about 80 per cent of its charge in half an hour. Nissan expects that locations like shopping centres, fast-food outlets and convenience stores will provide electric car charging free of charge.
Most electric cars will cost only one to two dollars to charge. McDonald's, for example, offers free wireless internet to attract customers and may well do the same to get electric car drivers through their doors. Initially there will be 13 specialised Leaf dealerships in Australia, with more to be appointed later. These will be in all capital cities and on the Gold Coast. Major country cities will follow later.
Design
Interior space in the Nissan Leaf is good for four adults though there's restricted foot room under the front seats due to underfloor batteries being installed in that area. What appears to be good knee-room is rather spoiled by this. The boot is deep, but there's a high barrier containing charging equipment at the back of the boot.
The rear seat backrests fold flat to line up with the height of this barrier so some oversize loads simply won't fit. Careful packing will let you get plenty of normal luggage in there. The Nissan Leaf and other electric cars are chiefly regarded as a way to reduce air pollution, but also having the added advantage of reducing Australia's reliance on crude oil being imported from countries where supply can be erratic.
On the downside, EV's range is still marginal and Australia currently has some of the dirtiest electricity generation on the planet. Owners will almost certainly opt for clean electricity, indeed typically buyers have probably been doing so for several years. It's now up to the governments to use the carbon tax to clean up the electricity generation act.
Driving
We have driven Nissan Leafs in Geneva, Brisbane and now Sydney, the latter being the location for the Australian launch. We have only driven them for about 70 kilometres in total, so aren't exactly experts. We certainly have a good feel for the vehicle. The Leaf accelerates hard and responds in a most satisfying manner to 'throttle' inputs.
When the Nissan EV slows down, and even more so when you use the brakes, kinetic energy is sent back into the battery to be used again. There is virtually no noise from the electric motor and it's not until the Leaf reaches about 40 km/h that you begin to hear tyre noise and the rush of air over the body. Cleverly the outside mirrors have been shaped to push air away from the outside mirrors, so that normal source of wind noise is almost negated.
Verdict
The Leaf has been designed from the ground up as an electric car, with all that means in the way of minimising compromises.
Price Guide
$16,490 - $17,000
Based on 5 car listings in the last 6 months
Price Guide
$16,490 - $17,000
Based on 5 car listings in the last 6 months
Disclaimer: The pricing information shown in the editorial content (Review Prices) is to be used as a guide only and is based on information provided to Carsguide Autotrader Media Solutions Pty Ltd (Carsguide) both by third party sources and the car manufacturer at the time of publication. The Review Prices were correct at the time of publication.  Carsguide does not warrant or represent that the information is accurate, reliable, complete, current or suitable for any particular purpose. You should not use or rely upon this information without conducting an independent assessment and valuation of the vehicle.