Daihatsu Sirion
Pricing and Specs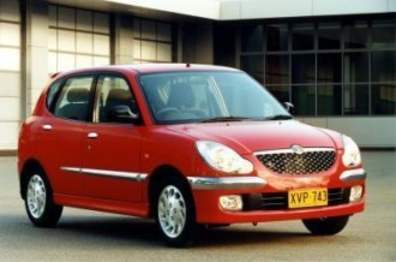 2005
From $2,200
Based on Manufacturer's Suggested Retail Price (MSRP)
1998 to 2004
$2,100 - 4,070
| Year | Price From | Price To |
| --- | --- | --- |
| 2005 | $2,200 | $4,180 |
| 2004 | $2,100 | $4,070 |
| 2003 | $2,100 | $4,070 |
| 2002 | $2,100 | $4,070 |
| 2001 | $2,100 | $4,070 |
| 2000 | $2,100 | $4,070 |
| 1999 | $2,100 | $3,850 |
| 1998 | $2,100 | $3,630 |
* Manufacturer's Suggested Retail Price
Daihatsu Sirion FAQs
Check out real-world situations relating to the Daihatsu Sirion here, particularly what our experts have to say about them.
Back to the Mecanic

IT COULD be the plug leads, or the ignition coil, even a sensor. Have your mechanic check it again.

Show more

Hyundai best for re-sale

The Hyundai would be my bet. They are popular with young drivers and dealers like to have them in their yards for that reason. The fact that it has a bigger engine will also give it more appeal when you come to sell it. The Daihatsu's 1.0-litre engine is a little small and that will hold it back. If, however, you were planning to keep the car longer, I would be tempted to go for the Daihatsu as they have greater reliability than the Hyundai. The Daihatsu seems to be the favoured final transport of older folk who want a reliable run in their last years.

Show more

What happened to temperature gauges?

I think you can safely assume that it's cost cutting, but it's probably a reflection of today's drivers who rarely look at their gauges anyway and wouldn't know what a temperature is trying to tell them. I too prefer a gauge as you see what's happening before it gets to the point of serious damage to the engine, but the red light if observed and acted upon should provide sufficient warning of trouble. Like you I also believe a tachometer is a not needed in most cars.

Show more
See All Daihatsu Sirion FAQs
Disclaimer: You acknowledge and agree that all answers are provided as a general guide only and should not be relied upon as bespoke advice. Carsguide is not liable for the accuracy of any information provided in the answers.