Best driver's sedans for around $40K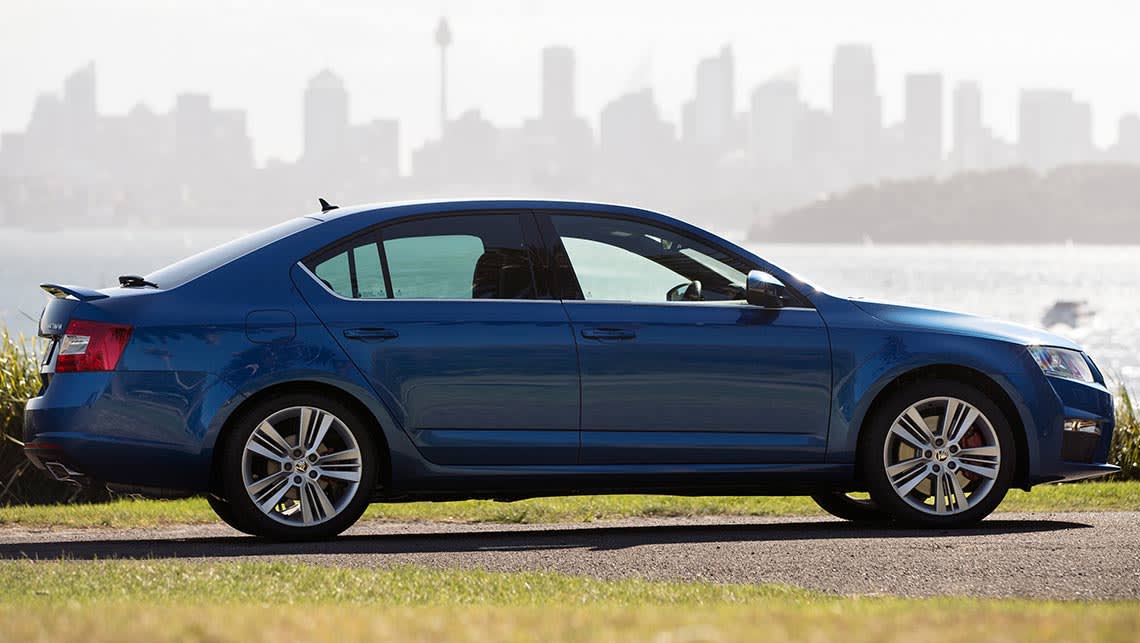 If you transport children from A to B, Monday to Friday, you maintain an air of sensible auto ownership - but with these $40K sedans you can still have a weekend solo drive.
Check for a pulse. If there's still a gentle thump-thump present, that's a good start. Does it rise and fall with the engine revs and surge with centrifugal force in corners?
That makes you a driver, someone who enjoys a ribbon of road and the challenge of smooth, spirited progress. But now practicalities may take precedence and gone are the days of punting a two-seater sports car along inclines and hairpins. Still, the opportunity arises occasionally for taking the long way with only one seat belt in use - yours.
For the school run or Saturday sport, a sedan is the bare minimum requirement for getting the offspring to their destination. The same vehicle can also be used - if equipped appropriately - for a solo drive just to clear the driver's mind. But which $40K four-door is going to get both jobs done?
1. Skoda Octavia RS 162TSI DSG - see other reviews


Skoda Octavia RS sedan. 
Weekday - Still dwelling under the $40,000 mark, the Skoda Octavia RS is a $38,790 proposition in its automatic petrol form and it's the only one here with standard satnav, part of the intuitive touchscreen-controlled infotainment.
The Czech brand's contestant also has a spacious cabin, if not quite as wide as that of the Holden. There's still plenty of space for five and the boot expands to 568L with the split-fold function - it's enormous.
Sadly it misses out on a reversing camera but gets front and rear parking sensors with a clever info-graphic, based on the front wheel angle, to predict the car's path. Daily duties are a little less comfortable in the conservatively styled Skoda - ride quality is a touch firmer than the Holden, though not to the point of discomfort.
The Czech ups the airbag count to nine, adding two rear side airbags. It also has rain-sensing wipers and automatic xenon headlights for well-lit night driving.
Weekend - Just because the front wheels do all the work, it doesn't mean the Skoda handles like a demented dog on lino - the VW Group's drivetrain boffins have applied electronic trickery to keep traction and torque steer in check and make the most of the engine's outputs in the bends.
It's enthusiastic in cornering, with the 2.0-litre turbo four producing a useful 162kW and 350Nm (well-spread for flexibility across the rev range) but it needs 98 RON fuel to generate those numbers. Thankfully, it only drinks at a claimed rate of 6.6L/100km, helped by the least kerb weight and only marred by a touchy brake pedal.
Price: from $38,790 (auto adds $2300) 
Warranty: 3 years/unlimited km 
Capped servicing: 6 years/90,000km, total $2994 
Service interval: 12 months/15,000km 
Resale: 45 per cent 
Engine: 2.0-litre 4-cyl, 162kW/350Nm 
Transmission: 6-speed DSG; FWD 
Thirst: 6.6L/100km, on test 9.9L, 154g/km CO2 Tank 50L 
Dimensions: 4.7m (L), 1.8m (W), 1.5m (H) 
Weight: 1417kg  

2. Subaru WRX CVT - see other reviews


Subaru WRX sedan.
Weekday - Subaru has returned its WRX to sedan form and with constantly variable transmission it comes to $40,990, just breaching our nominal price barrier. The six-speed manual is fine on the right road but for daily drudgery the CVT is a much smoother option.
The Subaru's ride quality is the least suitable here for the patchwork of bitumen masquerading as main roads. If you don't mind being an extrovert then the WRX is a contender - LED headlights, body skirts and bonnet scoops make it stand out a little more than the other two.
The cabin has more room than you'd expect from a first glance at the exterior, only really falling short of the others in rear headroom and the absence of rear vents. Bootspace is the smallest but not restrictive at 460L, and the Subaru also can expand on that with the 60-40 split rear backrests.
The Sube gets the safety benefit of all-wheel drive, reversing camera (but no sensors), seven airbags (the usual six plus one for the driver's knees). The dearer Premium variant adds dusk-sensing lights, rain-sensing wipers and satnav.
Weekend - Here's where the WRX comes firing back into contention - clever AWD and the tied-down chassis generate stupendous grip and drive out of corners, exploiting the turbo flat-four's 197kW and 350Nm. That's Commodore V6 outputs with 158kg less weight, with all that torque spread over a more useful band. The Subaru claims a combined-cycle thirst of 8.6L/100km.
The CVT can smoothly marshal all that urge or the driver can switch to 'S#" (Sport Sharp) mode and use the paddles to change gears. The eight-speed auto is much sharper than previous auto efforts in the WRX - it lives up to its heritage as a very quick point-to-point car.
Price: from $40,990 (CVT adds $2000) 
Warranty: 3 years/unlimited km 
Capped servicing: No 
Service interval: 6 months/12,500km 
Resale: 55 per cent 
Engine: 2.0-litre 4-cyl boxer, 197kW/350Nm 
Transmission: CVT; AWD 
Thirst: 8.6L/100km, on test 12.5L, 199g/km CO2 Tank 60L 
Dimensions: 4.6m (L), 1.8m (W), 1.5m (H) 
Weight: 1527kg 

3. Holden VF Commodore SV6 auto - see other reviews


Holden Commodore SV6 sedan.
Weekday - The cheapest of this trio is also the largest - Adelaide's own VF Commodore SV6, which at $38,690 for a six-speed automatic model is plenty of metal for the money. Completing the daily grind in the Holden is an easy task - its cavernous cabin easily takes five occupants, with enough space in every direction to maintain comfort on the commute.
It's not the biggest boot of this trio at 496L and can't be expanded by way of split-folding rear seats but it takes a fair load of baggage. The SV6 even has an auto start function, which has its advantages on a cold morning to fire up the dual-zone climate control, with rear vents.
The V6 and conventional auto drivetrain lopes through metro mundanities. Parking sensors front and rear team with a reversing camera to assist in tight city parking. Thick windscreen pillars take some getting used to at T-junctions.
Weekend - The big Aussie sedan shrinks around the driver once the other seats are unoccupied - the 3.6-litre V6 isn't the most orchestral of powerplants but power and torque - 210kW and 350Nm - suffice to get it hustling.
It covers ground quickly and easily, with a light but direct connection to the front wheels and suspension that works in the bends without breaking bones - or the bank, given a claimed thirst of 9.0L/100km. The sport mode in the transmission works well enough and there is the option of a manual change for the driver, who will get accustomed to the high-set brake pedal.
Price: from $38,690 
Warranty: 3 years/100,000km 
Capped servicing: 3 years/60,000km $185 
Service interval: 9 months/15,000km 
Resale: 41 per cent 
Engine: 3.6-litre V6, 210kW/350Nm 
Transmission: 6-speed auto; RWD 
Thirst: 9L/100km, on test 13.4L, 216g/km CO2 Tank 71L 
Dimension: 5m (L), 1.9m (W), 1.5m (H) 
Weight: 1685kg
 
VERDICT
The SV6 is by no means a bad beast. A Commodore means lots of car for the money. It is light on its feet yet still has a big-car feel without feeling like a barge in the bends.
Subaru's WRX is a headkicker when fired up in anger - outrageous grunt for the asking price, with a much-improved auto option and that grip - and the super-firm road manner is the sole failing.
My two minions for the day choose the Skoda as the car they'd pinch if all keys were on the table and it's hard to argue with that conclusion.
It lacks the width of the Commodore and the outright grip and grunt of the Subaru, nor is it as overt as the other two in the looks department. The cheeky Czech has plenty of space, pace and poise and can be driven with purpose.
Common kit - All three have: Five-star ANCAP safety rating, Bluetooth phone and audio link, USB inputs, cloth trim, leather-wrapped steering wheel with ancillary controls, direct fuel injection, trip computer, power windows and mirrors and climate control, space-saver spare (Skoda and Subaru)
What's unique - Skoda Octavia Front-drive, turbocharged four-cylinder, twin-clutch automated manual gearbox, satnav, tyre pressure monitor, heated mirrors Holden Commodore SV6 Rear-drive, V6, conventional automatic transmission, remote start, app-based smartphone-compatible MyLinkSubaru WRX All-wheel drive, turbocharged flat four-cylinder, continuously variable automatic