Nissan 350Z 35th Anniversary coupe 2005 review

Perhaps that's the case, but compare the yellow Nissan 350Z Anniversary with a canary and you'd have one very jealous bird.
This is not only because the yellow chosen for the Anniversary model of the 350Z is actually a pearl-pigment paint of exceptional lustre to outshine even a canary, but also because the metal version is one very fast car.
Yet the 350Z — the new 240Z — is a remarkably simple package.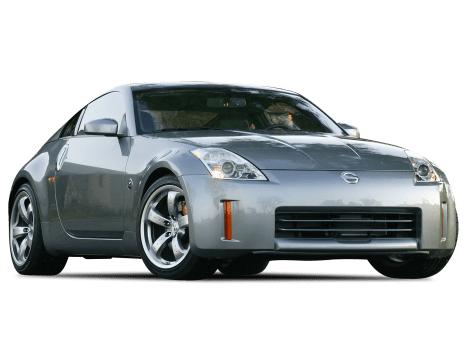 Explore the 2005 Nissan 350Z range
The Anniversary version gets a bit more power, different wheels, a stability program called VDC, black leather interior and Brembo brakes — and the option of yellow.
The 3.5-litre V6 sits at the front, with a six-speed manual gearbox behind it followed by a shaft to the independent rear end.
There's seating for two (only) and very limited luggage space, all wrapped in a sexy body of curves and tapers — in yellow.
Though simple, the 350Z takes to the task of being a thoroughbred sports coupe with aplomb.
On the track, you soon feel its balance and confident manners.
The 350Z has close to neutral handling, though it can be provoked to hang its tail out — but only when the stability program is turned off.
Turn the VDC back on and the electronics restrain the car from sliding, but they're so intrusive as to ruin the fun.
As mentioned, the Anniversary model gets 15kW more than the standard engine, yet loses 10Nm of torque. The result is performance that feels exactly like the standard model, so begs the question: "Why bother?"
Not that I'm complaining. The V6 runs hard to the 7000rpm redline — where the maximum 221kW peaks.
The torque feels flat, very controllable and seamless. It allows entering a turn in a higher gear than you'd expect, with a strong slingshot on the way out.
Making all this even more delightful is the slick six-speed manual transmission (the Anniversary doesn't get the auto option) that snicks through the close-ratio cogs so smoothly that you never get tired of running up and down the box.
Nissan has matched the drivetrain with big Brembo disc brakes and a sports-oriented suspension that ties the car down nicely. It's topped by 18-inch alloys ringed by a thin excuse for rubber.
The icing is a steering feel that is positive, even though the near-vertical steering wheel placement can take a bit of getting used to.
All this benefits only one person — the driver.
For the passenger, the interior is a bit flat, but it's all nice and neat, with leather upholstery and electric seat adjustment, CD player and electric windows, air bags and climatic airconditioning.
The 350Z is quite a comfortable tourer, and even rates highly as a commuter with plenty of oomph for the traffic lights and even more street cred.
Even when it looks like a $67,990 canary.
Pricing Guides
$11,440
Based on third party pricing data
Range and Specs
| Vehicle | Specs | Price* | |
| --- | --- | --- | --- |
| Roadster | 3.5L, PULP, 5 SP AUTO | $10,120 – 13,860 | 2005 Nissan 350Z 2005 Roadster Pricing and Specs |
| Roadster Touring | 3.5L, PULP, 5 SP AUTO | $10,890 – 14,850 | 2005 Nissan 350Z 2005 Roadster Touring Pricing and Specs |
| Roadster Track | 3.5L, PULP, 6 SP MAN | $10,890 – 14,850 | 2005 Nissan 350Z 2005 Roadster Track Pricing and Specs |
| 35th Anniversary | 3.5L, PULP, 6 SP MAN | $10,010 – 13,640 | 2005 Nissan 350Z 2005 35th Anniversary Pricing and Specs |