Lexus NX 2015 review: road test
When you're last in to the world's fastest-growing segment, you need to be best dressed. Is the Lexus NX good enough to reclaim lost ground?
What we like
New 2.0 turbo a gem
Sharp styling looks much better in the metal
What we don't
Doesn't set new benchmarks for class
Steering feel of early build examples on test
What we like
New 2.0 turbo a gem
Sharp styling looks much better in the metal
What we don't
Doesn't set new benchmarks for class
Steering feel of early build examples on test
When you're last in to the world's fastest-growing segment, you need to be best dressed. Is the Lexus NX good enough to reclaim lost ground?
You may be tired of reading about SUVs but customers aren't tired of buying them. In Australia, SUVs are now the second biggest vehicle category behind small cars. 
 
In the luxury division, sales have increased almost seven-fold over the past seven years globally -- and show no signs of slowing until 2020 at the earliest, say the experts.
 
Why do we like them so much? They're a status symbol that also happen to give drivers a better view of the road ahead and more room for passengers and cargo.
 
Rather than order another BMW 3 Series sedan (sales of which are down 20 per cent, by the way), well-heeled customers are trading up to SUVs of various shapes, sizes and price ranges that, in their eyes, scream "adventure" to the outside world -- even if they're stuck in the same traffic jam as everyone else.
 
Which is why Lexus was so conspicuous by its absence in this segment.
 
Even though its parent company Toyota is the world's biggest car company, Lexus held its breath and delayed new models during the Global Financial Crisis in 2008 -- and then took longer than expected to come out of hibernation.
 
But now, finally, it has the Lexus NX, a sharply-styled and smaller version of the Lexus RX which, paradoxically, helped pioneer the luxury 'faux-wheel-drive' market more than a decade ago.
 
We sampled the Lexus NX on the roads of Canada last week ahead of its Australian showroom arrival in October.
Value
Hard to judge at this point in time as Lexus has not released prices. The only indication is a starting point of $55,000 to $60,000.
 
Its main rivals -- the Audi Q5 and BMW X3 -- start at about $60,000, but they're bigger than the Lexus NX and their German badges can more comfortably command a premium price.
 
In the US, the Lexus NX is tipped to start near $40,000. Given the parity between the Australian and US dollar, the local price should be closer to $40,000 and $50,000, even if Lexus chooses to load models sold in Australia with more standard equipment.
 
There will be a choice of two engine types -- a petrol electric hybrid and an all-new turbo petrol four-cylinder -- in three model grades. 
 
There is no diesel option, despite this type of engine accounting for the majority of sales in the luxury SUV market. 
 
Lexus says hybrid power is cleaner technology and the emissions are less harmful than diesel. Scientifically speaking, it has a point. But it's still a gamble to not have a diesel available.
 
The hybrid version will arrive first, in October, followed by a 2.0-litre turbo petrol model early next year.
 
Lexus has indicated the hybrid may be cheaper than the more conventional engine alternative, which is at odds with what we've been told about hybrids for two decades.
 
Hybrids are supposed to be dearer to buy because they're dearer to make. The electric motor, extra battery packs and the hybrid system all add significant cost to each vehicle.
 
If Lexus makes the petrol-electric NX more affordable than the regular petrol-only version, it means it's either losing money on the hybrid or making a rude profit on the model powered by the regular engine.
 
Meanwhile, it's difficult to gauge the servicing costs of the Lexus NX because luxury car brands are yet to embrace the idea of transparent pricing for routine maintenance.
Technology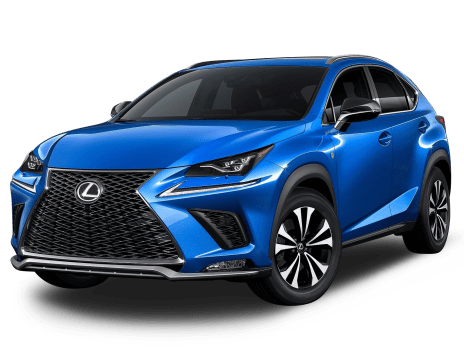 Explore the 2015 Lexus NX range
The Lexus NX is set to be only the second car to be sold in Australia with wireless phone charging (the first was Jeep, a month ago).
 
The only catch is that, if you own an iPhone, you'll need to buy a special cover that can absorb power from the wireless charging 'tray' in the centre console. Or you could just charge your phone the old fashion way, via a cable to a USB port or 12V socket.
 
Meanwhile, the Lexus NX joins a growing list of cars that have a fake engine sound duplicated into the cabin via a speaker (on the turbo petrol model only, not the eerily silent hybrid where it may also be warranted).
 
But the difference this time: there's a volume dial. It doesn't make the four-cylinder sound like a V8, but it's more convincing than other examples. Lexus says the technology may one day allow owners to download their preferred sounds.
 
Meanwhile, Lexus has also improved the sound of music inside the car -- by digitally filling-in the gaps that occur when original music files have been compressed from CD quality to an MP3 file.
 
The world's premium car sound experts have been trying to combat the shift to downloaded music and songs streamed over the internet.
 
An MP3 file, or similar, loses about 90 per cent of its original sound quality when it is compressed.
 
But a new system created by Harmon in the US "reads" the MP3 file milliseconds before it's played and then restores what it believes are the missing notes and finer detail.
 
In a demonstration switching between the two formats, the sound quality was almost as good as the original -- and significantly better than the MP3 file.
 
Until now the technology has only appeared on the HTC M8 phone and a special type of JBL home speaker.
 
This is the first application of the technology in a car but, for now, it's only available on the most expensive NX which comes with a 14-speaker, 980-watt sound system.
 
Other neat stuff: the power tailgate can open to five pre-set positions (although other brands have this, too, and even allow you to set your own 'hold' position). 
 
Lexus' mouse-like cabin controller has been replaced by a touch pad.
 
And Lexus has started using fast-growing trees from special plantations in South-East Asia that, when cut a certain way, look just like a rare, aged wood. So a new type of "fake" woodgrain then: it's real wood but not as old as it looks.
Design
Lexus has had mixed success with its designs over the years, from bland imitations of Mercedes-Benz limousines to later models that dare to be different.
 
There will be no mistaking this SUV for anything else: Lexus wants to be noticed. It might look a bit out there in the photos but it looks much better in the metal and on the road.
 
With its sharp edges and gaping mouth it's one of the few cars to successfully transition from a motorshow concept to a showroom reality with little change.
 
You'd never know it looking at it, but the NX is "loosely based" on the underpinnings of the popular Toyota RAV4 (the width of the two cars, and the distance between the front and rear wheels are identical), although the company says 90 per cent of the components are new.
 
The Lexus body's creased form has come at the expense of function in some areas, however.
 
For example, the sloping rear roofline means there isn't as much cargo space as its rivals.
 
The Lexus NX has a smaller cargo area (with the back seats up or down) than the Audi Q5 and BMW X3, which Lexus identifies as the main competition.
 
The Lexus NX cabin isn't quite as roomy as the German pair inside either. 
 
In fact, the Lexus NX is closer in size to the Mazda CX-5, Australia's top-selling compact SUV, which starts at less than $30,000.
 
But Lexus says it has deliberately designed the NX to straddle the gap between the Audi Q3 and Q5 and BMW X1 and X3.
Safety
The Lexus NX has a long list of advanced safety features such as lane wander warning, blind-zone alert and cross-traffic detection (when reversing out of perpendicular parking spaces). But this technology is also available on a Toyota Camry these days.
 
In addition to a rear view camera as standard, the NX is available with 'panorama' cameras that appear to provide a bird's-eye view of the car when parking. Again, not new, but worth having.
 
When equipped with radar cruise control (which maintains a safe distance with the car ahead and matches its varying speed) the NX will now come to a complete stop providing it has not lost 'contact' with the car in front. This technology, too, has been available on European cars for at least five years.
 
Meanwhile automatic emergency braking, which can slam on the brakes below 50km/h if the driver hasn't noticed a car stopped ahead, standard equipment on a $15,000 Volkswagen Up city hatchback and other luxury SUVs, is not available at any price on the Lexus NX.
 
The Lexus NX only comes with six airbags, whereas many other luxury cars have eight (two extra in the outer cushions of the back seats).
 
There is no doubt the Lexus NX meets or exceeds global safety requirements but it's unclear if independent crash test authority ANCAP or EuroNCAP will assess it and issue a star rating, as they typically focus on more affordable cars. 
Driving
One of the reasons the Lexus NX took so long to arrive was because the company was waiting to complete development of the all-new turbocharged 2.0-litre four-cylinder petrol engine.
 
It was worth the wait. This is a gem of an engine, with a good spread of power from low revs. Lexus can't wait to fit this engine into other cars in its line-up. And nor can we.
 
Matched to a six-speed automatic transmission (an eight-speed auto, as used on its rivals, is coming later) the Lexus NX gets on with the job with refinement and ease.
 
It's also fairly zippy for an SUV, with a claimed 0 to 100km/h time of 7.1 seconds (two seconds faster than the hybrid).
 
Final fuel economy numbers are yet to be calculated but Lexus estimates it will limbo under 8.0L/100km.
 
This is excellent for a turbocharged petrol-powered SUV of this size, but not as frugal as its diesel rivals or non-turbo petrol engines.
 
Fuel misers and the technology savvy may prefer the hybrid version (5.7L/100km), which uses Toyota's and Lexus' familiar 2.5-litre petrol engine matched to a high-powered electric motor and hybrid battery pack, which automatically recharges when the car is on the move.
 
When the battery is fully charged you can in theory get between 1km and 2km of battery-only driving in ideal conditions.
 
However, the main purpose of the electric motor is to help move the vehicle from rest up to, say, 40km/h. This is what burns most fuel in the daily commute.
 
The hybrid is eerily quiet and smooth to drive. In fact, so quiet the tyre noise is more obvious.
 
We sampled a variety of 2WD and AWD versions (power is sent to the rear wheels only when the car senses a loss of traction, rare in normal conditions).
 
To be frank, the 2WD versions (powering the front wheels) are all you need for everyday driving. I wouldn't pay extra for AWD unless you plan to drive to the snow or live at the end of a long dirt road.
 
The suspension is comfortable over bumps; my only minor complaint is that the steering -- and the feeling in corners -- isn't as nice as, say, a BMW X3 or a Mazda CX-5. Other media on the test drive did not have this complaint.
 
The chief engineer said there was variation in the early-build vehicles we sampled, so we'll reserve final judgment until the car arrives in Australia in October.
Verdict
First impressions are good, although the Lexus NX doesn't set any new benchmarks for the class. As the last in, it really needs to be the best dressed, not just an alternative. All this hardly matters, however. Such is the popularity of SUVs, loyal Lexus customers have already formed a lengthy queue to buy one.
Pricing guides
$39,488
Based on 59 cars listed for sale in the last 6 months
Range and Specs
| Vehicle | Specs | Price* | |
| --- | --- | --- | --- |
| NX200T F Sport (awd) | 2.0L, PULP, 6 SP AUTO | $38,490 – 41,880 | 2015 Lexus NX 2015 NX200T F Sport (awd) Pricing and Specs |
| NX300H F Sport Hybrid (awd) | 2.5L, Hyb/ULP, CVT AUTO | $38,990 – 44,900 | 2015 Lexus NX 2015 NX300H F Sport Hybrid (awd) Pricing and Specs |
| NX200T Luxury (awd) | 2.0L, PULP, 6 SP AUTO | $38,450 – 39,990 | 2015 Lexus NX 2015 NX200T Luxury (awd) Pricing and Specs |
| NX200T Luxury (fwd) | 2.0L, PULP, 6 SP AUTO | $32,981 – 41,990 | 2015 Lexus NX 2015 NX200T Luxury (fwd) Pricing and Specs |
Pricing Guide
$31,490
Lowest price, based on 15 car listings in the last 6 months
View cars for sale
Similar Cars
Toyota RAV4

Lexus RX

Audi Q5

Mazda CX-5