2022 Kia ute underpinnings exposed? Could this ladder-frame chassis form the basis of the next Toyota HiLux and Ford Ranger rival?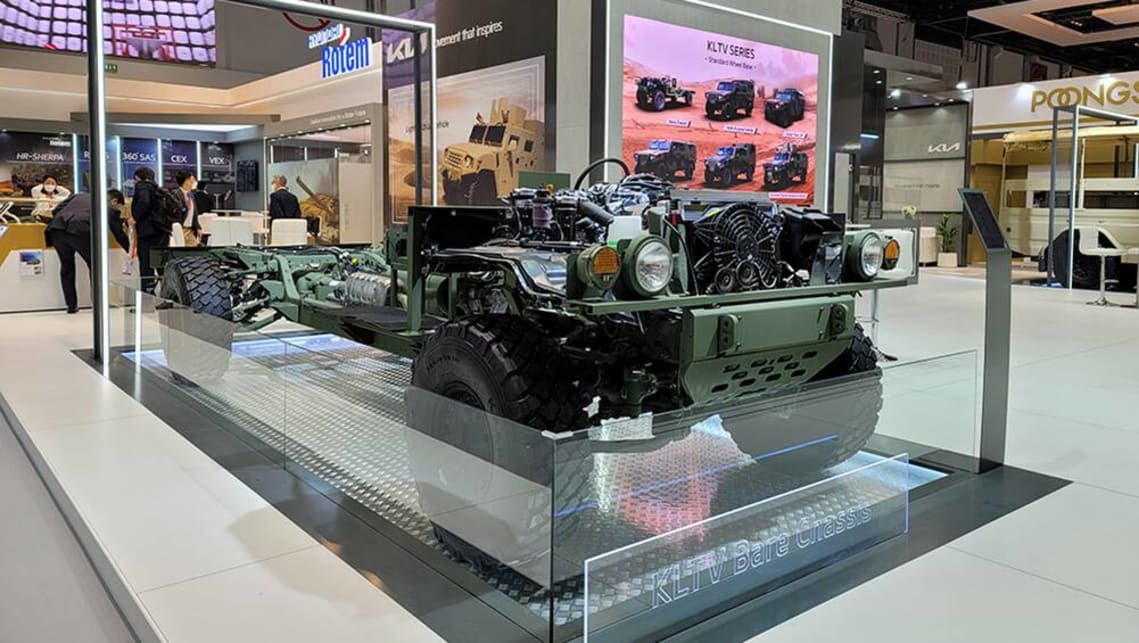 This could be the ladder-frame chassis that Kia uses to build its upcoming ute that will take the fight to the Toyota HiLux, Ford Ranger, Nissan Navara and Mitsubishi Triton.
It has all the ingredients to be competitive in Australia too, with a Euro 5-compliant turbo-diesel engine and eight-speed automatic that drives all four wheels, while independent suspension and a limited-slip differential also features.
Power output isn't too bad either, with 168kW available to keep it competitive against the likes of the 2.0-litre bi-turbo Ranger, HiLux Rugged X and event V6-powered VW Amarok.
So, what's the catch? Well, this is just a concept for now, and Kia is saying the application of this platform will be for military vehicles.
That doesn't mean an evolution or iteration of this won't underpin Kia's future dual-cab ute as it guns for more Australian market share in the coming years though.
Shown at this year's International Defense Exhibition and Conference (IDEX) currently being held in the Middle East, the Bare Chassis concept debuted alongside the Light Tactical Cargo Truck.

Kia admits the modular platform can be tailored for different uses though, stretching out to carry cargo or troops, while also being able to be fitted out for a mobile workshop or communications hub.
The brand also admits that it is "developing vehicles based on the Bare Chassis for clients' eclectic taste around the world", while Kia's light armoured trucks are already in use by the South Korean army.
Kia's Special Vehicle Division vice-president Ik-tae Kim said the brand's involvement in the expo was the largest to date, and it a great chance to show what the Korean brand can do in the military vehicle space.
"Our participation at IDEX 2021 is an opportunity to promote Kia's latest developments in the design of future defense vehicles," he said.
"Both concepts on display have been developed to be highly flexible and durable, with the capability to be used in some of the world's harshest environments."
With access to a rugged ladder-frame chassis, a competitive turbo-diesel engine and automatic transmission combo, and the know-how to create a vehicle to handle off-road conditions, the question isn't 'why isn't there a Kia ute', but why hasn't it materialised any sooner?