2007 BMW 6 Series
Pricing and Specs
Click here to see 2021 pricing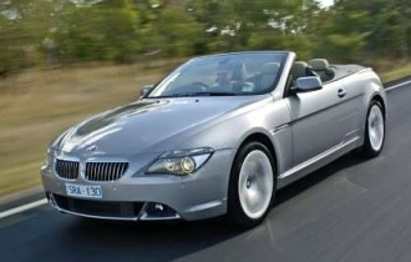 The BMW 6 Series 2007 is priced from $29,990 for Convertible 6 Series 650CI.
The BMW 6 Series 2007 comes in Convertible and Coupe.
The BMW 6 Series 2007 is available in Premium Unleaded Petrol.
Interested in a BMW 6 Series?
Download a brochure
Find a dealer
Book a test drive

Insurance Quote

Get Unsecured Car Loan
Price Guide
$29,990
Based on 2 cars listed for sale in the last 6 months
Explore prices for the
2007 BMW 6 Series
Convertible
BMW 6 Series Models
SPECS
PRICE
650CI

4.8L

PULP

Premium Unleaded Petrol

6 SP AUTO

6 speed automatic

$29,000 – 38,390
Coupe
BMW 6 Series Models
SPECS
PRICE
650CI

4.8L

PULP

Premium Unleaded Petrol

6 SP AUTO

6 speed automatic

$29,400 – 38,500
* Manufacturer's Suggested Retail Price
BMW 6 Series 2007 FAQs
Check out real-world situations relating to the BMW here, particularly what our experts have to say about them.
Why is the coolant system on my 2004 BMW 525i losing pressure?

Did you replace the coolant tank because the vehicle was losing coolant in the first place? If so, there's a chance that even though the coolant tank is brand new, there could be a leak from somewhere else in the system (that's allowing the system to lose pressure, as you've identified). Possibilities include the radiator itself or even a head gasket, not to mention any one of a number of plastic fittings that control the flow of coolant to the engine and the car's heating system. But don't rule out the simple stuff, either; even the humble radiator cap or loose hose-clamp can allow pressure to leak from a cooling system.

The problem with a lot of imported cars is that they tend to use lots of plastic components in their plumbing systems. As they age (and at 16 years old, your car is hardly in the first flush of youth) these fittings and couples become brittle and can begin to leak or even fall apart altogether. In colder climates, these plastic bits and pieces don't present the same problems to the same degree, but here in Australia, our hot-climate heat-cycles are not appreciated by some makes and models. Combine that with a modern, pressurised cooling system, and you have yourself a problem.

Show more

Speedometer on 2008 BMW X3 moving when engine is off

It sounds like you have a problem with the signal from the car to the speedometer here. The speedometer needle creeping around to 2km/h when the car is standing still is likely to be a problem with the instrument's calibration or the sensor that is supposed to measure the car's speed.

The same goes for the speedo needle rising or falling on its own while you're driving (I'll assume it's the needle `accelerating' you refer to, not the actual car - at which point you have a death-trap on your hands). My money's on the sensor which is – due to an incorrect battery voltage, a poor earth or an internal fault – sending the wrong signal to the computer that then controls the speedo needle. The problem could also be the speedometer unit itself which could have a bad actuator that is sending the needle haywire.

Show more

Do I need a roadworthy certificate if the car is still under warranty?

These rules and regulations vary from State to State, but the bottom line in Victoria is that, yes, you do need to provide a roadworthy when selling the car privately. Aside from a very small trailer and a range of road-going commercial and industrial equipment, the only vehicle in Victoria that doesn't need a roadworthy certificate (RWC) as part of the change to new ownership is a brand-new vehicle. The definition of that is a vehicle that has never been registered in Australia before and has covered only kilometres involved in its sale and delivery to its first owner.

The factory warranty has nothing to do with RWC law as different makes and models have differing warranty periods. If you want to sell the vehicle privately without a roadworthy, you need to remove the number plates and hand them in to VicRoads on completion of the sale. The exception to that is if you sell the car to a licensed motor car trader, as the responsibility of gaining a RWC then falls to that business.

Show more
See All BMW FAQs
Disclaimer: You acknowledge and agree that all answers are provided as a general guide only and should not be relied upon as bespoke advice. Carsguide is not liable for the accuracy of any information provided in the answers.
Interested in a BMW 6 Series?
Download a brochure
Find a dealer
Book a test drive

Insurance Quote

Get Unsecured Car Loan