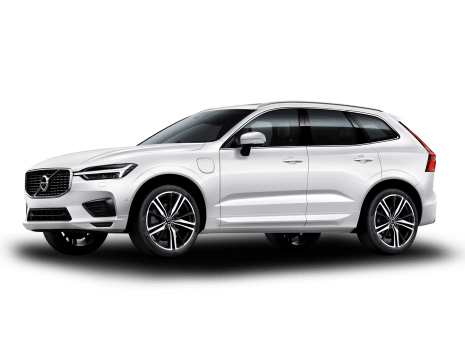 COMPARE
Volvo XC60
VS
Alfa Romeo Stelvio
---
Alfa Romeo Stelvio
Likes
Sexy design
Sporty handling
Great chassis
Dislikes
Reliability fears of it being Italian
Some cheap feeling touches
Doesn't sound like an Alfa
Summary
Volvo XC60
If this was 10 years ago I'd be making jokes about Volvo drivers, IKEA and ABBA, but those those stereotypes are all irrelevant now. Safety is not nerdy, and Sweden really is more than flat-packed furniture and catchy pop music. Yep, a lot has happened in the 10 years since the Volvo XC60 first arrived, and now a decade on the second generation of the mid-sized SUV is with us.
The most popular Volvo SUV in the world, the XC60 may not be the first SUV people think of when asked what you might compare a BMW X3 to, or an Audi Q5 or Mercedes-Benz GLC, but that's their loss. 
Could the XC60 quietly be the best mid-sized prestige SUV on the road in terms of value, design, comfort, safety and driving? Let me help you with that question – read on.
| | |
| --- | --- |
| Safety rating | |
| Engine Type | 2.0L turbo |
| Fuel Type | Hybrid with Premium Unleaded |
| Fuel Efficiency | 2.1L/100km |
| Seating | 5 seats |
---
Alfa Romeo Stelvio
Just how important are looks, really? Sure, if you're a model, or you're asking Rihanna or Brad Pitt for a date, or you're a sports car, or a super yacht, being attractive is helpful. But if you're an SUV, like Alfa Romeo's new, brand-reshaping Stelvio, does it really matter?
There are some people who believe all SUVs are ugly because they are simply too big to look good, in the same way that all 12-foot tall people, no matter how good-looking, would be undeniably off-putting.
Yet there are undeniably a lot of people who find SUVs, particularly expensive European ones, very much attractive, as well as practical, because how else could you explain the fact that cars like this Stelvio - mid-sized SUVs - are now the biggest-selling premium segment in Australia?
We're set to snap up more than 30,000 of them this year, and Alfa wants to take as much of that tasty sales pie chart as it can. 
If success could be put down to looks alone, you'd have to back the Stelvio to succeed fabulously, because it truly is that rarest of things, an SUV that's actually attractive, even sexy. But does it have what it takes in other areas to tempt buyers into choosing an Italian option over the trusted Germans?
| | |
| --- | --- |
| Safety rating | |
| Engine Type | 2.0L turbo |
| Fuel Type | Premium Unleaded Petrol |
| Fuel Efficiency | 7L/100km |
| Seating | 5 seats |
Verdict
Volvo XC60
8.3/10
The XC60 is an outstanding mid-sized all-wheel drive SUV. A great selection of engines and a plug-in hybrid means buyers can better suit their purchase to lifestyle. Super safe, stylish and effortless to drive. The best value is to be had lower in range with the sweet spot being the Inscription grade.
Would you choose the XC60 over a BMW X3 or Benz GLC? Tell us what you think in the comments section below.
---
Alfa Romeo Stelvio
8/10
Properly beautiful in a way only Italian cars can ever be, the new Alfa Romeo Stelvio really is what the marketeers promise - a more emotional, more fun and better-looking option to the German offerings we've been served up for so long. Yes, it's an Italian car, so it might not turn out to be quite as well built as an Audi, Benz or BMW, but it will definitely make you smile more often. Particularly when you look at it.
Are the Alfa's looks enough to tempt you away from the Germans? Tell us in the comments below.
Design
Volvo XC60
Remember when Volvos were boxy? Well they're back baby, but in a better way that the 240 GLE from 1992. No, this is sexy.
There's that long, sculpted bonnet with the cab set back and the heavily raked windscreen makes for a pleasing profile. The concave door panels and the mirrored wings in the rocker panels below add more toughness to this elegant beast.
There's also that stately grille wearing its famous Volvo 'sash', those Thor's hammer LED headlights and the very Volvo vertical taillights. This is a prestige SUV but not one of the BMW, Benz and Audi usual suspects.
The XC60 is a mid-sized SUV with dimensions similar to its Audi Q5, Mercedes-Benz GLC and BMW X3 rivals. The XC60 is 4688mm long, 2117mm wide and 1685mm tall.
How do you tell the difference between the grades visually? Well that's a tricky one. From the outside you can spot at R-Design T8 by its sunroof while the Momentum D4 and T5 both have 19-inch wheels which look a tad too small for those wheel guards.
Inside all XC60s are exquisite, bordering on modern art with that minimalist dash decluttered of its buttons thanks to most of the functions being moved to that stunning 9.0-inch vertical touch screen.
There are nine colours to choose from including Fusion Red, Passion Red, Bursting Blue Metallic, Onyx Black Metallic, Osmium Grey Metallic, Bright Silver Metallic, Crystal White Pearl, Electric Silver Metallic and Ice White.
The accessories list for the XC60 is huge there's everything from towbar hitches and floor mats to roof boxes, kayak cradles, and tablet holders for rear seat entertainment - but not bullbars.
---
Alfa Romeo Stelvio
9/10
It might be unfair to suggest Italians are more interested in design than anything else, but it would only be honest to suggest that it often feels that way. And when that obsession with making things look good results in a car as curvaceous, sensuous and sporty as this, who could argue that it's a bad thing?
I once asked a senior Ferrari designer why Italian cars, and super cars in particular, look so much better than German ones, and his answer was simple: "when you grow up surrounded by so much beauty, it's natural to make beautiful things".
For Alfa to produce a car, like the Giulia, that reflects its brand's design aesthetic and proud sporting heritage - it is the brand that gave birth to Ferrari, as its spin doctors like to remind us - is almost expected, or predictable.
But to perform the same feat on this scale, on a big, bulky SUV with all of its proportional challenges, is a real achievement. I'd have to say there's not a single angle from which I don't like the look of it.
The interior is almost as good, but does fall down in a few areas. If you buy the 'First Edition Pack', a $6000 cost and one that's only available to the first 300 people to rush in, or the 'Veloce Pack' they'll also offer ($5000), you get really nice sporty seats and shiny pedals, and the panoramic roof, which manages to let light in without cutting your headroom off.
Buy an actual base model, however, for a notional $65,900, and you'll get a lot less class. The steering wheel won't feel as sporty, either, but no matter which variant you buy you're stuck with a slightly cheap and plastic-feeling gear shifter (which is also a bit counterintuitive to use), which is a shame, because it's a touch point you'll use every day. The 8.8-inch screen is also not quite of German standard, and the sat nav can be temperamental.
The cool-steel gear-shift paddles, on the other hand, are absolutely gorgeous, and would feel at home on a Ferrari.
Practicality
Volvo XC60
How many seats does an XC60 have? The answer is five and no there isn't a seven-seater version. I have a small family with just the three of us, but if you have a lot more take a look at the bigger XC90. 
The XC60's cabin is spacious, but not XC90 spacious – this is, remember, a mid-sized SUV. Still there's plenty of legroom in the back seats for me even at 191cm to sit behind my driving position and good headroom even with the panoramic sunroof in the T8.
Let's talk about the boot space. A luggage capacity of 505 litres isn't huge not compared to rivals such as Audi's Q5, BMW's X3 and the Mercedes-Benz GLC which all have 550 litres of cargo space. But XC60s with the optional air suspension like the T8 I drove can lower themselves to make loading the boot easier.
Cabin storage is good, with two cupholders and large door pockets in the front and two cupholders and smaller door pockets in the back. The centre console storage area under the centre armrest is also a decent size. 
You won't find a sunglass holder in here though – but does anybody actually use those anyway?
---
Alfa Romeo Stelvio
8/10
We were lucky enough to drive this car early, on a recent family holiday in Italy, and can tell you that the boot (525 litres) can swallow an astonishing amount of poorly packed crap, or a metric tonne of Italian wine and food, if it happens to be shopping day.
The load space is practical and easy to use, and the rear seats are also capacious We may or may not have tried to pack three adults and two kids in there at one stage (not on a public road, obviously, just for fun) and it was still comfortable, while I can easily sit behind my own 178cm driving position without my knees coming close to brushing the seat back. Hip and shoulder room are also good.
There are map pockets in the seatbacks, plenty of bottle storage in the door bins and two American-sized cupholders, and a big storage bin, between the front seats.
Price and features
Volvo XC60
The XC60 comes in three trim levels: there's the entry-grade Momentum, the Inscription is the mid-point and the R-Design lords over all of them. So how much does an XC60 cost? Let's look at a price list. 
The most affordable XC60 in the range is the D4 diesel variant in Momentum grade which lists for $59,990 (RRP) while its T5 petrol sibling is $62,990.
Stepping up to the Inscription there's the D4 version for $66,990 and the T5 petrol for $69,990. 
You can have an R-Design with the more powerful D5 diesel for $73,990, the gruntier petrol T6 for $76,990 and the petrol-electric hybrid for $92,990 sits at the top of the XC60 range.
As for driveaway prices for the XC60, put the pressure on the dealer and you'll be surprised what they can do.
The XC60 is great value … depending on which grade you go for, because even the lower priced ones come with an extensive list of standard features. 
All XC60s comes standard with a 9.0-inch vertical touch screen with Apple CarPlay for your iPhone and Android Auto, a 12.3-inch driver display, WiFi hot spot, Bluetooth, sat nav (gps navigation), 360-degree parking camera, auto parking system, front and rear parking sensors, a 10-speaker premium sound system with digital radio (DAB), leather upholstery, power adjustable driver and passenger seat, proximity key (keyless entry), roof rails, LED headlights and a power tailgate.
That 9.0-inch screen is for more than just for multimedia and infotainment – many of the car's functions, gadgets and the owner's manual are controlled through the display.
The Inscription adds four-zone climate control, adaptive cruise control and 20-inch alloys.
The R-Design D5 and T6 come with 21-inch alloy wheels and R-Design treatment to the steering wheel, grille, pedals and leather seats.
And the R-Design T8 comes with a panoramic sunroof, crystal gear shifting knob, and only dual-zone climate control.
So the R-Design T8 is not great value, but the Momentum T5 and D4 really do represent good features for the money. 
All XC60s come with LED headlights and the Thor's hammer daytime running lights – no xenon headlights here, thankfully.
If you want heated seats it'll cost you $500 for the front ones and $350 for the back row, while a heated steering wheel is $350. Ventilated seats are a $2950 option, but you'll get leather perforated upholstery with them. Tinted glass is a $650 option and the 15-speaker Bowers & Wilkins stereo costs $4500. Oh and a CD player is a $160 option, but you can't have it on the R-Design T8.
The $2490 air suspension is also an option, but a very comfortable one as I found on the T8 I road tested.
A quick model comparison shows the XC60 is priced well – the Mercedes-Benz GLC ranges from $67,500-$99,900 (more for the AMG), the Audi Q5 ranges from $65,900 to $86,611 and the BMW X3 starts at $62,900 and top out at $87,700. 
A lack of full-sized spare tyre is disappointing. Sure a space saver spare (which comes with all XC60s apart from the R-Design T8) is okay in the city and so is the puncture repair kit on the T8, but in Australia it can be a long way between towns. 
---
Alfa Romeo Stelvio
8/10
If you're buying the absolute base model Stelvio at $65,990, which we'd suggest you shouldn't because it is a far, far better car with the adaptive dampers fitted, you get all those good looks thrown in for free, plus 19-inch, 10-spoke alloys, a 7.0-inch driver instrument cluster and the 8.8-inch colour multimedia display with 3D satnav, Apple CarPlay and Android Auto, an eight-speaker stereo, the 'Alfa DNA Drive Mode System' (which mainly seems to light up some graphics but supposedly allows you to choose between Dynamic, Normal and an eco-friendly option you'll never use.
But wait, there's more, including cruise control, dual-zone climate control, an electric tailgate, front and rear parking sensors, rear camera, hill-descent control, electrically adjusted front seats, leather seats (not the sporty ones, though) and a tyre-pressure-monitoring system. 
It's quite a lot of gear for the cash, but as we say, most people will want to step up to the extras you get - and most tellingly the adaptive dampers - with either the First Edition ($6000) or Veloce ($5000) packs.
Alfa Romeo is keen to point out how keen its pricing is, particularly against German offerings like Porsche's Macan, and it does seem like good value, even at just north of $70k.
Engine & trans
Volvo XC60
The XC60 range has four engines and one petrol-electric unit, but you can't get them in any grade you like.
The Momentum and Inscription come with the diesel D4 and its petrol sibling the T5. Both are lower-powered versions of the D5 diesel and T6 petrol variants found in the R-Design grade.
The D4 has a 2.0-litre turbo-diesel making 140kW and 400Nm, which according to Volvo is enough mumbo for a 0-100km/h sprint time of 8.4 seconds. 
The D5 is powered by a 2.0-litre twin turbo diesel making 173kW and 480Nm, which according to Volvo is enough mumbo for a 0-100km/h sprint time of 7.2sec. 
The T5 is the 2.0-litre turbo petrol variant which makes 187kW and 350Nm, and has a 0-100km/h time of 6.8sec.
The T6 is also a 2.0-litre turbo-petrol variant but a higher horsepower version with a supercharger that helps it make 235kW and 400Nm, and it has a 0-100km/h time of 5.9sec. That's an impressive performance figure.
And finally the T8 – this is the big daddy and uses the same 235kW and 400Nm 2.0-litre twin-turbo-plus-supercharged petrol that's in the T6 in combination with a 65kW/240Nm electric motor. The T8 is a plug-in petrol electric hybrid.
All XC60s use a smooth shifting eight-speed automatic transmission - you won't find a manual gearbox here.
The XC60 comes as all-wheel drive only, there's no front-wheel drive (4x2) version. That said this isn't four-wheel drive and you wouldn't take it places you'd go in a hardcore 4x4.
I didn't experience any automatic transmission problems or any other issues but keep an eye out for our XC60 problems page for any faults, complaints, maintenance or reliability issues that crop up.
---
Alfa Romeo Stelvio
7/10
Because I am older than the internet, I'm still mildly baffled every time I see that a car company is attempting to fit a four-cylinder engine into a largish SUV like the Alfa Romeo Stelvio, so I'm always politely surprised the first time such a small-engined big car manages go up a hill without exploding.
While bigger, faster Stelvios will arrive later in the year, with the all-conquering QV set to land in the fourth quarter, the versions you can buy now must make do with a 2.0-litre four-cylinder petrol engine making 148kW/330Nm, or the 2.2T diesel with 154kW/470Nm (a 2.0 Ti will also arrive later, with a more fabulous 206kW/400Nm).
It should come as no surprise from those numbers that the diesel is actually the better option to drive, with not only more usable, down-low torque (the max arrives at 1750rpm) but more kilowatts as well. The 2.2T thus gets from 0-100km/h in 6.6 seconds, quicker than the petrol (at 7.2 seconds) and also quicker than competitors like the Audi Q5 (8.4 in diesel or 6.9 petrol), BMW X3 (8.0 and 8.2) and Mercedes GLC (8.3 as a diesel or 7.3 in petrol).
Even more surprisingly, the diesel sounds slightly better, more growly, when you attempt to drive it hard, than the slightly wheezy petrol. On the down side, the 2.2T does sound tractor like at idle in multistorey car parks, and neither engine sounds even vaguely like you would want an Alfa Romeo to.
The diesel is the pick at this level - doing an impressive job despite being asked to do the equivalent of piggybacking Clive Palmer up a hill - but the 2.0 Ti (which will hit 100km/h in a more impressive 5.7 seconds) would be worth waiting for.
Fuel consumption
Volvo XC60
After a combination of urban and open roads, Volvo claims the diesel D4 will achieve 5.4L/100km and the more powerful diesel D5 should need 5.6L/100km. Meanwhile, the petrol T5 should use 7.8L/100km and its big brother the T6's official mileage is 8.0L/100km.
The eco-warrior of the range is the petrol electric T8 with its impressive claim of 2.1L/100km. This isn't an EV, you'll need to fill it up with petrol as well.
If somebody tries to sell you a new LPG XC60, be suspicious ... very suspicious. 
When I road tested the R-Design D5 my fuel economy was 9.4L/100km, and this is where it gets embarrassing: my mileage in the R-Design T8 was 14.0L/100km. That's because I never re-charged using the cable, instead I let the regenerative braking add charge to the batteries. This meant I forced the SUV to mainly use the petrol engine and carry myself along with 200kg of batteries and electric motor around. This - and me taking full advantage of the great acceleration at every traffic light - would have something to do with my high fuel usage.
Yes, if you go for the R-Design T8 make sure you charge it regularly and drive conservatively otherwise you too will use lots more fuel than Volvo's serving suggestion.  
---
Alfa Romeo Stelvio
8/10
Alfa is also keen to point out that its new Stelvio is class leading when it comes to fuel economy, with claimed figures of 4.8 litres per 100km for the diesel (no one else gets under 5.0L/100km, they say) and 7.0L/100km for the petrol.
In the real world, driven enthusiastically, we saw 10.5L/100km for the petrol and closer to 7.0 for the diesel. The simple fact is you will need, and want, to drive them harder than those claimed figures suggest will be possible.
Driving
Volvo XC60
I've road tested the R-Design D5 and the R-Design T8 and so can only vouch for the driving experiences of them.
First, the D5 – there's much to like, such as all that 480Nm of torque barrelling in low down in the rev range at 1725rpm, the responsive brakes, the tranquil cabin, and good fuel economy. 
The downside to the D5 is a noisy diesel engine, particularly under heavy load. The diesel isn't best suited to sporty driving either – I found myself busy paddle shifting constantly to keep the revs in the torque band which ends at 2250rpm. The twin-turbo set-up in the D5 is designed to spool up one to 'pre-charge' to reduce lag before the second kicks in – the result is an almost instantaneous power delivery.
Now, the R-Design T8. 
This is an impressive beast. The combination of that powerful supercharged and turbocharged four-cylinder and the electric motor provides grin-making acceleration. The optional air suspension in our test car turned the ride cushion-soft but kept the car composed.
Just to sit in, the D5 and T8 both feel special and the driving experience goes a long way to matching that prestigious impression from the light and accurate steering to the great pedal feel and the responsiveness of the powertrains.  
A well-insulated cabin cuts out most of the diesel clatter in the D5, not to mention the T8's road noise - it is common for tyre roar to be noticeable in hybrid and electric cars, which don't have a noisy engine to cover it up. 
The adaptive cruise control with steering assistance worked eerily well for me, it's almost - but not quite -self-driving autopilot. That head-up display is one of the clearest and least intrusive I've seen.
Good visibility and a turning circle of 11.4m also help make the XC60 effortless to drive.
---
Alfa Romeo Stelvio
8/10
Much like sitting down to watch the Socceroos lose again, I've learned not to expect too much from the driving experience offered by SUVs, because  the way they drive clearly has little relevance to the way they sell.
The Alfa Romeo Stelvio comes as a genuine surprise then, because it drives, not just like a sports car on slightly rubbery stilts, but like an impressive but high-riding sedan.
Reports about how good the QV version is have been flooding in for some time now, and I've been taking them with large spoonfuls of salt, but it's clear to see how that car can be so sharp and exciting to drive, because the chassis of this car, as well as the suspension set-up (at least with the adaptive dampers) and the steering, are built to cope with far more power and vigour than is on offer in this base model.
That's not to say this version feels horribly underpowered - there are a few times when we were overtaking up a hill that more power would have been welcome, but it was never slow enough to be worrying - just that it's clearly built for more.
In almost all situations, the diesel, in particular, provides enough grunt to make this mid-size SUV genuinely fun. I actually smiled while driving it, several times, which is unusual.
Most of that is down to the way it corners, rather than the way it goes, because this thing really is a light, nimble and enjoyable car on a twisty bit of road.
It feels genuinely involving through the steering wheel and genuinely capable in the way it holds on to the road. The brakes are genuinely good, too, with plenty of feel and force (apparently Ferrari had some involvement here, and it shows).
Having driven a far more basic model, without the adaptive dampers, and being less than impressed overall, I was surprised at how good the First Edition Pack cars we drove on some properly challenging roads were.
This really is a premium mid-size SUV I could almost, just about live with. And, if it's the right sized car for your lifestyle, I'd absolutely understand you wanting to buy one.
Safety
Volvo XC60
Have you seen the Volvo XC60 TV ad? It's full on, but I didn't cry – there was just a high pollen count that day and… anyway it drives home how safety is Volvo's 'schtick'.
The five-star ANCAP score it was awarded in 2017 doesn't reveal just how impressive the safety systems are on the XC60. This new-generation SUV is fitted with AEB (City Safety) which can detect and stop for animals, humans and other cars, there's steering support, blind-spot warning, front and rear cross-traffic alert - and that's on all XC60s. Adaptive cruise control is added to the Inscription grade and above.
You'll find two ISOFIX points and three top-tether anchors for child and baby car seats across the rear row, too. 
Where is the Volvo XC60 built? Volvo is owned by Chinese car giant Geely, but Australian XC60s are made in Torslanda, Sweden.
---
Alfa Romeo Stelvio
8/10
There's much talk from Alfa about how its offering wins on emotion and passion and design, and not being bland and off-white/silver German, but they're also keen on saying that it's a rational, practical and safe alternative, as well.
Alfa claims, yet again, a class-leading safety score for the Stelvio, with a 97 per cent adult occupancy score in Euro NCAP testing (aka a maximum five stars).
Standard equipment includes six airbags, AEB with pedestrian detection, blind-spot monitoring with rear cross path detection and lane-departure warning.
Ownership
Volvo XC60
The XC60s has a three-year/unlimited kilometre warranty. Servicing is recommended every 15,000km or 12 months, whichever comes first. 
Volvo offers two service programs: the basic SmartCare and the more comprehensive SmartCare Plus. The SmartCare three-year/45,000km plan is $2225 (SmartCare Plus costs $3050); a four-year/60,000km version is $3500 ($5200 with SmartCare Plus) and the five-year/75,000km agreement costs $4230 ($6400 with SmartCare Plus). 
---
Alfa Romeo Stelvio
8/10
Yes, buying an Alfa Romeo means buying an Italian car, and we've all heard the jokes about reliability, and heard companies from that country claiming those problems are behind them. 
The Stelvio comes with a three-year/150,000km warranty, to make you feel safe, but that's still not quite as good as the Giulia, which is being offered with a five-year one. We'd be pounding the desk and demanding they match that offer.
Servicing costs are another point of difference, the company claims, being cheaper than the Germans at $485 a year, or $1455 over three years, with those services coming every 12 months or 15,000km.