1998 Subaru Outback
Pricing and Specs
Click here to see 2021 pricing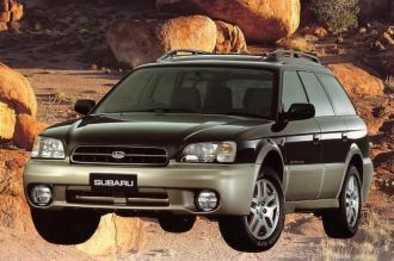 The Subaru Outback 1998 is priced from $3,999 for SUV Outback (base).
The Subaru Outback 1998 is available in Regular Unleaded Petrol.
Interested in a Subaru Outback?
View Offers
Locate A Dealer
Book A Test Drive

Insurance Quote

Get Secured Car Loan
Price Guide
$3,999
Based on 4 cars listed for sale in the last 6 months
Explore prices for the
1998 Subaru Outback
SUV
Subaru Outback Models
SPECS
PRICE
(base)

2.5L

ULP

Regular Unleaded Petrol

4 SP AUTO

4 speed automatic

$2,400 – 4,070

(base)

2.5L

ULP

Regular Unleaded Petrol

5 SP MAN

5 speed manual

$2,400 – 4,070

Limited

2.5L

ULP

Regular Unleaded Petrol

4 SP AUTO

4 speed automatic

$2,400 – 4,070

Limited

2.5L

ULP

Regular Unleaded Petrol

5 SP MAN

5 speed manual

$2,400 – 4,070

Special Edition

2.5L

ULP

Regular Unleaded Petrol

4 SP AUTO

4 speed automatic

$2,400 – 4,070

Special Edition

2.5L

ULP

Regular Unleaded Petrol

5 SP MAN

5 speed manual

$2,400 – 4,070
* Manufacturer's Suggested Retail Price
Subaru Outback 1998 FAQs
Check out real-world situations relating to the Subaru Outback here, particularly what our experts have to say about them.
How is water getting inside my 2009 Subaru Outback?

Short of a broken or degraded window seal, check the door rubbers for signs of damage. Sometimes, it's as simple as a small twig or even a thick blade of grass sticking to the rubber seals that will allow water in. However, there's a more likely answer. If it was the front-seat foot-wells that were wet, I'd be blaming the air-conditioning vent that is supposed to drain the water - that builds up in the system - to under the car, but can sometimes lock or clog and run the water into the car.

So let me ask you a question: Does your car have a sunroof? If the answer is yes, that's where I'd be looking. The sunroof, being set into the roof panel, naturally collects water when it rains. So, there are tubes that run from the sunroof, down the rear pillars of the car and vent to the outside just in front of the rear wheels. If these drain tubes block up, the water will run down the outside of them and into the rear foot-wells. Cleaning out the tubes will usually fix the problem.

Show more

Should we replace our Holden Commodore with a Subaru Outback?

A car with a little extra ground clearance is great for camping as it often allows you to get a little farther away from the masses in their caravans who tend to huddle around the shower block at bush campsites.

The Subaru Outback is a good, solid choice and if you can find an independent workshop to service it, you'll avoid the cost of dealership prices. And you're right, the all-wheel-drive would be great for gravel roads. Another vehicle to look at would be a late-model Ford territory diesel which is big and clever inside and has the option of all-wheel-drive. The diesel engine is a plus on the bush where that fuel is more readily available (in really remote areas) and gives you more range for big holidays in the mulga.

Don't rule out things like the Mitsubishi Pajero, either, which won't be as around-town friendly, but is a proven quantity and is absolutely tremendous off-road. The same goes for a Toyota Prado or Nissan Pathfinder prior to the current model (which is a bit less hard-core adventure).

Show more

Subaru Outback 2001-2009: Any known issues with the head gasket?

You're absolutely spot on, Craig, although my info suggests the problems started occurring in the Outback model as early as 2000. For other Subaru models, head gasket failures have been an issue since the mid-90s. Then trade seems to think that the typical fail-point is somewhere between the 120,000km and 200,000km mark, but I've heard of cases of cars much younger than this suffering gasket failure.

So what causes it? Fundamentally, it was a bad design in the head gaskets Subaru was using at the time. The gaskets were a composite type, made up of thin metal sheets that were coated with a graphite-based material. Frankly, they were duds and it's this simple fact that has caused so many Subaru owners so much grief over the years. Subaru eventually changed the design of the gaskets around 2011 and the problem just stopped.

You can spot a Subaru with a head-gasket problem a couple of ways. For a start, the failed gasket will allow coolant to escape and that will lead to the engine overheating. So, a car that runs hot after a distance is a likely suspect.

Early failures tended to allow the coolant to leak internally (where it was consumed by the engine) but later generations of the Subaru motor started to experience external leaks and these, obviously, are much easier to spot. Look for an oil leak from around the sealing surface of the head and crankcase and coolant on the ground under the car each morning.

The really weird part of all this was that Subarus tend to be otherwise very reliable and durable and, serviced correctly, can cover huge distances. But the problem was made worse by the fact that the Subaru flat-four engine actually has two cylinder-head gaskets, instead of the one of most four-cylinder engines. Replacement of the dud gaskets is the only fix and it's quite a big – and expensive – job.

Show more
See All Subaru Outback FAQs
Disclaimer: You acknowledge and agree that all answers are provided as a general guide only and should not be relied upon as bespoke advice. Carsguide is not liable for the accuracy of any information provided in the answers.
Interested in a Subaru Outback?
View Offers
Locate A Dealer
Book A Test Drive

Insurance Quote

Get Secured Car Loan