20 November 2017
Weird Wagons: Mitsubishi Lancer Evolution IX Wagon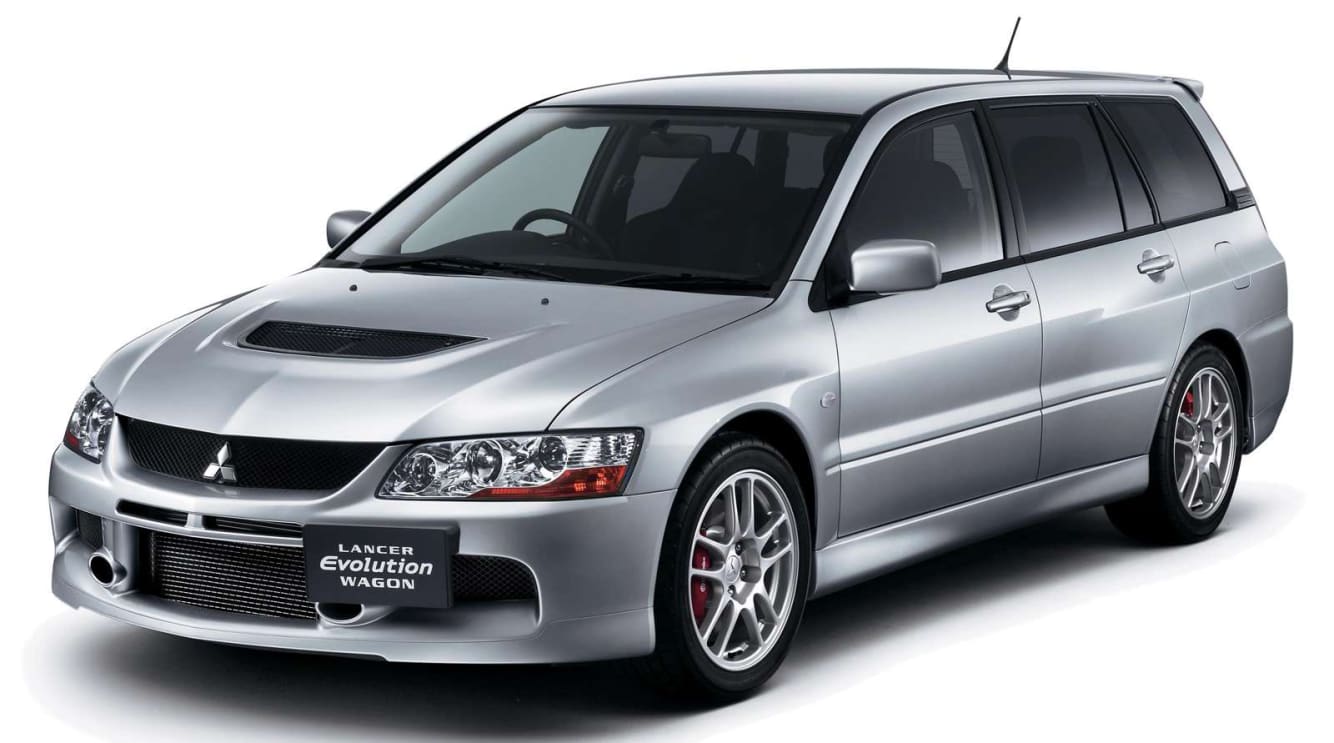 Yes, everyone's favourite (or second favourite… if you're a Subaru fan…) rally-inspired JDM mod-platform/performance sedan once had a rare wagon variant.
Perhaps not quite as rare as some of the other cars in our weird wagons series, but rare non-the less. Mitsubishi produced 2500 of these things in 2005. It shared the platform and drivetrain of the Lancer Evo IX sedan and was only offered in two trim levels. The GT and the GT-A (A being for automatic).
Weirdly, the GT manual variant gained a higher-power turbo bolted to the 4G63 engine and a helical limited-slip diff on the front axle. It produced 206kW compared to the 5-speed auto GT-A's 200kW engine. Of course, it's a true JDM enthusiasts' car, having never been sold outside the Land of the Rising Sun.

Hot or not? The Evo wagon is surprisingly understated at the back.
Especially around the back where the car maintains the quaint Volvo-esque full-length tail lights from the base model wagon, the Evo wagon looks like a total sleeper.
A practical sleeper, too. But maybe not as practical as it appears… apparently the service intervals have you in the shop incredibly often – every 7250km or six months according to an owner in the UK. Unless you have stacks of cash and are willing to inconvenience yourself semi-regularly it mightn't make a great daily…

You gotta admit, it looks pretty menacing in profile.
In such low production numbers, though, there's no doubt this car will be a collector's item. It's worth keeping in mind that in eight short years our American friends, who are frequently spotted begging for one on forums, will be allowed to import them when their 20-year import restriction wears off. If you're keen, get on it before then as prices will likely skyrocket.

As though it was ever a question, the manual is the pick, especially with a slew of upgrades.
One 2005 six-speed manual Evo wagon on NSW rego was sold back in 2014 for a whopping $43k to give you an idea of average price. At the time it was roughly twice the price of an equivalent Evo sedan. That's rough when you consider the ongoing cost of the brutal service intervals on top. (Makes you cry when they're casually traded for $20k in Japan…) But hey, great credentials for a JDM die-hard?
If you're still not sold – consider this clip of it being awesome.
What do you reckon – is the rare Evo IX wagon worth twice as much as the sedan? Tell us in the comments.
This is part of a series on Weird Wagons - see more here:
Weird Wagons: Aston Martin V8 Sportsman Estate
Weird Wagons: Ferrari 456 Venice
Weird Wagons: Saab 900 Safari
Weird Wagons: Mercedes-Benz 300 Messwagen
Weird Wagons: Bentley Continetal Flying Star
Weird Wagons: Subaru Impreza Casa Blanca
Weird Wagons: Toyota Classic
Weird Wagons: Porsche 924 DP Cargo
Weird Wagons: Maserati Bellagio Fastback