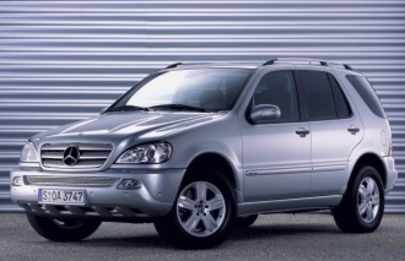 Mercedes ML270 Review, For Sale, Specs, Models & News
What's on this page
Mercedes-Benz M-Class Towing Capacity
The Mercedes-Benz ML270 has maximum towing capacity of 2650kg for the latest model available.
Year
Body Type
Braked Capacity from
Braked Capacity to
2005
SUV
2650kg
2650kg
2004
SUV
2650kg
2650kg
2003
SUV
2650kg
2650kg
2002
SUV
2650kg
2650kg
2001
SUV
2650kg
2650kg
See All Towing Capacity for Mercedes-Benz ML270
Mercedes-Benz M-Class Fuel Consumption
The Mercedes-Benz ML270 is available in a number of variants and body types that are powered by Diesel fuel type(s). It has an estimated fuel consumption starting from 7.7L/100km for SUV /Diesel for the latest year the model was manufactured.
Year
Body Type
Fuel Consumption*
Engine
Fuel Type
Transmission
2005
SUV
7.7L/100km
2.7L
Diesel
5 SP AUTO
2004
SUV
7.7L/100km
2.7L
Diesel
5 SP AUTO
2003
SUV
7.7L/100km
2.7L
Diesel
5 SP AUTO
2002
SUV
7.7L/100km
2.7L
Diesel
5 SP AUTO
2001
SUV
7.7L/100km
2.7L
Diesel
5 SP AUTO
See All Mercedes-Benz ML270 Pricing and Specs for 2005