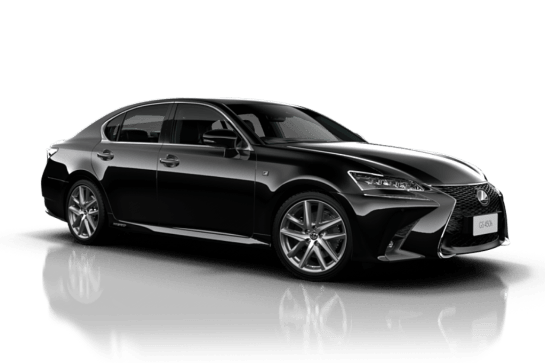 COMPARE
Lexus GS
VS
Tesla Model S
Lexus GS
Likes
Super-smooth V6
Lots of interesting tech
Lovely (if old-fashioned) interior
Dislikes
Thirst
Media system
No Apple CarPlay/Android Auto
---
Tesla Model S
Likes
Rocketship speed
Clean interior design
Ever-improving proposition
Dislikes
Sadly, it's not a sports car
It's a lot of money
Lack of convenient charging
Summary
Lexus GS
Ah, yes, the Lexus GS. Toyota's luxury off-shoot had high hopes for the new big boy when I first saw it a few years ago. Not thousands-of-sales high hopes, but the company thought a rear-wheel drive luxury sedan stacked with gear you didn't even know you wanted would be a dead-set winner.
And to be fair, they were right. I ran a GS as a long-termer and it was impeccably-mannered. In hybrid form. It wasn't sparkling, but my goodness, it used barely any fuel; especially impressive given its size.
As the sun is surely setting on the GS, it's time to have a look and see if it's a match for the BMW 5 Series or the Mercedes E.
| | |
| --- | --- |
| Safety rating | — |
| Engine Type | 3.5L |
| Fuel Type | Premium Unleaded Petrol |
| Fuel Efficiency | 10L/100km |
| Seating | 5 seats |
---
Tesla Model S
If you have even a passing interest in the Tesla Model S, you'll have seen the endless internet videos where someone has lined up a Ferrari, Lamborghini, or another fast exotic car you could name, to race against it.
There's a long build-up, usually involving men who can't operate a baseball cap, a drag strip and idiotic words in the headline like "destroys" or "rips", or whatever. There's usually a bunch of honking bros with bad haircuts watching on, already planning their next viral video where they set a perfectly good mobile phone on fire.
It's facile and idiotic and doesn't give you any real clue as to the depth of whatever supercar it has "humiliated" or, just as importantly, the depth of the Model S and its spectacular engineering.
So, I won't be spending the next thousand words building up to the conclusion that the Model S P100D with Ludicrous Mode is up there with the world's fastest production cars from 0-100km/h, because I'll tell you now that it is, and it does it in a claimed 2.7 seconds.
Now that's out of the way, there's quite a bit more to the Model S than a "broken" Nissan GT-R owner weeping into their bento box.
| | |
| --- | --- |
| Safety rating | |
| Engine Type | — |
| Fuel Type | Electric |
| Fuel Efficiency | —L/100km |
| Seating | 5 seats |
Verdict
Lexus GS
7.3/10
Weirdly, given all the good things I've had to say about the GS F Sport, it doesn't quite hang together. It's missing that certain something the Europeans have in their chassis, particularly the BMW 5 Series, and with ageing interior tech, it's struggling to keep up.
It's a car built for specific tastes, and they're more California than Straya. And that's perfectly okay, but unfortunately, that doesn't translate to a stampede of buyers. Having said that, none of its German rivals (or its beleaguered Japanese counterpart, Infiniti) could claim wild sales success either.
The GS is a terrific car, underrated but also just not quite there for my taste. The GS F, though, that's another thing altogether.
Does Lexus even register on your big luxury sedan radar? If it does, what stops you from taking the plunge?
---
Tesla Model S
8.3/10
I spoke to a friend who bought a Model S before one had even hit the ground here in Australia. He chuckled when I told him how much this car cost but then said something I'd already suspected. "My mates who own a P100D would never drop that kind of money on a normal car. Buying a Tesla is like buying shares in the company, you're buying into the future."
And that's kind of the point. A $300,000 Audi RS7 (fully-loaded, obviously) is a bit slower in a straight line, looks just as good, is extremely well-built and emits noises that make people like me go as weak at the knees (just as the Model S' acceleration does). And would probably win a 10 lap race with the Tesla around Mount Panorama.
The Tesla is the future of cars. It may still be decades before the internal combustion engine is gone, but Tesla buyers are getting the jump, and today the Model S is the best car in which to make that leap.
Does the Tesla have the spark you need or do old-fashioned hydrocarbons still light your fire?
Design
Lexus GS
7/10
The GS is ageing well, but it's still a bit heavy-handed around the headlights and a little on the slabby side along the flanks. It doesn't look poised for action, even with the F Sport additions, but nor does it look frumpy, mostly due to the whopping blacked-out spindle grille, a Lexus signature. 
The rear end is good looking but a bit bluff, again neither surprising or delighting.
Little has changed inside, but it's still a very nice cabin, and always will be apart from a couple of clangers (the gear shifter looks super-cheap). 
What's more, it's welcoming, lots of very nice materials, comfortable, seats - it's exactly what it needs to be. Whatever you might think of the looks, one thing is absolutely certain - if anyone builds cars better than Lexus, it's a very, very short list.
---
Tesla Model S
7/10
The Model S is definitely the looker of the three Tesla models on sale (the Model 3 might be some way from release, but you can reserve one and it's... weird-looking). With a slinky, Jaguar XF/Audi A7 roofline and low-slung stance, it looks the business. Like the X, the detailing of the car's surfacing and panel gaps aren't where other $200,000+ cars are, but it has improved a lot over the last couple of years.
The styling is quite sparse, really. Teslas look like computer renders in real life, especially in white, with little in the way of jewellery or detailed design elements. And that's probably the idea. It's a cleaner design than when first launched, with a simpler, flatter snout that brings out the headlights better.
The cabin has improved even more than the exterior. It's still the same minimalist design, but it fits together much more tightly than it used to. The 17.0-inch portrait screen is still there in its central but skewed-to-the-driver position and is now up to version 8. It's an impressive interface, covering off the vast majority of functions in the car, and is mostly easy to use. The responsiveness is key to its usability. If it was underpowered, you'd quickly start demanding real buttons.
Practicality
Lexus GS
7/10
Being a big car, there's plenty of room inside. Four passengers will be very comfortable although rear legroom was a bit on the skinny side given the car's size.
The cabin contains a good-sized console bin, four cupholders and each door pocket into which you could conceivably slot a bottle.
The 520-litre boot is a useful shape, with a sensible load height and a space-saver spare under the floor. The 5 Series and E Class both best the Lexus by 10 litres, so the GS isn't far off the norm.
---
Tesla Model S
8/10
The Model S is a rare car in this class in that it has an almost completely flat floor, meaning rear seat passengers don't have to negotiate a transmission tunnel. The two motors run physically independently of each other so there's no crankshaft to get in the way.
The floor is thicker than a normal car, it's like a big skateboard underneath. That means your knees are up higher, which might cause numb bum on a long trip. The rear seats are comfortable enough, but middle seat occupants might feel like the outboard passengers are falling into them.
The view out isn't too bad given the rising window line, and if you've got the big two piece sunroof (without cover, irritatingly... ), it's quite airy out back. And hot (with the sunroof), but you do get rear air-con vents.
The boot is an eminently sensible 744 litres with the seats up and 1795 with the seats down, although the floor doesn't fold flat. While it's a big boot, it's relatively shallow so your suitcases go in on their sides. Up in the front boot (or froot) there's another 150 litres, so you can pack a lot in to the Model S. And with all that torque, when you do load it up, the extra kilos barely make a dent on the performance.
Price and features
Lexus GS
8/10
We had the pleasure of the GS 350 F Sport for the week, which is well over $10,000 cheaper than the Luxury and is therefore the 'default. If you're not sure what F Sport means, it's Lexus' answer to an M Sport or AMG pack, without all the high-powered engine shenanigans to go with it. If that's what you're after, the V8-powered Lexus GS F is definitely for you.
Starting at $95,300, the F Sport has a spectacular standard features list - 17-speaker stereo, 19-inch alloys, variable-geared four-wheel steer (!), adaptive suspension, dual-zone climate control (with moisturising function), hectares of leather trim, head-up display, electrically-operated heated and ventilated front seats, rear sunshade, F Sport instrument screen, auto LED headlights, keyless entry and start, sat nav, front and rear parking sensors with around-view cameras and a space-saver spare.
The media system is run from Lexus' 12.3-inch screen embedded in the dashboard and controlled from an infuriating console-mounted mouse-clicker with a couple of shortcut buttons. It really is spectacularly irritating and made worse by the rotary dial stationed next to it that acts as the drive mode selector. Why not use that instead? 
As ever, the system is mildly baffling to use and hard to look at, but the sound is absolutely lovely from the Mark Levinson-branded speakers. Lexus is persisting with a DVD player but it also has DAB+.
---
Tesla Model S
8/10
Tesla is basically a technology company - well, a battery company - that makes cars, so the features and options reflect that. It's a gadget-laden five-door hatch powered exclusively by electricity and seemingly full of things that will drain the batteries quickly.
If you view the car's price purely through its standard features list and the cost of options, you're missing the point. If it had a 3.0-litre turbo six, there's no way you'd pay this kind of money for the Model S. But it doesn't have that, it has a bleeding edge battery pack and propulsion system.
The Model S can be had for as little as $118,652 for the 60 offering 400km range, rear-wheel drive, and 5.8s 0-100km/h (but move quickly, Tesla has just axed this model), or as much as this P100D which starts at $250,582.
Standard are a seven-speaker stereo, leather-like trim, 19-inch alloys, reversing camera, 17.0-inch touchscreen, keyless entry and start, forward collision warning, digital dashboard, electric front seats, sat nav, auto LED headlights, auto wipers, internet connectivity via included SIM card, power mirrors and windows and air suspension.
Our P100D came with 21-inch grey 'Turbine' wheels ($6800), panoramic roof ($2300) multi-coat pearl paint (white, $2300) and carbon-fibre interior trim bits for $1500, as well as a carbon lip spoiler for another $1500.
We also had the 11-speaker audio upgrade (with neodymium magnets, don't you know) for $3800 and the 'Subzero Weather Package' (seat heaters, heated steering wheel, wiper blade defrosters and washer nozzle heaters) and on-board high-power charger (speeds up charging with the 'Tesla Wall Connector', $2300).
There was also 'Enhanced Autopilot' ($7600) and 'Full Self-Driving Capability' ($4600). The former is meant for highway running, and comes with four cameras (up from one) and 12 ultrasonic sensors around the car, as well as upgraded processing power to run it all.
The full self-driving is meant for around town. The idea is you punch in a destination, or speak to the computer or passive-aggressively stay silent, which triggers the car to check your calendar and take you to the address in the appointment. Part of the extra cost of that is yet more cameras (up to eight), more sensors, and more number-crunching power.
We would love to tell you how all that worked, but being Tesla 'Hardware 2', it's not ready yet. While these features are being fleet-tested by 1000 cars in the US, your car will run it all in "shadow mode" for data and behaviour validation. One day you'll go to your car and a software update will be ready to download and install the functionality.
Unusually, you can retrofit both of these features for about $1500 more (each) than if you order them up-front. That's very cool and Tesla is probably the only car company in the world that will let you do it.
The 17.0-inch screen's software is regularly updated, like a mobile phone's. Also like a mobile is the sometimes less successful update, in this case the slightly bewildering and difficult-to-use music interface that is very keen for you to make a selection with voice commands, but not ones that go through your phone.
A 'Premium Upgrades' package adds the overkill of a 'Bioweapon Defense (sic) Mode' that knocks out 99.97 per cent of exhaust particulates and other contaminants, using two activated carbon air filters for other nasties like NO2 and hydrocarbon exhaust fumes.
LED turning lights and fog lights, real leather on the armrests, steering wheel and lower dashboard (if you also have leather seating), nappa leather and Alcantara on the dashboard, soft LED interior lighting, power tailgate and backlit door handles for $5300. Thankfully, the silly self-opening front doors in the Model X's pack aren't in this little lot.
Grand total? $297,792. On the road in, say, NSW... $313,013. Youch.
Engine & trans
Lexus GS
8/10
Lexus fits a 3.5-litre (2GR-FKS) naturally-aspirated V6, delivering 232kW/380Nm to help shift the 1745kg GS. Power goes to the rear wheels via an eight-speed automatic. Lexus claims the sprint from 0-100km/h is completed in just six seconds.
---
Tesla Model S
10/10
The P100D ships with two electric motors fed by a huge battery pack which triples as the bulk of the chassis and a super-strong crash structure. It's also shared with the Model X SUV.
Combined power output is 568kW with more of it out the back rather than up front. Torque is quoted at 1000Nm, but it's likely more than that. Claimed 0-100km/h time is a mildly unbelievable 2.7 seconds, with a further two-tenths to be shaved off when you press and hold Ludicrous Mode and accept a warning that you'll wear the car out faster if you use it.
With 'Ludicrous Mode' comes not just software but a higher capacity fuse that allows more power to be drawn from the batteries for longer to provide the searing acceleration.
Fuel consumption
Lexus GS
6/10
A real world 13.7L/100km is a solid miss of the claimed 9.3L/100km, which itself is hardly earth-shattering. It's a big heavy car and that's the penalty. It drinks fuel fast, so the 66-litre fuel tank does drain quickly and it's worth knowing you have to fill it with the 95 RON or better.
---
Tesla Model S
10/10
Zippo. Obviously with the new rules for Tesla Superchargers, it's not as cheap to own and run a Tesla as it was before (from January 2017, all new orders don't get free juice after the first 400kWh), but if you charge it at home (and can get away with it), it'll probably be cheaper than using Tesla's chargers. If you look, there's a company offering $1 per day charging for electric cars.
If I'd charged the car to 100 percent rather than the 80 percent recommended by Tesla for most charges (past that mark, the charge rate drops and the software has to slow to a trickle, doling out the electrons to the different cells), I would have managed just over 400km on the charge.
Driving
Lexus GS
7/10
There are things you expect in a Lexus. Quietness. Composure. Smoothness. The GS delivers all three of those things effortlessly. But it has a few extra things in its bag that I can't say I was expecting.
For a start, the 3.5-litre V6 moves the car without any carry-on and in doing so, I was constantly amazed at how quickly the speed in the head-up display reached the posted limit. It just doesn't feel or sound like a six second car, but there you are. The transmission is virtually faultless, the engine sound distant and refined, the power impressive.
It's a heavy car, no question, but two things work to make it feel much lighter. First - and it doesn't matter which mode you choose - the adaptive suspension somehow knocks about 200kg out of how heavy the car feels. The brakes, while a little soft on pedal feel when you first step on them, are very effective and again help to make the car feel lighter than it is.
The four driving modes are quite distinct. As usual, Eco makes everything soft and doughy or as I prefer to say, unpleasant. Normal is great for every day, with just the right throttle response and steering weight.
Moving to sport ups the aggro slightly while Sport+, while never harsh, firms everything up to the point where it starts to feel like a different car. Sport+ makes the car feel race-car pointy, the suspension holds the body in check and the power seems readily available without jerky progression
The all-wheel steer is a big part of the change in feel. It's is especially sharp in Sport+ mode. The steering's gearing changes up quite a bit, meaning a lot less steering lock required for your favourite hairpin bend. Of course, at real speed it all calms down because neither you nor Lexus are fond of sneezy lane-changes or Armco-swiping. At first I thought it just made the big car feel a bit too nervous but as I got used to it (and was able to dial it down by switching back into a less racy mode) I found it fun but a little bit out of character with the car itself.
And just because it's the F Sport, that doesn't mean it can't do all the things you'd expect from a Lexus. You can still waft, you can still creep up on people and it's really very comfortable when you're cruising or stuck in traffic. 
---
Tesla Model S
7/10
The first time I drove a Model S, I enjoyed the acceleration and the silence of the electric motor (this was back in the Dark Ages when even the P90 only had one motor). And that has remained, with the air suspension providing a firm but comfortable ride despite the P100D's 21-inch rims and very low profile tyres. Electric motoring in any electric car is addictive.
Much progress has been made (yes, I'm getting to the acceleration, stay with me) in the way it drives. The earlier cars felt too computer gamey, with little feel through the wheel or the seat of your pants. The steering is better, especially in Sport mode, but not a lot gets through the air suspension, so it takes a while to build confidence in the chassis.
On the freeway (look, you can read ahead if you must) it's amazingly quiet, with just a bit of a rustling around the mirrors. Well, of course it's quiet, it's electric. For chassis and NVH (noise, vibration and harshness) squashers, not having the marvellous engine noise means much harder work to dull the other noises you just don't hear when there's an internal combustion engine.
And there's the acceleration. As the driver, you obviously know it's quick. Mash the throttle and the response is instant, the horizon closing in on you like you're attached by a very stretched and immensely strong bungee strap that's just been released. The way cars disappear in your rear vision mirror is hilarious.
It's more fun as a passenger, though. The Model X elicited whooping and laughing, but the P100D's extra 0.6s-worth of acceleration over the P90D, delivered with a truckload more G-force, equals silence. One woman said she was glad I'd caught her before dinner rather than after, before bursting forth with a range of expletives. One passenger became quite emotional, almost crying. And not just because they were stuck in a car with me.
Safety
Lexus GS
7/10
The GS scores 10 airbags, ABS, stability and traction controls, blind spot monitoring, rear cross traffic alert, forward AEB, active cruise, auto high beams and lane departure warning with lane keep assist.
The GS doesn't have an ANCAP or Euro NCAP rating while the USA's IIHS (Insurance Institute for Highway Safety) rating is good for each key crash-worthiness measure. The IIHS suite of tests is quite rigorous but differ from our ANCAP/Euro NCAP standards.
---
Tesla Model S
8/10
The Model S comes with six airbags, ABS, stability and traction controls, three ISOFIX points, rollover sensors, emergency power disconnect. Additionally, when the software arrives, you'll have full AEB (ours was limited), self-driving and an ultra-clever active cruise that'll change lanes and overtake if the car you're following falls below your set speed.
The Model S scored five ANCAP stars, the maximum available, in April 2015 via the sharing arrangement with EuroNCAP.
Ownership
Lexus GS
8/10
There's one area where Lexus smashes the Germans and that's after-sales. While the warranty is hardly ground-breaking at four years/100,000km and service intervals are reasonable at 12 months/15,000km, it's how it all comes together.
For the duration of the warranty, when the car needs a service, Lexus will either come and get it then return it to you, or give you a loan car. Anecdotal evidence suggests this continues long after the warranty runs out. Like, 10 years after the warranty runs out. 
This is a small thing, but if there's one thing I hate about car ownership, it's the servicing experience. If I was a betting man, I'd dare you to find someone who genuinely has a problem with Lexus after-sales care.
On top of that, you get a generous roadside assist package for four years. 
---
Tesla Model S
8/10
Tesla offers a four-year/80,000km warranty with a parallel eight year/unlimited kilometre warranty for the battery and drive units. Roadside assist applies for the four year warranty period.
Tesla offers two maintenance plans, three and four years in length. The three year plan costs $2100 and the four year $3175. Paying for the services individually over the same period will cost $2300 and $3425 respectively. That includes a wheel alignment (if needed), but it isn't particularly cheap when compared with 'normal' luxury cars.
Your first 400kW/h of recharging is free using Tesla's supercharger network, so that would be four full charges from empty (which you wouldn't do, obviously), or about 1600km worth. After that, it's 35c per kWh or $35 for a full charge.