Suzuki S-Cross GLX vs Holden Trax 1.4 LTZ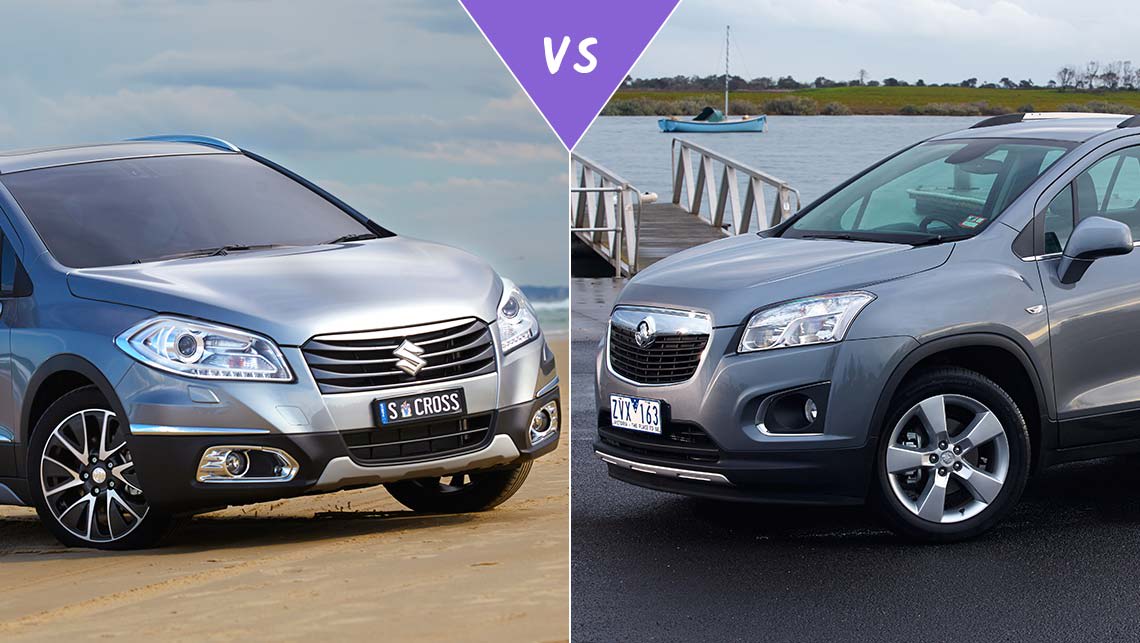 The crossover hatch is practical and compact, though the exterior styling can be a compromise. James Stanford appraises a safe and spacious pair.
Suzuki S-Cross GLX
$29,990
The S-Cross is reasonable value as a spacious crossover hatch. Check for drive-away deals, especially on the entry level GL model, which officially costs $22,990. The GLX is $29,990 as a front-driver or $32,990 AWD. It gets a stepless CVT auto, keyless entry and start, HID headlights, satnav, 6.1-inch touch creen, cruise control, 17-inch alloys and cloth seats. The warranty is three years/100,000km and capped price servicing is three years/100,000km. Resale value is 46 per cent.
Holden Trax 1.4 LTZ
$29,990
The Trax is one of the better value compact SUV crossovers. The base LS is normally $23,990 but look for drive-away deals. The higher spec LTZ comes with a basic 1.8-litre engine for $28,490 or a perky 1.4 turbo for an extra $1500. LTZ comes with seven-inch touchscreen, cruise control, 18-inch alloys and imitation leather sports seats.
The S-Cross's 1.6-litre four-cylinder is adequate if not athletic (86kw). The CVT might help economy (it claims 5.8L/100km) but the transmission does not seem all that well calibrated. Then there's the typical CVT slurring sound, which is not pleasant.
Holden Trax 1.4 LTZ
Engine
Both engines make 103kW but the turbo 1.4 has more torque, which is available more of the time. The 1.8 with five-speed manual is a bit of a slug but the 1.4 is a little ripper. It seems to always have power in reserve. It is a little thirstier than the S-Cross, claiming 6.9L/100km. The regular six-speed automatic is much better than the Suzuki's CVT and you hardly notice it working away in the background.
A compact crossover SUV is quite a challenge for designers and very few could be considered good looking. The S-Cross is certainly no stunner, with its tall and narrow look, dominated by a sloping bonnet and oversized headlights. The interior is neat but derivative. The GLX seems a little basic for the price and the rear seat base is flat and hard. There is a lot of cabin space with vast headroom. Vision is brilliant, especially thanks to extra windows in the windscreen-pillar.
It isn't the prettiest car around but the bulging wheel arches give it some on-road presence, as do the bright colours. Avoid the optional bonnet stripes — please. A highlight of the modern and stylish interior is an instrument cluster that mimics a sportsbike's analog tacho and digital speedo. You sit up higher in this than the Suzuki. The seats provide good support and are trimmed with a synthetic that could pass for leather. There is good space in the second row.
It has six airbags, five-star safety and standard reversing camera and rear sensors. The AWD option provides added surety on loose surfaces. Advanced safety tech such as emergency auto braking is not available.
It is a match for the Suzuki on the number of airbags and safety stars, rear-view camera and rear sensors, as well as lack of emergency auto braking. There is no AWD option.
It might be practical but the S-Cross is not inspiring to drive. The steering is poorly weighted and requires near constant correction. The body doesn't feel well tied down either, so you don't feel like pushing. This is a surprise because Suzuki can get it right with cars like the Kizashi and Swift, which are great fun to drive. The ride is comfortable though and the ample interior space is appreciated, as is the excellent vision.
Holden has had hits and misses with the handling of its imported cars over the past few years but this Trax is very good out on the road. Local engineers picked a setting for Australia and the result is a car that feels solid, has limited body roll and enjoys a corner or two. The steering is so much better than the Suzuki's and is well weighted, responsive and accurate. It sits on 18-inch wheels but the ride is still very comfortable.
The Trax takes this one easily. It is similarly practical but is far more impressive on the road and in the cabin.