Holden Barina CDX vs Toyota Yaris YRS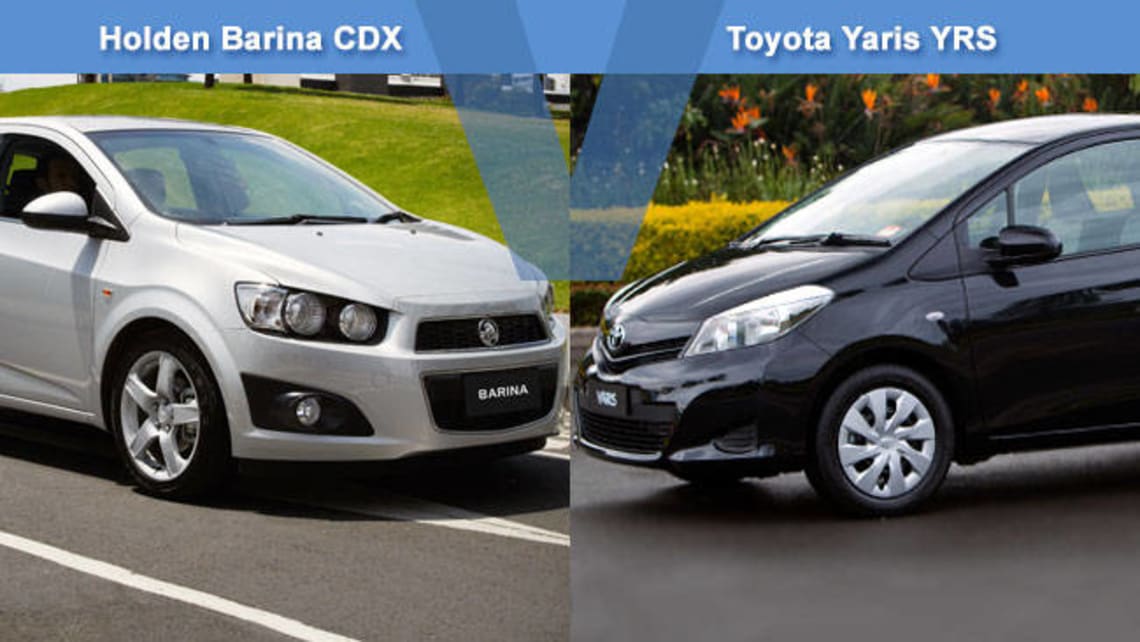 Holden Barina CDX and Toyota Yaris YRS go head-to-head in this comparative review.
The first Holden to get MyLink for smartphones, the Korean-built CDX has access to Bluetooth, Siri, some apps and audio functions via the helm and voice control. There are aircon, auto locking and headlights, 17-inch alloys, USB input, heated front seats and leather-wrapped steering wheel.  
Slides in beneath Barina on price but lacks full smartphone integration for its touchscreen. There are Bluetooth and USB input, cloth trim, leather-wrapped helm, 15-inch steel wheels, airconditioning, trip computer, central locking but no auto headlights.
App access and smartphone integration is fuss-free but, touchscreen apart, the tech-score is light. The 1.6-litre engine with variable intake manifold claims mid-6.0L fuel economy. Six-speed auto wins on a ratio count but loses for smarts and smoothness.
The app-based stuff is always off. Power comes from a feisty 1.5-litre four-cylinder (80kW/141Nm), which is hauling much less weight. The four-speed auto might not be low on ratios but it's smoother and a little better at using what it's got.
A handsome snout but the rest is straightforward. Boxy exterior endows decent interior space for the segment, with good-sized boot and split-fold rear seats. Digital instruments are easy enough to decipher but some still conventional dials.
Toyota no longer makes whitegoods on wheels . . . apparently. The Yaris is inoffensive outside and effective within. Storage and occupant space and packaging are also good -- the double-decker boot is useful if loads need to be split.
Stability and traction control, six airbags (front, front-side and curtain) and ABS contribute to a five-star ANCAP rating. Brakes are front discs and rear drums. Rear parking sensors (but no camera) and optional full-size spare -- puncture kit is standard.
Five stars from ANCAP head a list that includes stability and traction control and ABS (also on front discs and rear drums). Seven airbags (front, front-side, curtain and knee) also contribute to the safety features list.
Passenger room is useful, ride quality is decent and features list is punchy. That's where the fun ends -- engine feels lacklustre at low revs and thrashy higher up, the transmission is slow and can be rough. Strictly A to B transport.
Lacking smartphone bits (for now) and two ratios in the auto, Yaris still has better quality feel in the cabin and a more pleasant drivetrain. Weighs 200kg less than the rival which gives it extra pep. Conventional instruments are easy to read.
Neither shopping trolley will be abandoned near the local shops. Tech heads will lean to the Barina but it lacks the quality feel of the Yaris. The Toyota's drivetrain is smoother and more refined and the chassis feels more cohesive.