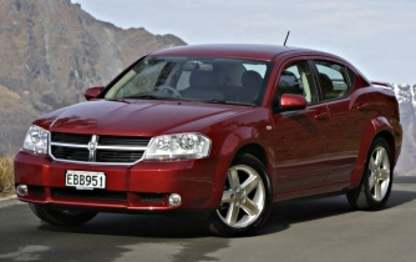 Dodge Avenger
What's on this page
Dodge Avenger Models Price and Specs
The price range for the Dodge Avenger varies based on the trim level you choose. Starting at $7,200 and going to $11,550 for the latest year the model was manufactured. The model range is available in the following body types starting from the engine/transmission specs shown below.
Year
Body Type
Specs
Price from
Price to
2010
Sedan
2.7L, ULP, 6 SP AUTO
$7,200
$11,550
2009
Sedan
2.0L, ULP, 5 SP MAN
$4,700
$10,890
2008
Sedan
2.0L, ULP, 5 SP MAN
$4,400
$10,010
2007
Sedan
2.0L, ULP, 5 SP MAN
$4,100
$7,370
See All Dodge Avenger Pricing and Specs
Dodge Avenger Wheel Size
The Dodge Avenger has a number of different wheel and tyre options. When it comes to tyres, these range from 215x55 R18 for Sedan in 2010 with a wheel size that spans from 18x7 inches.
Year
Body Type
Front Tyre Size
Front Rim
Rear Tyre Size
Rear Rim
2010
Sedan
215x55 R18
18x7 inches
215x55 R18
18x7 inches
2009
Sedan
215x60 R17
17x6.5 inches
215x60 R17
17x6.5 inches
2008
Sedan
215x60 R17
17x6.5 inches
215x60 R17
17x6.5 inches
2007
Sedan
215x60 R17
17x6.5 inches
215x60 R17
17x6.5 inches
See All Dodge Avenger Wheel Sizes