Citroen C5 HDi Estate 2004 Review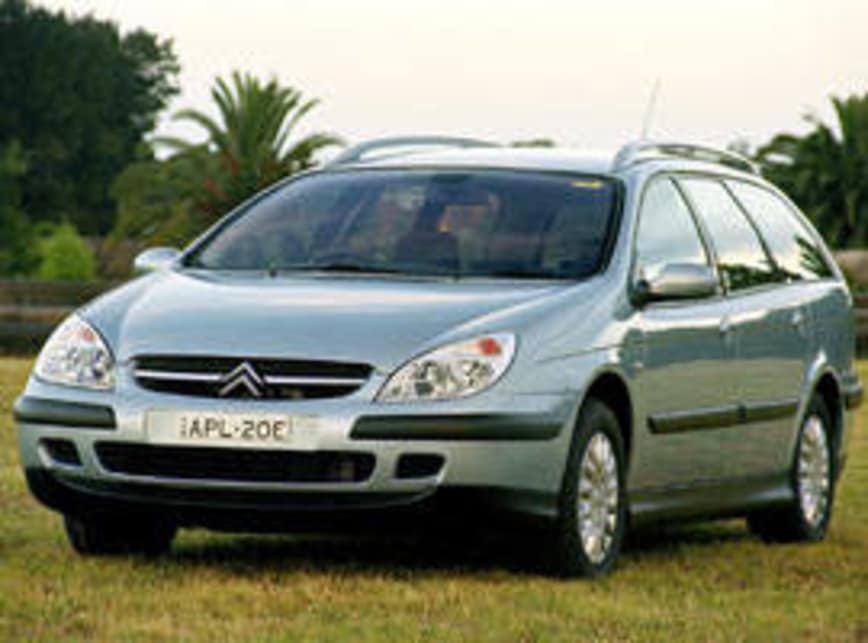 In Europe they have known about the benefits of diesel power for years and here in Oz the 4WD fraternity seems to finally have the message, but diesel powered passenger vehicles are something of a rarity.
That's a shame because there are some real beauties out there like the Citroen C5 Estate.
I remember pulling up next to a bloke at the tip not long ago as he was emptying the rear of his C5 wagon. He loved the car but rued the fact he had not been able to get a diesel – it wasn't available at the time.
Citroen has rectified this situation with the recent release of the Citroen C5 HDi Estate.
The C5 has been one of the stars in Citroen's Aussie lineup, with diesel models now outselling petrol ones with rising fuel prices.
The wagon is stylish, larger than you think and not as expensive as you might believe.
The HDi is powered by a hi-tech, 2.0-litre turbo charged common rail, direct injection diesel engine that produces 82kW of power and 255Nm of torque.
Don't be too concerned about the power because it is the torque figuure that we are concerned about here, produced from a low 1750rpm.
Torque is the stuff that gets cars off the line in a hurry and makes short work of long hills – and the Citroen has plenty of it.
Combine this with an overall fuel consumption figure of 6.7L/100km and that gives the wagon with a 68-litre tank a theoretical range of 1000km.
In the real world this translates to between 800 and 900km – still pretty impressive.
Many people mistakenly believe that diesels are slow, noisy and blow lots of smoke. That may have been the case at one time but the diesel engine has come on in leaps and bounds in the last couple of years.
The C5 HDi lacks the punch and urgency of a petrol engine, but is certainly no slouch. However, it is on the freeway where the low revving engine really comes into its own.
The wagon comes in one fully specified model with tipshift auto tranny, climate controlled air, stability control and many other luxury features.
On the road it is a little quick to get into second gear, but there is a sport option that retards gear changes or it is possible to switch to full manual mode.
Citroens are famous for their variable suspension and the C5 is no exception, rising automatically for rough roads and dropping down to reduce drag on the freeway.
You can also raise and lower the car for loading.
The wagon is is a big comfy user friendly car that tends to grow on you, with a large airy interior, plenty of rear legroom and stacks of load space.
Thoughtful additions include a reversible rubber backed luggage mat and a cord cargo barrier that slides forward when the rear seats are dropped.
The tailgate window can be opened separately for quick access.
Handling is good without quite being sporty and brakes are also good, but have a tendency to grab.
There is an annoying amount of momentum as the car comes to a stop and the transmission changes down.
The Citroen C5 Hdi Estate is priced from $47,490 plus on road costs.
Pricing Guides
$3,950
Based on 5 cars listed for sale in the last 6 months
Range and Specs
| Vehicle | Specs | Price* | |
| --- | --- | --- | --- |
| (base) | 2.0L, ULP, 4 SP AUTO | $2,640 – 4,070 | 2004 Citroen C5 2004 (base) Pricing and Specs |
| HDi | 2.0L, Diesel, 4 SP AUTO | $5,170 – 7,590 | 2004 Citroen C5 2004 HDi Pricing and Specs |
| HDi LIMITED ED | 2.0L, Diesel, 4 SP AUTO | $4,950 – 4,999 | 2004 Citroen C5 2004 HDi LIMITED ED Pricing and Specs |
| V6 Exclusive | 2.9L, PULP, 4 SP AUTO | $4,730 – 6,930 | 2004 Citroen C5 2004 V6 Exclusive Pricing and Specs |