Jaguar F-Type S Coupe 2016 review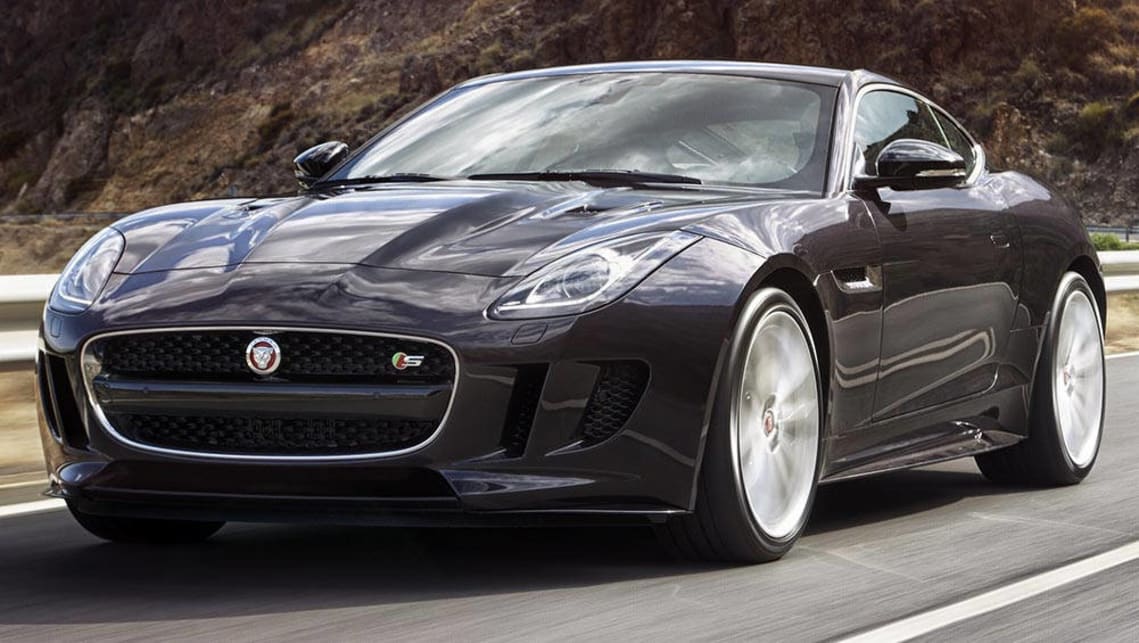 Almost three years ago Jaguar took the unusual step of introducing the F-Type convertible before the coupe version, it's usually done the other way around. Now an F-Type coupe has spent a week in our possession and we have enjoyed every minute in it.  As is normal, the coupe is lighter than the convertible because
What we like
Sharp, precise steering
Smooth power delivery
What we don't
Boot is laughably small
Confined space in the cabin
What we like
Sharp, precise steering
Smooth power delivery
What we don't
Boot is laughably small
Confined space in the cabin
Almost three years ago Jaguar took the unusual step of introducing the F-Type convertible before the coupe version, it's usually done the other way around. Now an F-Type coupe has spent a week in our possession and we have enjoyed every minute in it. 
As is normal, the coupe is lighter than the convertible because the open body needs additional strengthening to make up for the loss of a fixed roof. Meaning there's a bit more bang for your buck.
Jaguar arranged for us to review an F-Type S coupe with a supercharged V6 engine and the added cornering power of all-wheel-drive (AWD). It sits somewhere between it's two main competitors, Porsche's Cayman and 911 Carrera. 
We love the shape of this Jaguar
The F-Type coupe range starts at a pretty reasonable $119,470 with a V6 that's detuned, but still supercharged, engine and a six-speed manual gearbox. The stick shift isn't likely to be a big seller as today's autos can be just as quick as manuals.
Design
We love the shape of this Jaguar and spent time reminiscing over the shape of the iconic Jaguar E-Type, arguably one of the lookers of all time. It doesn't quite come up to the brilliant shape of the E-Type, but the F-Type's large 'mouth' grille, long bonnet with a centre bulge and cooling ducts would surely have been given a nod of approval by Sir William Lyons, the genius who designed the Jaguar E-Type, when he spotted it while looking down from Jaguar heaven. 
Not visible under these superb lines is the fact that the F-Type is made almost entirely from aluminium. This lightweight material isn't easy to work with, but Jaguar arguably do it better than any other company. Though it has to be said that Audi is doing some clever things with aluminium as well.
Features
A clear, easy-to-use touchscreen provides easy control by way of a simple array of menus that means you're never too far away from the initial menu pages. Quality stereo provides excellent output in the enclosed space of the F-Type's cockpit.
Engines / Transmissions
Our test Jaguar F-Type S coupe had the 3.0-litre V6 supercharged that puts out 280 kilowatts of power and 460 Newton metres of torque. 
This engine sits neatly between the standard 3.0-litre supercharged V6 in a lower state of tune, with 250 kW, and the redhot F-Type V8 R with a huge 364 kW (475 horsepower) from its 5.0 litres. 
Safety
The Jaguar F-Type was European NCAP crash tested and passed with ease, gaining five stars. As well as the passive safety highlighted by thumping the car into a concrete block, this British sportscar has excellent chassis dynamics and huge brakes to assist you in avoiding a crash in the first place.
Driving
The front seats are a long way down and getting in and out isn't easy. Perhaps it's just the fact that my knees aren't as young as they used to be, but a friend in his thirties wasn't keen on the clambering in and out either. Once settling in the seats support well and are nicely sorted out for spirited cornering. 
The seats are firmer than I like and may possibly be a bit much for long-distance grand touring in the wide open spaces of Australia. Anyone wider than average in the posterior may find them less comfortable particularly during high G-force cornering.
This Jaguar is strictly a two seater and the cabin is relatively short. There's not a lot of space behind the seats, to the extent that tall passengers who want to lean their seats well back can't do so. As always, try for yourself during your personal test drive.
The boot is a joke. Crammed almost full of a full-sized spare it struggled to cope with a week's shopping for two of us. We had to arrange the grocery bags around the wheel cover as best as we could.
The, relatively, lightweight chassis gives it a much nimbler feel than you might anticipate
Driving is what this full-on sports Jaguar is all about. The engine starts with an enthusiastic bark as it revs itself before settling back to a fast idle if it's cold. The neighbours weren't openly irritated, but then again we never did need to start a trip late at night...
Once past that raucous startup the sound is just right and there were plenty of occasions when we wound the windows down to simply listen to it. The push in the back when you really get stuck into the throttle begins virtually instantaneously - a real advantage of a supercharger over a turbocharger. The torque is provided in a beautifully linear manner and keeps coming.
The F-Type's Sport mode, activated by simply moving the selector to the left, provides lots of fun. Race mode, indicated by a chequered flag, was only used for acceleration as we didn't manage to get any track work into the test week. There's also a Snow mode, but the Gold Coast in summer wasn't quite right for trying it. 
Handling is sharp and precise and the little Jag 'talks' to you responsively through the steering wheel and the seat of your pants. There's an immense amount of grip and the balance in the, relatively, lightweight chassis gives it a much nimbler feel than you might anticipate.
Seat comfort has already been mentioned, but overall the big 20-inch Pirelli P-Zero 35 series tyres provide a reasonably supple feel for a sports machine in this class.
Verdict
A brilliant British sports machine, the Jaguar F-Type S coupe is a viable alternative to the numerous German machines in this class and certainly deserves a test drive.
Pricing guides
$144,900
Based on 14 cars listed for sale in the last 6 months
Range and Specs
| Vehicle | Specs | Price* | |
| --- | --- | --- | --- |
| Project 7 | 5.0L, PULP, 8 SP AUTO | $158,600 – 200,530 | 2016 Jaguar F-Type 2016 Project 7 Pricing and Specs |
| R | 5.0L, PULP, 8 SP AUTO | $115,700 – 146,300 | 2016 Jaguar F-Type 2016 R Pricing and Specs |
| R AWD | 5.0L, PULP, 8 SP AUTO | $149,888 – 152,000 | 2016 Jaguar F-Type 2016 R AWD Pricing and Specs |
| SVR AWD | 5.0L, PULP, 8 SP AUTO | $143,900 – 181,940 | 2016 Jaguar F-Type 2016 SVR AWD Pricing and Specs |
Pricing Guide
$74,950
Lowest price, based on 5 car listings in the last 6 months
View cars for sale
Similar Cars
BMW Z4

Maserati Granturismo

Audi RS5