BMW i8 2015 review: first drive
What we like
Game-changing tech
Still very quick
Distinctive looks
What we like
Game-changing tech
Still very quick
Distinctive looks
The 2015 BMW i8 plug-in hybrid sports coupe is a striking design that draws attention wherever it goes. Park it on the street, and you'll be swarmed by pedestrians with cellphones, taking pictures in reverent silence.
Tell them that it's a range-extended electric car--capable of travelling 15 to 25 kilometres on electricity alone, then supplementing its small three-cylinder engine with electric "boost" -- and they're even more impressed. That was the case during our test drive in Los Angeles, but that's also a location where plug-in electric cars enjoy a variety of financial incentives as well as carpool-lane access.
Over a day-long drive of roughly 160km that included city traffic, a short stint on the freeway, and then a delightful two hours of carving up the twisty roads in the canyons above Malibu, BMW's newest performance car revealed two very different personalities. It can be a quiet all-electric car on short trips, with decent if not exceptional acceleration and the calm lack of vibration that sets electric cars apart from their gasoline-engined counterparts.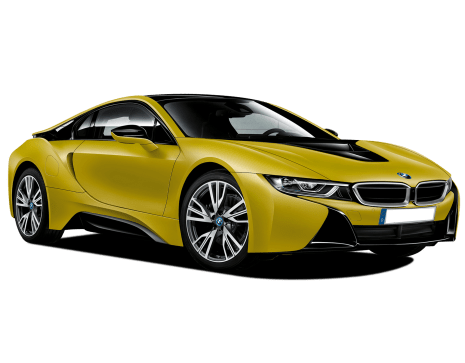 Explore the 2015 BMW i8 range
Then there's the performance coupe with a small but powerful turbocharged engine supplemented by substantial electric torque under full acceleration. And the driver can choose which mode to use for any given trip--something other cars in the BMW i8's price range can't offer.
ENGINE / MOTOR
The powertrain of the i8 packs a lot into a two-seat coupe profile. (Technically, it's a 2+2, but with adult-sized humans in the front seats, there's no legroom to speak of in the rear seats--and each one has about enough space to hold a large backpack. Between the rear wheels sits the 170kW/320Nm turbocharged 1.5-litre three-cylinder engine, powering the rear wheels through a six-speed direct-shift gearbox.
The front wheels are separately powered by a large 96kW/250Nm electric motor. The i8 can be driven electrically by its front wheels, in petrol-hybrid mode by its rear wheels, or in all-wheel drive by using both powertrains at once -- controlled by a very great deal of software to keep all the pieces operating harmoniously.
Using both parts of the powertrain together, maximum output is 266kW and 570Nm and BMW claims a 0-100km/h time of just 4.4 seconds, and economy of less than 2.1L/100km. The i8 offers three different driving modes. The "Max e-Mode" setting keeps it in all-electric mode up to 120km/h, giving between 20-30km from the 7.1-kwH lithium-ion battery pack fitted in the tunnel between the two front seats.
Once the pack is depleted, the i8 segues into "Comfort" mode, in which it acts fundamentally like a hybrid car: It will start off on electric power, then switch on the engine when more power is required. In this mode, the engine recharges the battery pack only enough to keep the battery at enough charge to act as a hybrid.
But switch over to "Sport" mode and the BMW i8's whole personality changes. The instruments turn red, replacing the power meter with a tachometer, and an entirely different version of the powertrain management software takes over. Flooring the accelerator activates the front electric motor -- illuminating a "Boost" notice in the tacho -- and give the car that 4.4-second acceleration to more than 100km/h.
DRIVING
On twisting canyon roads, the BMW i8 pulls aggressively and delivers a pleasant howl from the engine mounted transversely behind the passengers. Handling is neutral, and the electric power steering is precise and delivers decent feedback considering that everything the driver feels through the wheel is simulated. (For road feel, the now-vanishing hydraulic power steering can't be beaten, in or view. But it's simply not compatible with a car that can run on electricity alone.)
We did experience a couple of discontinuities somewhere in the mix among power delivered to the front wheels and the rear wheels, low-speed regenerative braking, and traction control software that tried to manage all of it. In one case, for instance, slow deceleration toward a stoplight in electric mode followed by a quick power-on/power-off transition produced an unexpected lurch forward. But these instances were rare, and we suspect BMW will refine the control software to tune it for those "edge case" situations.
Then there's the sound produced by the powertrains, both inside and outside the car. BMW has tuned the sound of the engine output, via a sound-generating chip that adds frequencies to the engine note based on engine speed and how fast the car is traveling. On upshifts in Sport mode, there's a nice honk through the exhaust system before the engine settles down to its new, lower speed.
But it's important to understand that the BMW i8 is a touring car, not a track car. In overseas markets it's priced in line with cars like the Audi R8 and Porsche 911, but it's a very different kind of car -- one meant for use around town in electric mode, and then stretching its legs with the petrol engine when performance that begins to approach the racy looks is desired.
Verdict
BMW will announce Australian launch timing and pricing in the near future, and then it remains to be seen if its remarkable looks and split personality will win it enough fans to justify the expected $200,000+ price tag.
But until that question can be answered a few years hence, the BMW i8 is a striking and attention-getting design that likely signals one potential future for sports cars: electric power around town, electric-assisted gasoline engines for performance.

www.motorauthority.com
Pricing guides
$144,485
Based on third party pricing data