Foton Tunland Dual-Cab 2012 review
It is early days yet but Foton's Tunland has potential to find a niche in Australia's thriving ute market.
Depending on features, pricing (as always) and a viable sales network, Australians may warm to this line-up of Cummins-powered, Chinese-built utes in two and four-wheel drive.
Not perhaps as fancy-dancy as some recent arrivals, the Tunland looks and feels like a decent workhorse from one of China's youngest vehicle companies. Styling is restrained, mechanical underpinnings strong and Foton keen for international conquests.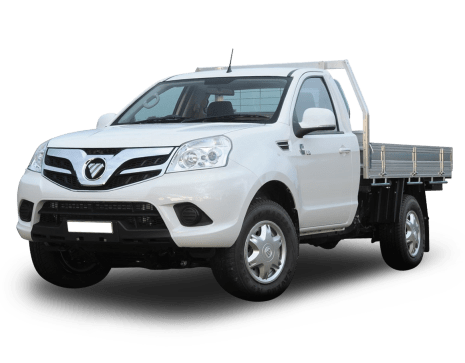 Explore the 2012 Foton Tunland range
Some of the Tunland's character is imbued by the 2.8 litre diesel from Cummins, a respected name among truckers. There's also a Gertrag transmission and Dana axles; nothing wrong with the mechanical package there's just a truckload of competition out there so prices will need to be sharp when the Tunlands arrive around May.
First will be the dual cab, diesel with five-speed manual transmission and rear or four-wheel drive. An extra and a single cab version should arrive by the third quarter, followed by a 2 litre, petrol engine and a six-speed ZF auto either late this year or early next.
A Foton commuter/cargo van is due in the second half of 2012 and a SUV wagon, based on the Tunland, some time in 2013.
Value
Prices and specifications aren't yet finalised on Australian-bound Tunlands. Foton had benchmarked the new ute against the like of Toyota's HiLux, Isuzu D-Max and Nissan Navara. But with a host of unknowns for Australian customers, Tunland pricing will have to undercut those rivals; Carsguide would suggest the top-spec, five-speed, four-wheel drive dual cab, needs to arrive in the high $30,000s with the auto perhaps breaking into the $40,000s.
Design
It is a fair-sized dual cab, 150mm wider in the cabin than a Toyota HiLux though rivals may beat it for rear legroom. The dual cab's cargo tub measures a respectable 1520mm by 1580mm by 440mm; the single cab's tray runs out at 2315mm long.
Inside is clean and tidy, tending more toward Euro asthetics than Asian. Indeed much of the switchgear and dashboard instruments  look as if lifted from Volkswagen's spare parts bin.
The up-spec cabin features leather and flashes of plastic timber; all will have a no-nonsense instrument panel alongside stereo system in the centre console, underlined by ventilation controls and then, for four-wheel drive models, push buttons for two, four-high and four-low drive.
Technology
The Tunland doesn't run to many electronic aids. Up front is a double-wishbone, independent suspension and down back a solid rear axle with leaf springs. There's ABS and electronic brake force distribution plus a load-sensing proportioning valve but no stability control. Inside there's a stereo with MP3 port and parking sensors for some models.
Safety
Along with ABS the Tunland scores driver and front passenger airbags. Curtain airbags are down the track.
Drive
Our first look at the Tunland was with a pre-production ute in a brief run alongside Foton's Beijing HQ and in sub-arctic temperatures. Yet it was enough to suggest the ute is a viable proposition at the right money. It feels solid and would appear to steer and handle as well as most dual cabs; but think D-Max rather than Amarok.
The engine does not rev as high as some of today's diesels, finding its 120kW at 3600rpm. Yet it gets off the line pretty well and will pull away with minimal revs in second. The clutch-throttle relationship is good but the manual shift was a little notchy, it should smooth out with use.
Verdict
Importers Foton Auto Australia understand they get one chance only at making the Tunland work down here. Part of that will include keen prices, decent build quality and a viable dealer network. Initial impressions suggest the Tunlands deserves that chance.
Pricing guides
$11,715
Based on third party pricing data
Range and Specs
| Vehicle | Specs | Price* | |
| --- | --- | --- | --- |
| Luxury (4x2) | 2.8L, Diesel, 5 SP MAN | $9,020 – 12,650 | 2012 Foton Tunland 2012 Luxury (4x2) Pricing and Specs |
| Luxury (4x4) | 2.8L, Diesel, 5 SP MAN | $10,670 – 14,630 | 2012 Foton Tunland 2012 Luxury (4x4) Pricing and Specs |
| Quality (4x2) | 2.8L, Diesel, 5 SP MAN | $8,800 – 12,430 | 2012 Foton Tunland 2012 Quality (4x2) Pricing and Specs |
| Quality (4x4) | 2.8L, Diesel, 5 SP MAN | $10,560 – 14,410 | 2012 Foton Tunland 2012 Quality (4x4) Pricing and Specs |
Pricing Guide
$8,800
Lowest price, based on third party pricing data
View cars for sale
Similar Cars
Ford Ranger

Isuzu D-Max