Volkswagen looks beyond diesel scandal to EV future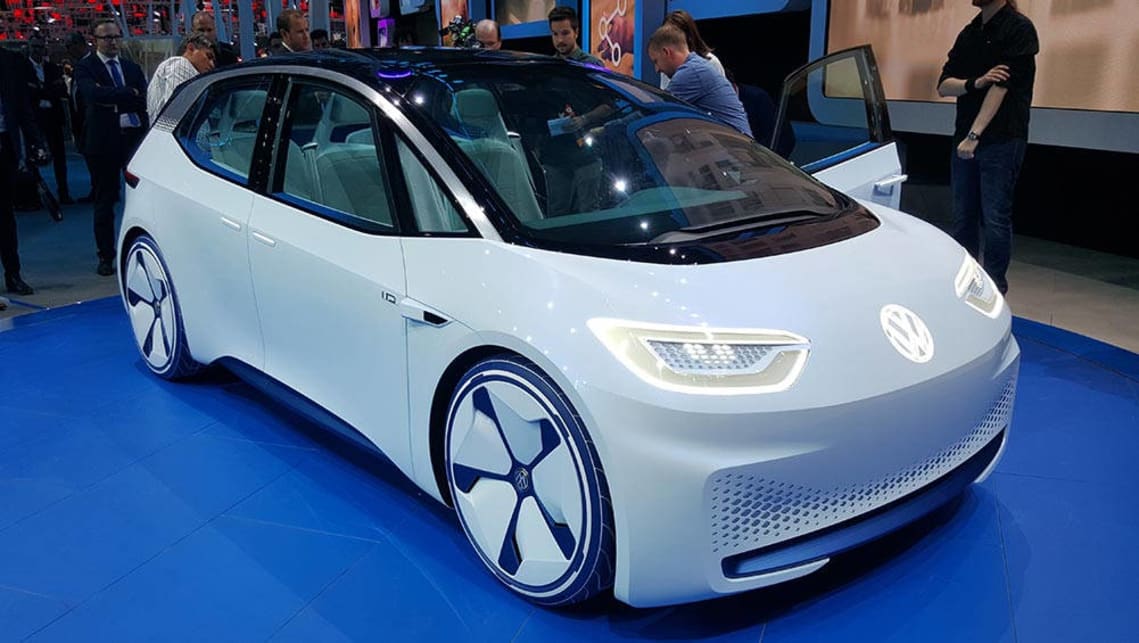 Paris motor show marks start of electric reinvention for VW.
Volkswagen has laid out its plans for a radically different future, even as it works feverishly to make amends for the diesel emissions scandal that has, in part, cast the company on its new course.
The German brand plans to introduce 30 electric vehicles by 2025, displaying a concept car in Paris called the ID, which the company says lays the groundwork for the plan.
Based around an all-new EV platform known as MEB, the ID concept is said to be able to travel up to 600km on a single charge.
In the interim, however, Volkswagen board member and head of sales and marketing, Jurgen Stackmann, told CarsGuide.com.au that the diesel emissions scandal that has enveloped the company for the last 14 months has not affected the company's sales in Europe, and that a technical solution for 5.6 million cars sold internatioinally had been ratified by EU authorities.
A working solution for the remaining 5.4 million cars, meanwhile, would be in place by December.
"We would hope to close, technically, this chapter by the end of the year," said Mr Stackmann. "The majority of cars will only take a ten minute job. It sounds funny, but we are working extremely hard to have no change for the customer."
Mr Stackmann suggested that the software update, along with the fitment in some cases of a plastic router in the air inlet tract, would not have any affect on performance, and could possibly even improve fuel economy.
"We have to find a solution for 850 different gearbox and engine combinations," said Mr Stackmann, "and the testing for just one can take a year and a half. We are working to reduce that time, but not the quality of the result."
Mr Stackmann couldn't say that the advent of the diesel emissions issue – discovered after a US university showed VW products emitted higher than permitted levels of nitrous oxide while in motion – led the company to accelerate the implementation of its Together – Strategy 2025 plan, which moves VW into the areas of mobility and electric vehicle technology.
"We have been firm and fast," he said. "We are happy that we can come to Paris, only eight months later, not only with a show car but actually with an underpinning technology platform that is in full development and with a firm commitment from the whole company to make this transition happen in three and a half years.
"Volkswagen is in a massive change, opening itself up and letting outside energy in."
Mr Stackmann also said that the huge sums of money that have been put aside to pay for fines, court costs and repairs in the wake of the emissions crisis have not affected the company's future plans for products, suggesting that a refreshed Golf Mk VII would soon be shown, along with a new small SUV that will sit underneath its brand new Tiguan.
Both of these cars are expected to launch at the LA motor show in November.
"We will have two SUVs above and two below the Tiquan," said Mr Stackmann, who also refused to deny that a coupe version of an SUV – like BMW's new X2 Concept - is on the cards.
"I will show you when I can show you," he smiled.
Are you looking forward to Volkswagen's electric future? Tell us what you think in the comments below.