Subaru Forester hybrid 2020 model to capitalise on huge demand for Toyota RAV4 hybrid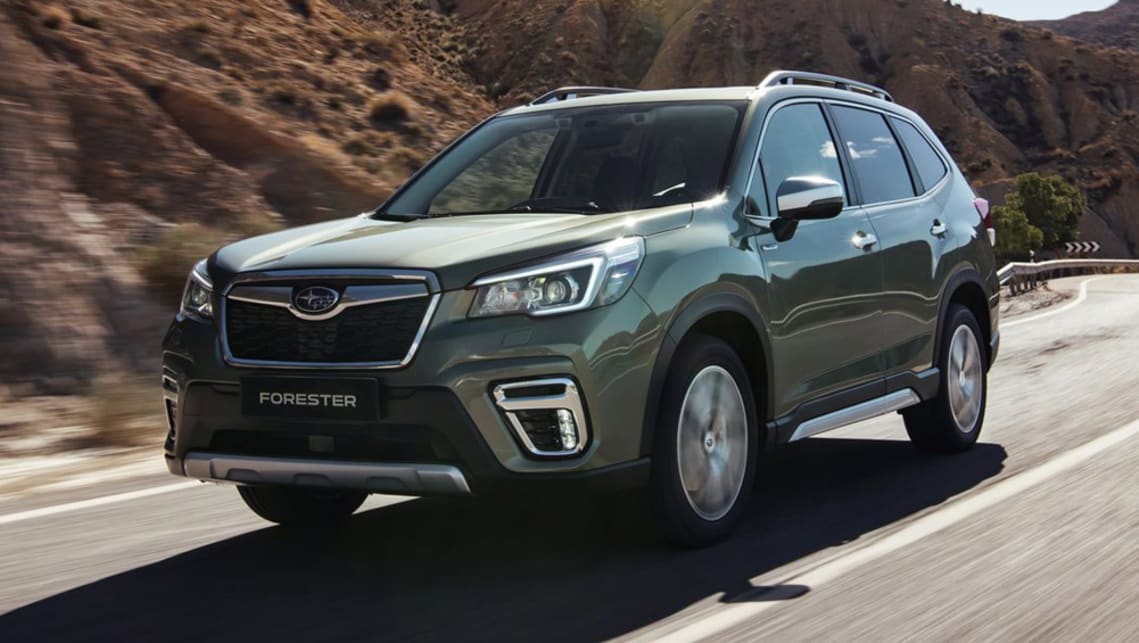 In case you missed it, the demand for Toyota RAV4 hybrid models is out to as much as eight months for certain variants - and that's a gap that Subaru is hoping the all-new Forester hybrid model will be able to fill.
The new Subaru Forester e-Boxer 2020 model will arrive in Australia in the first quarter of next year, and the brand's local arm is currently is in the final processes before it launches locally, according to Subaru Australia general manager of sales, Colin Christie.
"We've got the XV and Forester hybrids coming in quarter one, 2020. That'll be good - we've just got to finalise all the specifications and details for those ones before we get them to Australia," said Mr Christie at the 2019 Tokyo motor show.
Toyota is battling to get enough hybrid variants across all the models it sells, and the RAV4 Cruiser hybrid - which won our comparison test earlier in 2019 - has a wait less of two-thirds of a year. Other hybrid models are easier for customers to get their hands on, but according to Mr Christie, the fact that there's such demand for a petrol-electric mid-size SUV is a good thing for competitor brands, too.
"That's the thing that excites us most out our hybrids - (the RAV4) has had such great success with the hybrid.
"I think it has been a big step change in peoples' minds as to what a hybrid can be, to be honest," he said.

"Unfortunately we won't get the volumes we would like to get in due to production restrictions - but I think it has shown that if you bring a good product to market with a good level of hybrid technology, people will accept it and actually move towards it," he said. "We're not expecting high volume out of them, but having the technology in the products, and having it in our major products is really important as well."
And there's a strange symbiotic link between these two brands, as Subaru and Toyota recently agreed to co-develop a new electric SUV together in the future.
Mr Christie indicated that, just like Toyota Australia, Subaru's local offering is likely to jump from series-hybrid models like the XV and Forester (which don't require plugging in) to a full electric model, when the time comes. That means there's no plans for a plug-in hybrid to rival the Mitsubishi Outlander PHEV.
"In reality I think the hybrid system we use, that it uses the electricity while you're driving -essentially you're getting benefits of the hybrid technology, but you don't have to plug it in, or find a powerpoint.
"From our market, our interest would be from hybrid to electric. But these will be the first big step for us," said Mr Christie.
Both Subaru hybrids will share the same powertrain - a 2.0-litre, four-cylinder engine, paired with a transmission-mounted electric motor. The engine offers 110kW of power and 188Nm of torque, while the electric motor adds 10kW and 65Nm from its 13.5kWh lithium-ion battery pack. Both are still all-wheel drive with a CVT automatic, however the brand claims the X-Mode off-road functions are "enhanced" by the added acceleration from standstill, not to mention the fuel economy benefits (expected to be in the region of 2.0L/100km better than the current non-hybrids).
The XV e-boxer will also have a Toyota competitor in 2020, with the C-HR small SUV to get its first petrol-electric hybrid derivative later this year.