Top 5 camper-trailers to avoid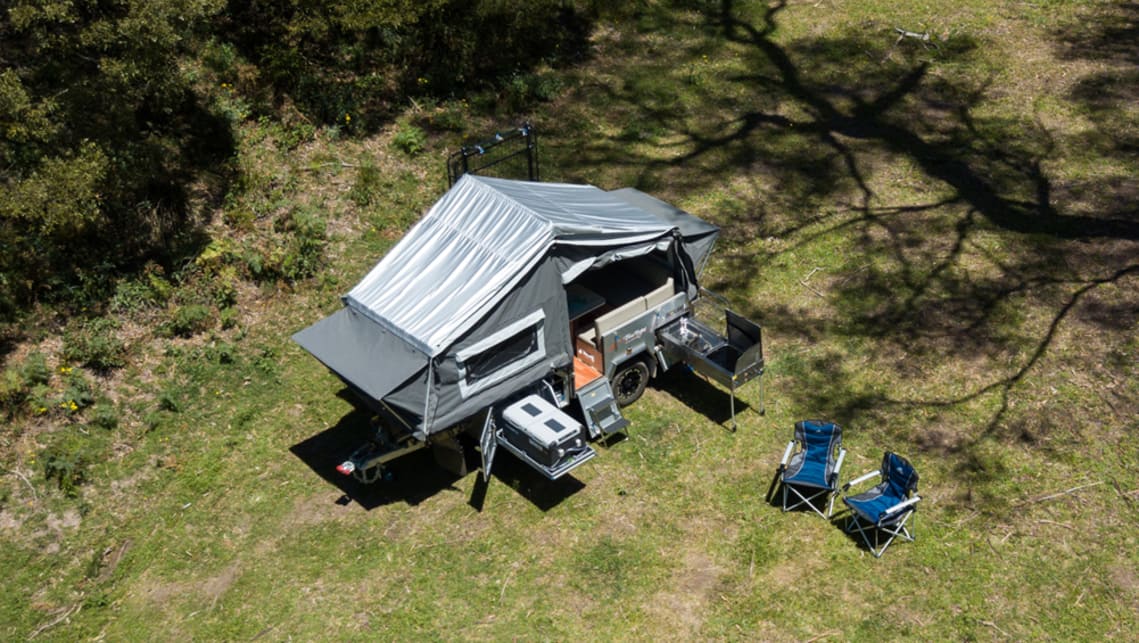 Camper-trailers are a big investment so you need to do your research and spend your hard-earned cash wisely.
There are several things to avoid when buying a new or second-hand camper-trailer and here is our top 5 list of camper fails to give a wide berth.
Avoid camper-trailers your vehicle is unable to tow

This Ford Everest can easily tow this 1285kg Jayco Swan Outback. (image credit: Brendan Batty)
It's different strokes for different folks as far as towing and tow vehicles are concerned. Small vehicles will be able to legally tow smaller, less weighty camper-trailers and large 4WDs will be able to handle larger burdens at the back. 
Check the weight of your potential camper-trailer – it will be listed in the camper's specifications. Hard-core off-road camper-trailers (built using heavy-duty materials and construction) or campers packed with features or options will be heavier than their cheaper, bare-bones or lighter entry-level on-road counterparts.
Check your vehicle's towing capacity – those figures will be listed as unbraked and braked* in your driver's manual. Towing capacities can range from 640kg (unbraked) and 1200kg (braked) in a compact AWD SUV, to 750kg (unbraked) and 3500kg (braked) in many large SUV wagons and dual-cab utes, through to the 6989kg (braked) towing capacity of a Ram 3500 pick-up. For more, read our towing advice story here.
*Your tow vehicle needs an electric/electronic brake controller system fitted and functional in order for you to be able to legally tow any camper-trailer, boat-and-trailer combination or caravan weighing more than 750kg.
If your vehicle is legally able to handle the burden, then you're good to go; if not, think about changing your target camper-trailer or upsizing your tow vehicle, if your budget allows. 
For more on vehicle and trailer weights, read our special feature.
Avoid camper-trailers with below-par design

This Avan CruiseLiner is well designed - beware campers that aren't. (image credit: Brendan Batty)
No matter which type of camper is catching your eye – pop-top (almost like a caravan), soft-floor or hard-floor, forward-fold or rear-fold – if it's been poorly designed, you'll be behind the eight ball before you even head off.
Look for quirks and design flaws that may pose bigger problems down the track a bit: winder handles that don't work as smoothly as they should, gas struts that aren't doing their job properly, bed bases that are vulnerable to outside moisture, pinch-points on hinges, canvas that doesn't tuck away or unfold neatly enough when setting or packing up, awnings/tented sections with too many spreader bars and no end wall, or those with a flat roofline which are prone to catching water when it rains.
Avoid camper-trailers built with poor materials

Look for a camper built with top-quality materials. (image credit: Brendan Batty)
The better the materials used in the construction of your camper, the safer and more comfortable you'll be. 
Check for top-quality materials such as a hot-dip galvanised steel chassis, Australian-made canvas, aluminium or steel poles, and a high-density foam or open-cell foam mattress on the bed. If these are in good shape then chances are the manufacturers haven't skimped on other materials.
Avoid camper-trailers with poor construction

A well-constructed camper-trailer is worth the money. (image credit: Brendan Batty)
It doesn't matter how good the materials used are if they've all been linked together in a chain of poor construction.
You're looking for a level of workmanship that matches the cash you plan to spend.
Look for full, clean welds with support pieces in corners and crucial joins, including on the chassis and drawbar.
Avoid campers with stapled woodwork in cupboards and kitchen where possible as it is prone to weakening and separation (after prolonged exposure to general usage and travel). Tidy and bolstered woodwork with glued or screwed joins is much better.
Hinges, clips and latches need to be durable enough to cope with the rigours of camping and touring, and adjustable enough to squash tight in on dust seals to prevent water and dust ingress.
Check the paint work on non-galvanised chassis and drawbar; a powdercoat finish is plenty tough enough for touring and camping; hammertone is also hard wearing – anything else can be a bit of a compromise.  
Make sure all canvas on awnings or tented sections is well-stitched, blemish-, damp- and tear-free, and that there are no large holes in the sewing.
Are all electrics (plugs, wiring etc) neat, tidy and safely functioning?
Are water and gas fittings well put together, secure and in great working order?
Avoid camper-trailers with labour-intensive set-up and pack-up
If you've seen people struggle with a particular camper's set-up or pack-up process, then you should consider another camper.
Ask the expert at a camper dealership for step-by-step instruction on how to set up your potential camper purchase, watch them do it, then have a crack at it, at your own pace. 
You'll get better at set-up and pack-up with familiarity and repeated practise, but the process shouldn't be terribly difficult to begin with – if it is, then that's not the right camper for you.
It only takes between five and 10 minutes to get the bulk of a camper-trailer set-up done, then probably another five to 10 minutes more to finalise the process, i.e. get awnings fully erect, all canvas sides pulled taut etc.
Reckon we've missed some camper-trailer fails? Tell us in the comments below.