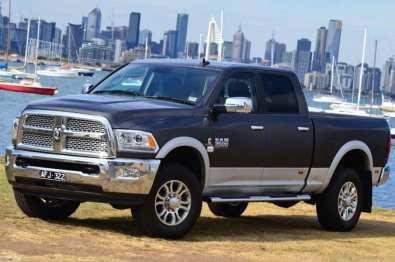 Ram 3500 Australia
What's on this page
Ram 3500 Towing Capacity
The Ram 3500 has maximum towing capacity of 6171kg for the latest model available.
Year
Body Type
Braked Capacity from
Braked Capacity to
2018
Commercial
6171kg
6171kg
2015
Ute
3500kg
3500kg
See All Towing Capacity for Ram 3500
Ram 3500 Q&As
Check out real-world situations relating to the Ram 3500 here, particularly what our experts have to say about them.
What towing capacity do I need for a float with two horses?

The rule of thumb is that a float with two horses on board is around the 2000kg mark, so that's the absolute bare minimum towing limit you'd be looking at. Even then, by the time you add a couple of saddles, some feed bins and whatever else it is horsey people cart around, you could easily be looking at 2.5 or even three tonnes.

With that in mind, the smart move would be to buy a dual-cab ute with as much towing capacity as possible. The good news there is that many of the popular choices can tow a braked trailer weighing anything up to 3.5 tonnes. Think about it; if a ute can tow 3.5 tonnes, it should cope easily with two tonnes.

If, on the other hand, we're talking a three-axle float and a pair of Clydesdale horses, you might have to look at one of the US-made utes from the likes of RAM or other US-market brands. And even then, you need to be careful: Even though some versions of the RAM ute can legally tow 4500kg with a braked trailer, to do so and not exceed the GCM (the combined mass of the vehicle and trailer) the payload in the tray falls to less than 100kg.
See All Ram 3500 Q&As
Ram 3500 Models Price and Specs
The price range for the Ram 3500 varies based on the trim level you choose. The model range is available in the following body types starting from the engine/transmission specs shown below.
Year
Body Type
Specs
Price from
Price to
2018
Commercial
6.7L, Diesel, 6 SP AUTO
—
—
2015
Ute
6.7L, Diesel, 6 SP AUTO
—
—
See All Ram 3500 Pricing and Specs
Ram 3500 Dimensions
The dimensions of the Ram 3500 Commercial and Ute vary according to year of manufacture and spec level.
Year
Body Type
Height x Width x Length
Ground Clearance
2018
Commercial
2027x2009x6027 mm
218 mm
2015
Ute
2027x2009x6027 mm
218 mm
See All Ram 3500 Dimensions
Ram 3500 Fuel Consumption
The Ram 3500 is available in a number of variants and body types that are powered by Diesel fuel type(s).
Year
Body Type
Fuel Consumption*
Engine
Fuel Type
Transmission
2018
Commercial
—
6.7L
Diesel
6 SP AUTO
2015
Ute
—
6.7L
Diesel
6 SP AUTO
See All Ram 3500 Pricing and Specs for 2018
Ram 3500 Wheel Size
The Ram 3500 has a number of different wheel and tyre options. When it comes to tyres, these range from 265x70 R18 for Commercial in 2018 with a wheel size that spans from 18x8 inches.
Year
Body Type
Front Tyre Size
Front Rim
Rear Tyre Size
Rear Rim
2018
Commercial
265x70 R18
18x8 inches
265x70 R18
18x8 inches
2015
Ute
265x70 R18
18x8 inches
265x70 R18
18x8 inches
See All Ram 3500 Wheel Sizes