How to find the best canopy for your Amarok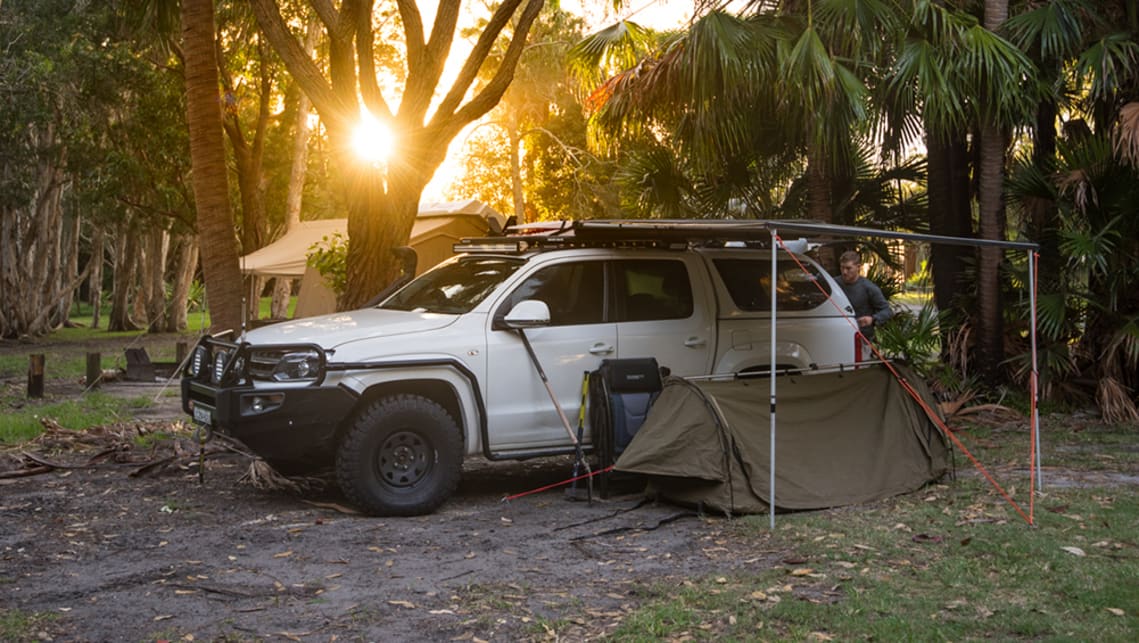 The VW Amarok, especially the V6, has an ever-growing group of fans but it still holds a peculiar spot in the Aussie market – it doesn't sell in massive numbers, as something like the Hilux does (then again what does?), but you see plenty of Amaroks around, being used as tool-hauling trucks or as recreational tourers, being driven and being enjoyed.

An ARB Classic Plus canopy on a V6 Amarok. (image credit: ARB)
The Amarok is a rather quiet success story – a real dark horse workhorse, if you will.
But, as with any ute, it can benefit from having a canopy installed, thus turning its tray into a more versatile, lockable and secure, protected load space that can be accessorised to your heart's content.
There are myriad VW Amarok canopy styles and there's a choice of materials used, including canvas, UV-stable ABS (Acrylonitrile butadiene styrene, a thermoplastic polymer), fibreglass, steel or aluminium, and there's also a wide array of add-ons from which to choose. 
For our tips on how to track down the best Amarok canopy for you, read on.
Different types of Amarok canopies

A canopy-equipped Amarok on a bush-and-beach camping trip. (image credit: Brendan Batty)
So, what's the best Amarok canopy? The one that suits what you do with your Amarok, of course. Your lifestyle – and budget – will dictate the body style and configuration of, as well as the materials used in, your canopy. If your focus is work then a tool-lugging steel, ABS, or Amarok aluminium canopy will suit you; if you're a keen outdoor sports fan then a canopy that can be fitted and accessorised to fit your chosen leisure activity is right for you; and if off-roading is your passion you'll want to gear up your canopy with drawers, a fridge slide and more.
Designs will vary but the focus on primary function will remain.
Genuine canopies from vehicle manufacturers, such as the Volkswagen Amarok canopy, are fine but ute owners are increasingly chasing even more versatility in their canopies.
Main materials used in an Amarok dual cab canopy include canvas, ABS plastic, fibreglass, aluminium or steel.
Budget-friendly examples are available but, while designs may vary, a top-quality canopy – such as one available from Ironman 4x4, ARB, Norweld, Carryboy, Flexiglass, Opposite Lock, TJM etc – will benefit from features such as lockable side windows and rear-access window, canopy vent (to reduce dust ingress by positively pressurising the canopy's interior), tinted safety glass (5mm tinted and tempered), central locking, push-button side opening windows, and more.
Other features – such as keyless entry, high-spec adhesive, LED interior lights, stylish interior and an anti-entrapment dial (so people can get out of the canopy if inadvertently closed inside) – are all great additions.
An easy-access ladder should also be part of a canopy set-up if you want to get to your rooftop tent or grab gear from your roof rack.
If your dogs are an important part of your family, congratulations I now like you even more and you should think about getting a dog pod added to your Amarok's canopy.
Some want functionality in their canopy, such as an aforementioned drawer system, a fridge slide and more, while others are keen to fit out their canopy with an accomodation option, such as a rooftop tent*. (*Note: a rooftop tent will soak up at least 50kg of your ute's payload, so that will affect how much other stuff you can legally carry in your Amarok.) Some people make full use of their canopy by installing their Redarc pure sine wave inverter or in-vehicle battery charger, onboard air compressors and more in it.
What are your Amarok canopy options?

An Amarok with a work-suited aluminium canopy. (image credit: Tom White)
Take your pick from used canopies, DIY jobs, ready-made off-the-shelf examples, through to a highly-personalised custom canopy. Beware: if a canopy is so cheap it seems too good to be true, chances are numerous corners have been cut in terms of workmanship and materials used. Apply brutal logic here: how good do you think a canopy is if short-cuts were taken during its design and manufacturing?
Thankfully, Australian companies make some of the world's best ute canopies because we Aussie off-roaders demand a lot from our canopies.
In today's aftermarket there's a canopy for an Amarok double cab to suit every lifestyle and budget. As mentioned earlier, some ute canopies have interior lay-outs designed to incorporate tool boxes, or are purpose-built for camping, with roll-out drawers and more.
The basic structure of ute canopies may not change a lot between models – each one has a roof, walls, and likely a flip/lift door at the rear, a fixed-shut window at the front, and sliding or flip/lift windows on the sides – but each canopy's capacity to be flexible, in terms of accessibility and storage, may vary widely.
Options for features include extra tie-down points, central locking, climate control, in-built lighting, soft-close windows, built-in storage systems (such as slide-out drawer systems) and even a slide-out kitchen.
Some canopies are bolted onto a ute's tray and can be removed without too much fuss.

How much does a Amarok canopy cost?

An Amarok with a set of Drifta drawers in its canopy. (image credit: Brendan Batty)
An Amarok canopy price can range from a couple of hundred dollars for a DIY canvas-and-steel-frame job (I've seen them), to more than $3000 (fitted).
Prices of fibreglass or ABS plastic ute canopies start from around the mid-$2000s mark (including fitment). Prices range anywhere from $1500 for an aluminium ute half canopy you will have to fit yourself, to more than $2000 (fitted) for off-the-shelf canopies or even custom, build-your-own versions.
The Flexiglass Sport canopy pictured at the top of this page cost around $3000 and that included installation. 
An ARB Amarok Canopy, the Classic (also pictured in this feature), costs from $2080 and from $300 extra for fitment.
A Carryboy canopy for an Amarok will likely cost from $2500 (not including fitment), but that's a guesstimate so contact Carryboy for a quote.
Warranties for a ute canopy can range from one year, three years or a lifetime, depending on the materials used and the brand/manufacturer involved.
Who are the leading brands & manufacturers? Best places to buy?

Another Amarok with an ARB Classic canopy, exploring Australia. (image credit: ARB)
Focus your shopping research on local well-respected aftermarket brands and manufacturers, including Ironman 4x4, ARB, Flexiglass, NorWeld, Carryboy Australia, Opposite Lock, and TJM.
Contact any of these mobs for a canopy:
Find your nearest ARB store here. 
Find your nearest Ironman 4x4 store here.
Visit the Norweld website for your nearest stockist.
Visit CarryBoy to find your nearest stockist.
Visit Flexiglass (and go to 'Locate a Distributor') for your nearest stockist.
Find your nearest Wolf 4x4 store here.
Visti OppositeLock to find your nearest store.
Find the nearest TJM store here.