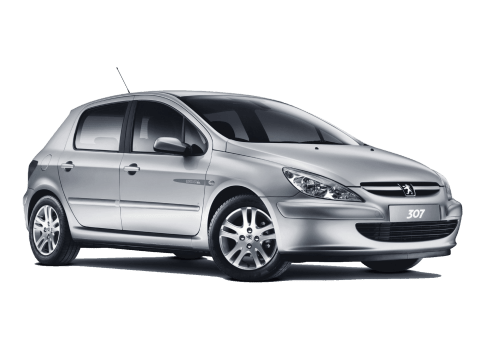 Peugeot 307 Australia
What's on this page
Peugeot 307 Q&As
Check out real-world situations relating to the Peugeot 307 here, particularly what our experts have to say about them.
See All Peugeot 307 Q&As
Peugeot 307 Fuel Consumption
The Peugeot 307 is available in a number of variants and body types that are powered by PULP, Diesel and ULP fuel type(s). It has an estimated fuel consumption starting from 8.1L/100km for Convertible /PULP for the latest year the model was manufactured.
Year
Body Type
Fuel Consumption*
Engine
Fuel Type
Transmission
2009
Convertible
8.1L/100km
2.0L
PULP
5 SP MAN
2008
Convertible
8.1L/100km
2.0L
PULP
5 SP MAN
2008
Hatchback
5.2L/100km
1.6L
Diesel
5 SP MAN
2008
Hatchback
8.6L/100km
1.6L
PULP
5 SP MAN
2008
Wagon
5.3L/100km
1.6L
Diesel
5 SP MAN
2008
Wagon
8.55L/100km
2.0L
PULP
5 SP MAN
2007
Convertible
8.1L/100km
2.0L
PULP
5 SP MAN
2007
Hatchback
5.2L/100km
1.6L
Diesel
5 SP MAN
2007
Hatchback
8.6L/100km
1.6L
PULP
5 SP MAN
2007
Wagon
5.3L/100km
1.6L
Diesel
5 SP MAN
2007
Wagon
8.55L/100km
2.0L
PULP
5 SP MAN
2006
Convertible
8.1L/100km
2.0L
PULP
5 SP MAN
2006
Hatchback
5.2L/100km
1.6L
Diesel
5 SP MAN
2006
Hatchback
8.6L/100km
1.6L
PULP
5 SP MAN
2006
Wagon
5.3L/100km
1.6L
Diesel
5 SP MAN
2006
Wagon
8.55L/100km
2.0L
PULP
5 SP MAN
2005
Convertible
8.1L/100km
2.0L
PULP
5 SP MAN
2005
Convertible
8.85L/100km
2.0L
ULP
5 SP MAN
2005
Hatchback
5.2L/100km
1.6L
Diesel
5 SP MAN
2005
Hatchback
6.55L/100km
1.6L
ULP
5 SP MAN
2005
Hatchback
8.6L/100km
1.6L
PULP
5 SP MAN
2005
Wagon
5.3L/100km
1.6L
Diesel
5 SP MAN
2005
Wagon
8.55L/100km
2.0L
PULP
5 SP MAN
2005
Wagon
8.9L/100km
2.0L
ULP
5 SP MAN
See All Peugeot 307 Pricing and Specs for 2009