23 August 2018
Tech Through Time: A Complete Overview of Hydrogen Fuel Cell Cars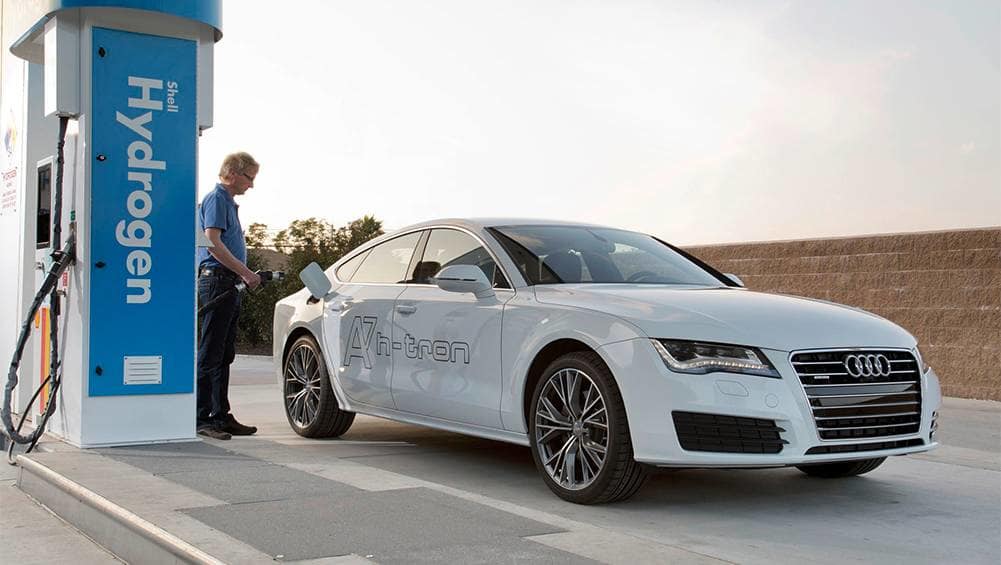 The heart of most vehicles today, the internal combustion engine has advanced significantly over its century long history.
This series outlines some of the key innovations in engine technology before taking a look at alternatives to the combustion engine. This week, the hydrogen fuel systems.
Check out the other parts in this series
Tech through time: Fuel Injection
Tech through time: Supercharging
Tech through time: Turbocharging
Tech through time: Variable Valve Timing
Purpose
What is a hydrogen fuel cell? Like their combustion engine counterparts, fuel cells convert fuel to energy. However, while ordinary internal combustion engines burn liquid petrol or diesel, the fuel cell generates electricity through an electrochemical reaction with hydrogen gas and oxygen. This produces electricity, which subsequently powers the electric motors that drive the car.
History
The concept of a fuel cell producing electricity was first invented in 1839 by Sir William Grove, a Welsh physicist. Nevertheless, it would take more than a century before the fuel cell had its first notable commercial application, in powering NASA's Gemini spacecraft in the early 1960s.

NASA's Gemini spacecraft was powered by hydrogen fuel cells. (image credit: NASA)
Honda's FCX Clarity, launched in 2008, was the first commercially available hydrogen fuel cell vehicle, initially limited to customers in Japan and California via leasing agreement.

The FCX Clarity, launched in 2008, was the first commercially available hydrogen fuel cell car. (image credit: Honda)
How it works
The basic principles that a hydrogen fuel cell operates on are similar to a battery. However, while a battery already contains the chemicals needed to generate electricity, a fuel cell requires a constant flow of fuel (hydrogen) to create electricity.
The fuel cell operates on two fundamental scientific principles; that opposite electrical charges (positive and negative) attract each other, and that the hydrogen atom consists of one negatively charged electron and one positively charged proton.   
Like a battery, a fuel cell consists of an electrolyte that is sandwiched between positively and negatively charged terminals (the anode and cathode, respectively). Pressurised hydrogen gas from an external tank enters the anode, while oxygen from the air enters the cathode. The positively charged anode acts as a catalyst for the hydrogen gas. It splits the hydrogen atom into separate, negatively charged electrons, and positively charged hydrogen ions.
The electrolyte acts as a filter for these hydrogen ions and electrons. By only letting the positively charged ions through to the cathode, the hydrogen electrons are forced to flow through an outer circuit. The flow of these electrons through the outer circuit constitutes electricity. In an automotive application, these electrons flow through an electric motor connected to the outer circuit, which then drives the car.
The outer circuit is connected to the cathode. As the electrons eventually reach the cathode, they meet up with the hydrogen ions that passed through the electrolyte directly into the cathode and recombine to form hydrogen atoms. As the cathode is filled with oxygen gas, these hydrogen atoms combine with oxygen to form H2O - water - as a waste product.

A basic diagram demonstrating the operation of a hydrogen fuel cell. (igem.org.uk)
Benefits
The most obvious benefit of a fuel cell vehicle over a typical combustion engine vehicle is that it produces no harmful emissions or toxic tailpipe gases, and is powered by hydrogen, a renewable (and abundant) energy source. As the fuel cell produces water as a waste product, fuel cell vehicles may actually be useful as a source of water in drought riddled regions with limited access to clean drinking water.
Fuelling time is also a key advantage of the fuel cell vehicles. Compared to a battery electric vehicle, which may take several hours to fully recharge, a fuel-cell vehicle can be filled with hydrogen in minutes.   
Disadvantages
The main disadvantages of fuel cell vehicles stem from a lack of infrastructure. Most countries currently have next to no hydrogen fuelling stations, thus making fuel cell vehicles highly impractical.
Whilst a fuel cell vehicle may not directly produce any harmful emissions, producing the pure hydrogen required for a fuel cell vehicle is an energy intensive process. For fuel-cell vehicles to benefit the environment, the entire energy supply chain must be environmentally sustainable; this may be a challenge for producing hydrogen. 

Hyundai's hydrogen refuelling station in Sydney is currently the only one in Australia. (image credit: blog.rac.com.au)
Safety is another concern with hydrogen vehicles. Hydrogen is a highly flammable gas, and so in the event of a severe collision, there's a risk that the hydrogen tank may rupture and explode. Nevertheless, new hydrogen vehicles such as the Toyota Mirai are designed to mitigate this risk by including a heavily strengthened hydrogen tank and numerous sensors and other measures designed to prevent leakage.
Like battery electric vehicles, fuel cells use several rare Earth metals in their construction, such as platinum in the anode. For a fuel-cell vehicle to be environmentally sustainable, these precious metals must also be ethically and sustainably mined.
Future
A lack of infrastructure is the key issue that is holding back hydrogen fuel cell vehicles today. While governments around the world are investing in electric charging infrastructure, and battery electric vehicles can also be charged from the home, there is very little investment in hydrogen fuelling infrastructure. In the near future, it is very likely that these battery electric vehicles will eclipse hydrogen fuel cell cars as the preferred environmentally friendly transport option.
However, manufacturers such as Toyota and Honda remain key proponents of the hydrogen fuel cell vehicle. Toyota currently views plug-in hybrid and battery electric vehicles as a 'bridge' to a longer term hydrogen powered future. 

Toyota believes that hydrogen fuel cell vehicles are the only long term option for environmentally sustainable transport. (image credit: todayonline)
What do you think of hydrogen fuel cell cars? Do you think they're a better alternative than battery powered vehicles? Tell us what you think in the comments below.