13 November 2019
Introducing the world's first three-wheel 'Pagani Zonda'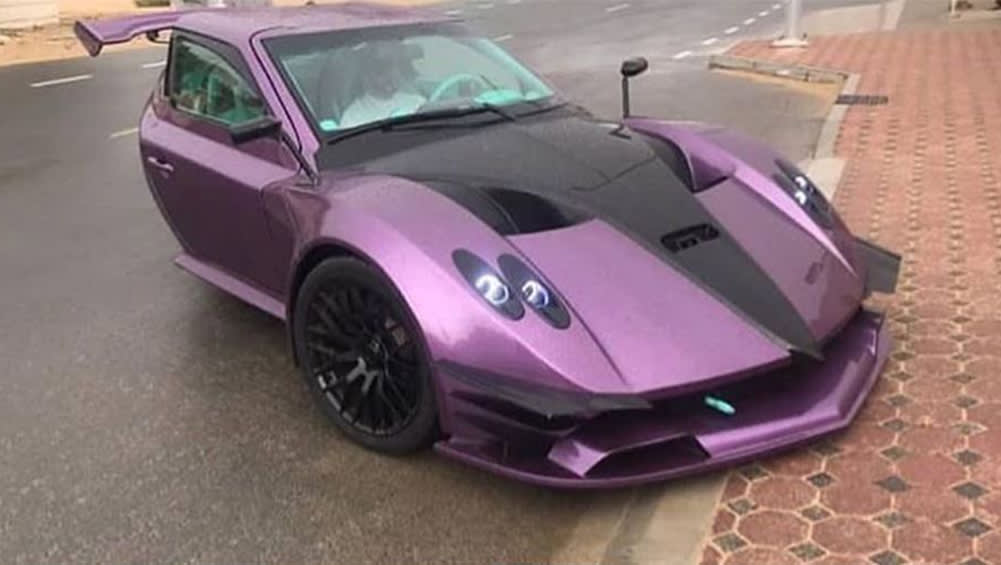 People living in the Middle East, especially Abu Dhabi have a unique taste in cars, like the two-door Nissan Patrol with the heart of an R35 GT-R.
But some of their cars borderline on just weird, such as this three-wheeled Pagani Zonda seen on the Instagram page, rus.autoclub. 
From the front three-quarter's it looks like someone has driven a Zonda into a tree and wiped the rear half of the car off.
The back also looks that messy, but the spoiler and gullwing doors make up for it, right?

If anyone can identify what this three-wheeler used to be, drop us a line. (image credit: rus.autoclub)
Not a lot is known about this creation, but we can tell you this isn't anywhere near a real Zonda as the side mirrors don't match the original and the front splitter is ridiculously long, even by Pagani standards.
If you thought the exterior was offensive just have a look at the interior, which features bright aqua leather with purple accents around the air vents and centre console.

Points for creativity? (image credit: rus.autoclub)
There's no info about what physically underpins the project, so it's anyone's guess as to what might be powering the car.
However, it's probably unlikely an AMG V12 is lying under the bonnet.