20 April 2018
Brabham teases track-focused BT62 supercar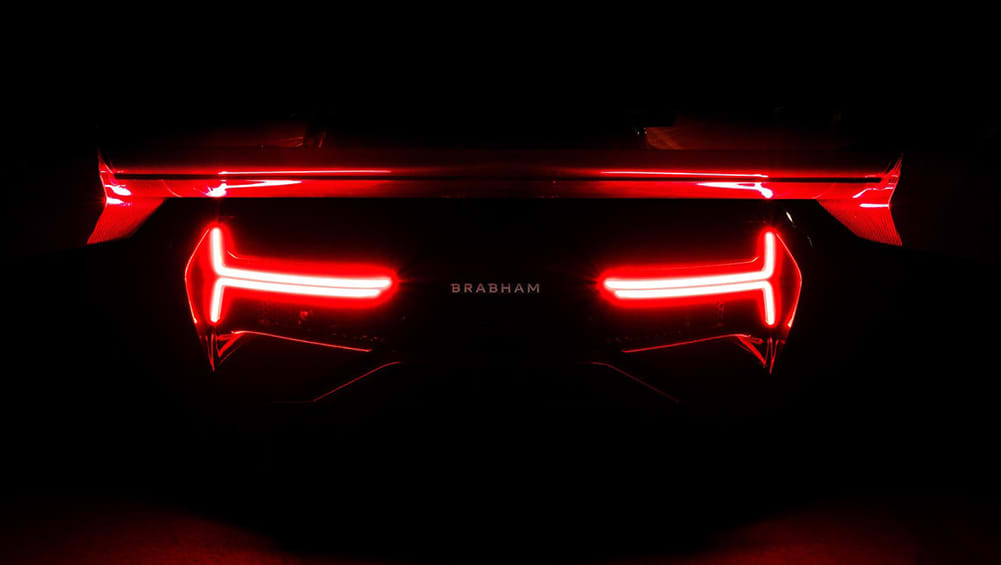 The team at Brabham has teased its new BT62 track car since the start of the year, but with just two weeks until it is unveiled, more information is being handed out.
Today we can get our first glimpse of it via the above dark moody teaser image - but we can still make out the huge LED rear tail-lights, an extremely wide carbon rear wing and an impressive looking rear undertray set-up.
Brabham has also said that:
- The BT62 boasts a power-to-weight ratio of 730ps (roughly 537kW) per tonne
- It will have a dry weight of just 972kg
- Power is supplied by a Brabham naturally-aspirated 5.4-litre V8.
- 1200kg of downforce is produced by the bodywork
- Brakes will be carbon fibre, featuring six pistons front and rear
All impressive numbers. 
The BT62 will be limited to just 70 units as a tribute to this year being 70 years since Sir Jack Brabham started in motorsport.
So, what would you expect to pay for a BT62? Currently, it's being quoted as £1m plus local taxes. Deliveries are expected by the end of the year. The team at Brabham will offer all owners a driver development program which will enable them to exact the best from their cars.
After its release the BT62 will be on show at a prestigious limited ticket event at a yet-to-be-announced London location on the 4th and 5th of May.
Are you looking forward to seeing the BT62? What do you think it will look like? Tell us in the comments.
Joel Strickland loves all things automotive, you can follow him on line @joelstrickphoto on Twitter, Facebook and Instagram.