Mini Convertible
Pricing and Specs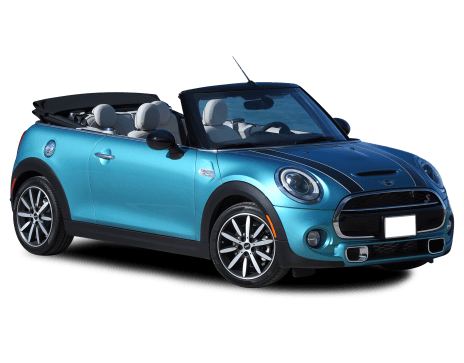 2020
From $41,400
Based on Manufacturer's Suggested Retail Price (MSRP)
2017 to 2019
$22,400 - 50,930
| Year | Price From | Price To |
| --- | --- | --- |
| 2021 | $41,400 | $75,290 |
| 2020 | $41,400 | $75,290 |
| 2019 | $26,900 | $50,930 |
| 2018 | $23,500 | $47,520 |
| 2017 | $22,400 | $44,440 |
* Manufacturer's Suggested Retail Price
Mini CONVERTIBLE FAQs
Check out real-world situations relating to the Mini here, particularly what our experts have to say about them.
Is it hard to get the charger off a Mini Cooper?

Hi Jeanie, assuming you mean the turbo-charger, it is located at the front of the engine, behind the heat shield. It isn't too difficult for an experienced BMW/Mini mechanic to do the job, but the turbo itself may be expensive to replace if it is seized, and you may also be faced with high hourly labour rates going to a BMW/Mini specialist, so do shop around. Please do ensure that you speak to a specialist who has worked on Minis before.

Here's a top tip: assuming also that your Mini is from 2007 to 2014 (R55 through to R60 series), call up Peugeot specialists too, as the 'Prince' engine in Mini turbos is exactly the same as the ones used in some Peugeot 207, 308, 508 and RCZ models from about 2007 to 2015. Later Minis (from 2014 to date with an 'F' designation like F56) use an entirely different engine, so if that's yours, disregard the Peugeot specialist.

Show more

Is a new Kia Cerato a good 2015 Mini Cooper replacement?

You can get a good feel for a car's quality simply by looking at things like the paint finish, the panel fit, the feel of the doors as they open and shut, the touch of the trim and plastics in the cabin. Kia's quality is generally good; I can't see any reason why you should be disappointed with the Cerato.

Show more

What electric car should I buy?

We can understand your feelings about the centrally-mounted screen in the Tesla, though you do get used to it surprisingly quickly.

As for the other models you've mentioned, we've had to get the crystal ball out to attempt to answer you!

The Polestar 2 will be on sale by the end of 2020, if all goes to plan. The company will be pushing hard to make that happen. 

The VW ID3 is likely not going to be here until 2021, likely the mid or latter part of that year. It certainly has a lot of potential, and with pricing set to start below $50,000, it could well be The People's (Electric) Car. 

There are other options coming, though it depends on your diary and your budget.

You could consider the Tesla Model S, which may have been around for a while, but that also means it has a more traceable reliability history. It has a digital instrument cluster in the regular spot as well.

Have you looked at the Jaguar i-Pace? It has a claimed range of 470 kilometres, though it is on the pricey side of the equation, starting from about $125,000.

Indeed, a high price tag is a common theme among those EVs with big battery capacity and expansive driving range, because you're basically covering the cost of the batteries with your money.

For instance, there's the Audi e-tron quattro, which is due here in early 2020. That model will have a range of "more than 400 kilometres", and - we suspect - a price tag above $120,000. 

The Mercedes EQC is about to go on sale, too. Range for that mid-size SUV is pegged at about 450 kilometres, but again, you can expect a high price tag.

If 2021 isn't too long to wait, there's the Volvo XC40 Recharge coming then. Based on our previous experience with Volvo XC40s, it'll be a great small SUV, with predicted range of 400km - though we think that's understating it, because it has a 78kWh battery pack, and it has AWD too.

At the more affordable end - though admittedly still not quite meeting your expectations for range - there's the very impressive Hyundai Kona Electric, which has a WLTP range of 449km, and a price tag of around $65k. It isn't all-wheel drive though.

And MG is about to launch a real upstart in the segment, with the ZS EV hitting showrooms soon for $46,990 drive-away, albeit with a range of 262km. It's also FWD only. 

The Mini Cooper SE will also arrive in mid-2020, with pricing set to be less than $60k. But again, a range of 270km will likely rule it out for your needs, and its 2WD as well.

Another new small EV due next year is the Mazda MX-30. Pricing is still to be confirmed, and range isn't great at about 300km. It's FWD too. 

In short, at this point in time - and out towards the end of 2020 - it looks like you'll either need to spend a big amount of money on a premium EV to get the best range possible, or you'll have to get used to the Model 3's screen. You could always get an aftermarket head-up display fitted…

Show more
See All Mini FAQs
Disclaimer: You acknowledge and agree that all answers are provided as a general guide only and should not be relied upon as bespoke advice. Carsguide is not liable for the accuracy of any information provided in the answers.