2010 Mazda CX-7
Pricing and Specs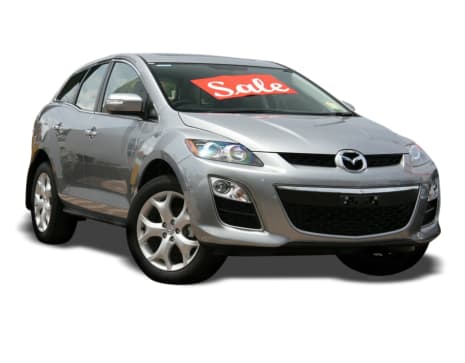 The Mazda CX-7 2010 prices range from $6,999 for the basic trim level SUV CX-7 Diesel Sports (4x4) to $15,990 for the top of the range SUV CX-7 Luxury Sports (4x4).
The Mazda CX-7 2010 is available in Regular Unleaded Petrol and Diesel. Engine sizes and transmissions vary from the SUV 2.2L 6 SP Manual to the SUV 2.3L 6 SP Auto Activematic.
Interested in a Mazda CX-7?
Locate A Dealer
Book a Test Drive
Download A Brochure

Insurance Quote

Get Secured Car Loan
Price Guide
$11,990
Based on 152 cars listed for sale in the last 6 months
Explore prices for the
2010 Mazda CX-7
SUV
Mazda CX-7 Models
SPECS
PRICE
Classic (FWD)

2.5L

ULP

Regular Unleaded Petrol

5 SP AUTO

5 speed automatic

$7,800 – 12,100

Classic Sports (4x4)

2.3L

ULP

Regular Unleaded Petrol

6 SP AUTO

6 speed automatic

$6,500 – 10,010

Diesel Sports (4x4)

2.2L

Diesel

Diesel

6 SP MAN

6 speed manual

$7,200 – 11,110

Luxury Sports (4x4)

2.3L

ULP

Regular Unleaded Petrol

6 SP AUTO

6 speed automatic

$7,600 – 11,770
* Manufacturer's Suggested Retail Price
Mazda CX-7 2010 FAQs
Check out real-world situations relating to the Mazda CX-7 2010 here, particularly what our experts have to say about them.
Mazda CX7 new tyres

We have received similar enquiries from owners of many of the current crop of SUVs like the CX7, and all have been surprised to find they need new tyres after a relatively short period of time and low kays. It's a combination of the weight of these juggernauts, the softer compounds of the tyres used, and in some cases the aggressive way they are driven. That you got 26,000 km out of the tyres is about average.

Show more

CX-7 showing warning lights

We contacted Mazda on your behalf and this is the response we received from their technical people: "It sounds like there is a bit of confusion as to what the light relates to as the vehicle is also equipped with a gauge to indicate Adblue Level. It sounds like the customer may be relating the light as a level indicator. The light can be an indication of a system malfunction of some type, this would need to be diagnosed which it sounds like may have occurred. Depending on the cause will dictate the parts required to be replaced. There are separate components and not all concerns require tank replacement. The comments suggesting there is a massive problem and the tank could go at any time are bit unfounded and sound like unfounded Internet chatter. Our recommendation would be to let the dealership perform the diagnosis and repair. If the repair is completed by a Mazda Dealer as a Retail Repair using Genuine parts the parts are covered by our Whole of Life Parts Warranty." It might not be an answer, but it does give you a guide to the cause, as the warning light might be an indicator of another problem.

Show more

Mazda CX7 2010: Transfer case leaking

It's not too difficult to repair, but it might be costly. Have it assessed by another mechanic or dealer and get a quote on fixing it.

Show more
See All Mazda CX-7 2010 FAQs
Disclaimer: You acknowledge and agree that all answers are provided as a general guide only and should not be relied upon as bespoke advice. Carsguide is not liable for the accuracy of any information provided in the answers.
Interested in a Mazda CX-7?
Locate A Dealer
Book a Test Drive
Download A Brochure

Insurance Quote

Get Secured Car Loan