VW Jetta 147 TSI vs Kia Optima Platinum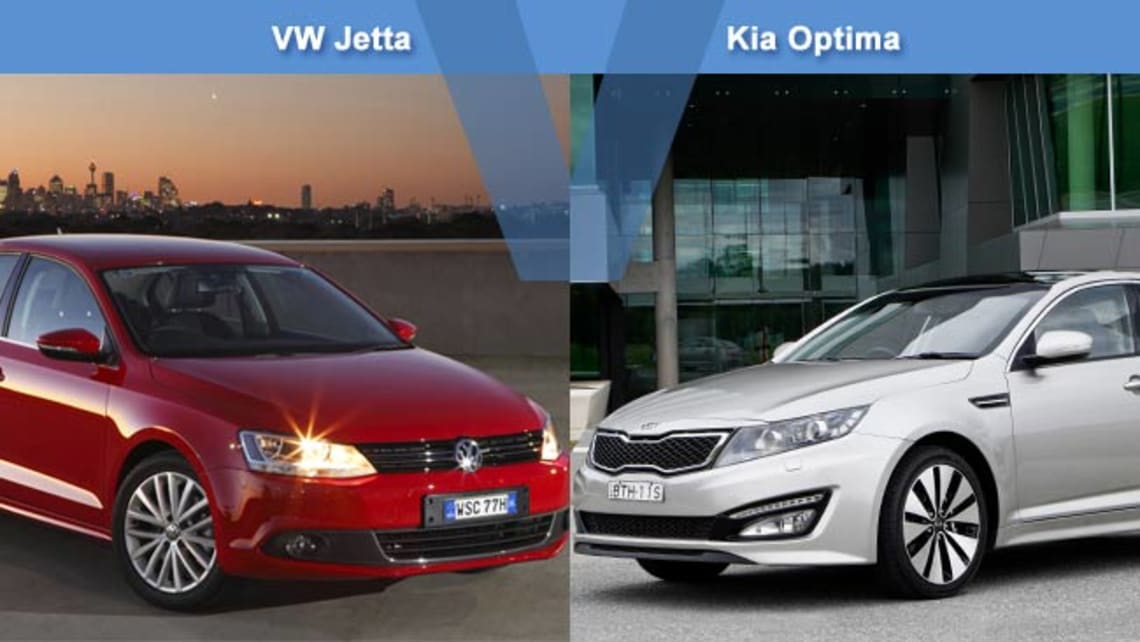 VW Jetta 147 TSI and Kia Optima Platinum gp head-to-head in this comparative review.
VW Jetta 147 TSI
from $37,990
It's a little austere inside but still has a good array of features. Missing are some of the frills supplied standard in Asian competitors, such as electric seats. Instead, you get premium build quality.
Kia Optima Platinum
from $36,990
The Kia Optima is packed with standard gear, including high-end audio, sunroof, dusk-sensing headlights with washer, heated and powered front passenger seats, cooling glove box and daytime running lights. It could do with rain-sensing wipers.
More than just a Golf with a boot, the Jetta pulls off the sedan look without losing any athletic character. But it lacks flair and looks a little tired compared with newcomers, the Optima among them. Interior room and cargo space is not as good as the slightly larger Passat.
This car is changing the way people think about Kia. The Peter Schreyer-designed Optima is an award winner. It is fresh, modern and practical with plenty of rear legroom and cargo space. Put four circles across the grille, aping an Audi, and you could fool many motorists.
This is the rocket of the Volkswagen Jetta fleet with a 2.0-litre turbocharged engine with similar peak power to the Optima but with more torque. Turbo lag can be a little irritating but the six-speed direct shift gearbox is fast when up and running, if not off the mark. The Bluetooth is slow to pair.
It may be a big four-cylinder engine but even without a turbo the 2.4 still has plenty of power and torque. At the same time it returns fuel economy of 7.9L/100km to match the Jetta. The Bluetooth phone and audio streaming facility is the easiest to pair and use.
Combine the Jetta's maximum five-star ANCAP safety rating with its superior driving dynamics and you have a very safe vehicle. It also features front and rear parking sensors to avoid car park bingles and rain-sensing wipers.
It earns the its five-star ANCAP rating with six airbags, reversing camera, parking sensors, static cornering lights and hill-start assist control to stop it rolling backwards when stopped on a hill. But visibility is restricted by thick windscreen pillars and a smallish rear window.
In common with the Golf, this is a benchmark in the field for handling. Drivers feel in control at all times with plenty of grip and road feedback. This is off set a little by a slightly noisy cabin and solid ride quality.
The naturally aspirated engine supplies snappy, not sizzling response. It is predictable and easy to drive. The suspension set-up aims for comfort, without giving too much away in driver feel. The quiet cabin approaches Camry levels of shush.
VW sets the bar for driving dynamics but lacks a little in features, comfort and style. Kia adds new levels of refinement and value to this class without losing much on the drive.