Skoda Octavia Scout vs Subaru Outback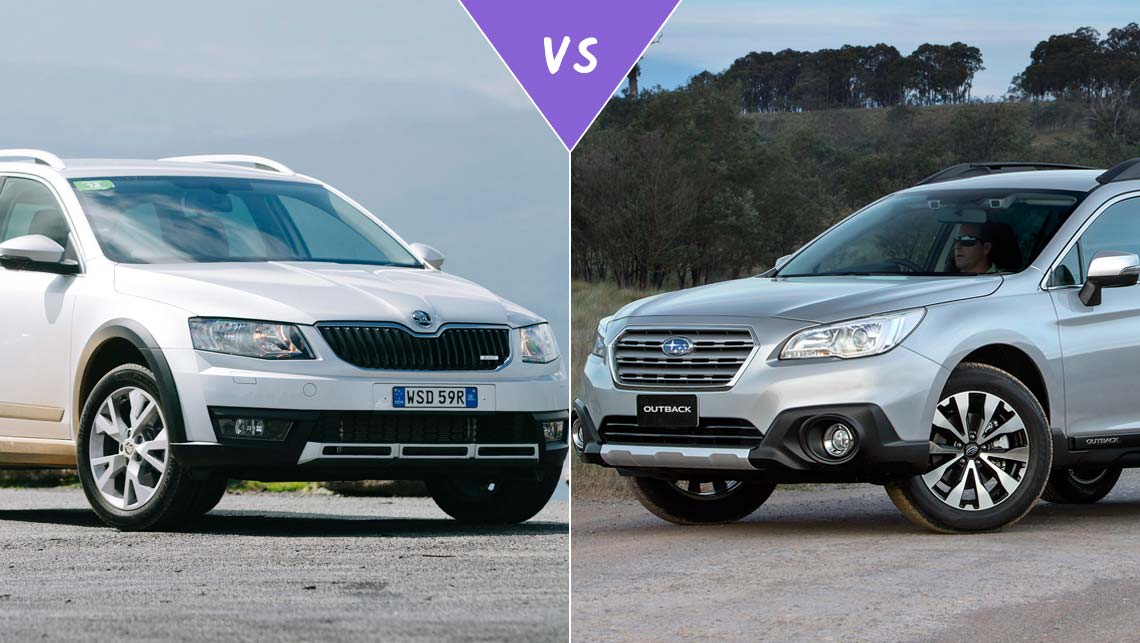 High-riding wagons have more offroad cred than some SUVs. It's Czech Republic v Japan and Craig Duff calls a close result.
Skoda Octavia Scout 132TSI
from $38,590
There's a lot of car for the money and the Skoda wagon doesn't want for much in terms of features. Default kit includes eight-inch touchscreen with satnav, reversing camera, power tailgate, dual-zone aircon and cruise control. The three year/unlimited km warranty is backed by six years' capped price servicing. With a scheduled visit every 12 months or 15,000km, the average annual cost is $553. Resale after three years is 52 per cent.
Subaru Outback 2.5i Premium
from $41,490
The Outback's Eyesight safety tech includes most of the gear Skoda has in its tech pack, so there's not much in it on comparative pricing. The Subie also runs on 18-inch rims and has a standard sunroof, powered front seats and LED low-beams. There's a three-year/unlimited km warranty with servicing every six months or 12,500km over the term of the warranty. Average annual service cost will be $734. Resale after three years is 55 per cent.
Skoda Octavia Scout 132TSI
This Scout is 100mm longer than the old one with more cargo space and better approach and departure angles for off-road use. It mimics the Outback's plastic-panelled wheel arch look but the ride height — 171mm against the latter's 213mm — shows it isn't as off-road focused. The interior refinement is a massive step up on previous Skodas but is more sombre than a regular VW and the feel of the plastic panels isn't class-leading. Braked tow rating is 1600kg.
Subaru Outback 2.5i Premium
This Outback addresses customer concerns over exterior and interior styling. The outside now looks conservative rather than dowdy and the interior plastics have some give when pushed and are broken up with bright garnishes. The Outback is the bigger vehicle and that's obvious when fitting three in the rear but 512L of boot space trails the 588L in the Skoda. Braked towing capacity is 1500kg.
Skoda Octavia Scout 132TSI
The 1.8-litre turbo needs 95 RON fuel to deliver 132kW/280Nm to all four wheels via a six-speed dual-clutch automatic. Claimed consumption is 7.1L/100km. The Scout will hit triple figures 7.8 seconds after launch. The AWD is front-biased but can transfer 95 per cent of the torque to the rear wheels as required.
Subaru Outback 2.5i Premium
Its 2.5-litre four-cylinder boxer proves no more than adequate when compared with the Scout. Outputs of 129kW/235Nm and the continuously variable transmission help the Outback in achieving official fuel use of 7.3L/100km and a 0-100km/h sprint time of 10.2 seconds. Subaru has built its reputation on all-wheel-drives and the Outback doesn't disappoint on or off-road.
Skoda Octavia Scout 132TSI
The Scout variant hasn't been crash-tested but the regular Octavia is rated a five-star car by ANCAP. Autonomous emergency braking is bundled with adaptive cruise control, lane departure warning, auto parking and driving modes for $3900.
Subaru Outback 2.5i Premium
The Outback is a five-star ANCAP crasher. The Eyesight software includes autonomous emergency braking and adaptive cruise control and is lauded for being among the more aggressive bits of kit in trying to stop a crash.
Skoda Octavia Scout 132TSI
The Scout braves new territory in terms of how well Skodas perform. The higher suspension doesn't translate into noticeable body roll and the car obligingly rolls over decent bumps and ripples without upsetting the passengers or being thrown off line. Mid-range acceleration is a match for faux-fast sedans and all seats are up to the job of supporting an adult on a decent drive to the snow.
Subaru Outback 2.5i Premium
The Outback's behaviour on the road is best described as reassuring. It feels settled, steady and ready to take on whatever road you steer it down. The suspension soaks up the big hits with similar finesse to the Skoda but it can't match the Scout's off-the-line surge despite the best efforts of a responsive CVT. You'll need to spend $47,990 on the Outback 3.6R for similar pace.
Skoda Octavia Scout 132TSI
Subaru Outback 2.5i Premium
There's little difference in points but the Outback's better standard features give it a narrow win as family transport. On performance alone, I'd take the Skoda.