Porsche Cayman S vs Lotus Evora S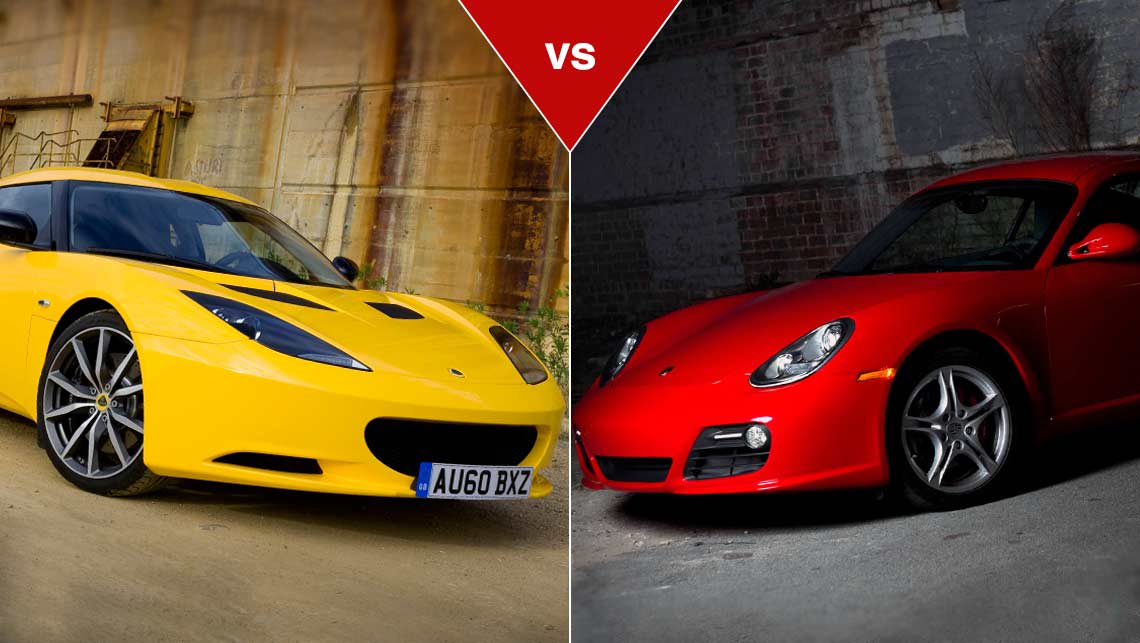 Porsche Cayman S and Lotus Evora S go head-to-head in this comparative review.
Porsche Cayman S
from $147,500
Clearly, it's not cheap. You don't buy really good stuff on the cheap. Be aware that if you're new to Porsche, there's no gloss and baubles - the car is simple in appearance yet there's a lot of clever engineering underneath. The standard kit includes Porsche stability management, rear park sensors, sat-nav with nine-speaker audio, cruise control and 18-inch alloys. The options list contains 103 items.
Lotus Evora S
from $149,990
New Lotus importers Ateco have reduced prices so the Evora range is significantly cheaper. The "S" - for supercharged - is new. It's also loaded with gear - previous option list contents have been tipped in to become standard fare - which makes it better value than the Cayman. Standard stuff includes deep-pile carpet, heated seats, 125mm touch screen with sat-nav, front and rear park sensors, and leather upholstery.
Pretty hard to mistake this as a Porsche. Mid-engine placement lets the wheelbase stretch out and minimise overhangs - contrary to the tail of the 911 - and puts all the weight at the centre of the car and down low. Perfect handling is the result. Cabin room is reasonable but personal storage is poor. Front boot has a deep area to accommodate some hard luggage while rear boot - above the transmission - is suitable for smaller, more flexible cargo. Like cash.
The Coca-Cola hipline, deeply recessed radiator outlets and sloping tail scream sports car. It looks great and that extends to the inside where everything is kept simple and cleanly styled - similar to the fuss-free design of the Cayman. But the shape creates poor rear and side visibility for the driver and the race-car bonnet vents take away prospective luggage room.
Legendary and technically enlightened Porsche flat-six engine delivers 235kW/370Nm for a 0-100km/h time of 5.2 seconds and a fuel economy average of 9.6 L/100km. Dual-clutch (called PDK) version is a tad quicker but some of the fun is missing. The steel -bodied coupe is only 1350kg with weight saving achieved by forged and cast alloys in the drivetrain and suspension.
Even Lotus boss Dany Bahar isn't happy with his current flagship using a Toyota Aurion engine. Truth is, a sports - oriented engine would befit the Lotus badge but the 3.5-litre V6 - with its Australian supercharger on top - is smooth, flexible, sufficiently engaging and even fuel efficient. Pity you can't see the beautifully made cast-alloy suspension arms. The remote ignition/entry system never works properly and is rubbish.
Six airbags plus electronic chassis and brake systems indicate passenger safety is up there with the best, though the car has not been ANCAP crash tested.
Exotica doesn't get crash tested so, like the Cayman, there's no ANCAP rating on this. However, it has all the brake and chassis aids and gets four airbags.
Cayman S is beautifully simple and always feels totally composed and so easy to drive. Ride is firm, as you'd expect, and potholes will hurt you. But anything above a reasonable road surface - particularly one on a winding route - is sheer joy. Few cars can keep up with it over a tight course. It's one of those rare cars that bonds with the driver, making the relationship as one. The more powerful "S" Cayman rewards with extra oomph but you'll still crack a smile in the base Cayman.
Despite the Toyota drivetrain, this is a die-hard sports car that only makes a few compromises when it picks up a registration plate. It's quicker than it first appears, has a very rigid chassis and has excellent roadholding with a flat-as-a-tack body through the corners. You feel all the stones in the road surface through the magnesium steering wheel and vibrations through your body and feet. Easy to drive but demanding to drive quickly. Possibly you'll love it but your partner may not get the attraction.
Basically, you'd be more than happy with either. But while the Porsche is undoubtedly easier to live with, probably more reliable and certainly better built, it isn't exactly rare. Anyone with money can park it in their driveway. The Lotus requires more skill to drive, more risk to own, can be a pain to live with and yet rewards with a rawness and simplicity that really is the soul of a sports-car.