Mercedes-Benz A250 vs BMW M135i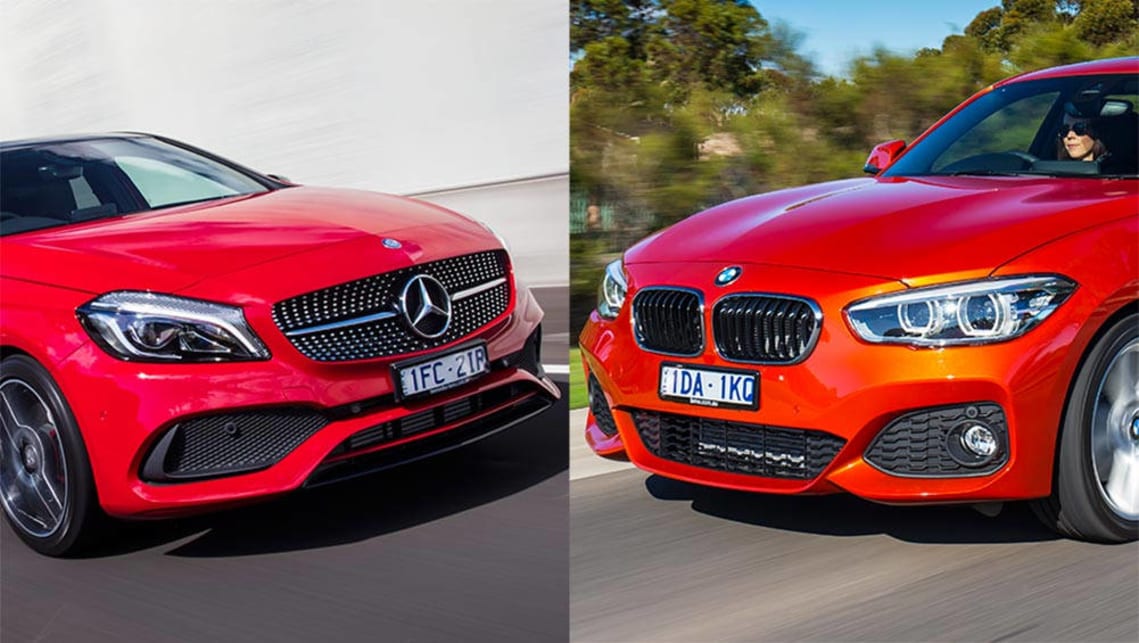 European pocket rockets approach the same buyers from opposing directions. Paul Gover reports.
Mercedes-Benz A250 Sport 4Matic
$53,500+
The arrival of the facelifted A-Class range meant small price rises but, typically for Benz, a boost to standard equipment. In Australia, the 250 Sport is the most popular choice in the A-Class line-up and a $53,500 starting sticker is pretty good — compared with a Golf GTi from $40,990 — when it means AMG 18-inch alloys, keyless go and a giant panoramic sunroof.
A base price over $60,000 brings expectations beyond a Golf GTi for hot hatch buyers, and $62,900 does not shape up well against the cheaper Benz. But the BMW approach is a classic for the class, jamming a big engine into a small body. Equipment has improved over time and includes a rear-view camera in all 1 Series variants.
Mercedes-Benz A250 Sport 4Matic
There are minor facelift-style body tweaks, including worthwhile LED headlamps, but the big mechanical shift for 2016 is an AWD package to make the car more driver friendly. It also picks up AMG Ride Control suspension to tame the sometimes unruly behaviour of the previous model and smooth the ride over bumps.
The ugly jutting nose of the early 1 Series has been smoothed — Aussie-born stylist Calvin Luk did it in Germany in his first major job for BMW. It's a worthwhile facelift that makes the car look less dumpy, while the cabin is open and airy with a big infotainment screen and adjustable sports seats in the 135. As an M-Sport model it's not as in-your-face as the full-on M2 hatch that's coming soon.
Mercedes-Benz A250 Sport 4Matic
Engine
A 6.3-second sprint to 100km/h is good for a sporty hatch, coming with the combination of the all-paw grip and a turbocharged 2.0-litre engine with an extra 5kW. The outputs are now 160kW and peak torque of 350Nm from 1200rpm, which means it's easy to get going. The seven-speed double-clutch auto is smooth and effective with paddle-shifters for keen drivers.
The turbo six was a superior engine to begin with. The 3.0-litre's outputs increase (now 240kW/450N). With the eight-speed sports auto and rear-drive it clocks just 4.9 seconds for the 0-100km/h sprint. Power delivery is linear and impressive with incredible flexibility, though the claimed 7.9L/100km, a reasonable thirst, will head skyward if you get keen.
Mercedes-Benz A250 Sport 4Matic
A five-star ANCAP rating is almost compulsory for any Mercedes and the A250 scores with, among other things, an airbag for the driver's knees and an active bonnet for pedestrian protection. There are rear-view camera and auto safety braking.
BMW is not as generous with airbags as Benz and the 1 Series lacks some of the latest active safety gear found on its rival. Still, it's an impressive overall package that earns five stars from ANCAP. And the M-Sport suspension, electronic differential lock and bigger M-Sport four-piston brakes give the car a greater safety margin for keen drivers.
Mercedes-Benz A250 Sport 4Matic
The affordable A-Class sports model is a better and more refined drive in 2016 thanks to the suspension changes, which give a more compliant ride and transmit all of the power to the road. It's a hoot at full boost, when you get discreet pops from the exhaust. The seats are great and the interior finish is very classy. But the cabin still feels a bit cramped and rearward vision is pinched.
It's an old-school rear-drive experience that's still incredibly rewarding and fun. The M135i can take a little taming but when you move to the Sport+ settings and uncork the full 240kW it's a rip- snorter. The suspension is firm but not jarring, the brakes are great and the eight-speed auto is sweet. It's also easy to park.
Mercedes-Benz A250 Sport 4Matic
The price goes against it but the BMW is the better driver's car despite some worthwhile recent updates for the Benz.