Honda HR-V v Suzuki Vitara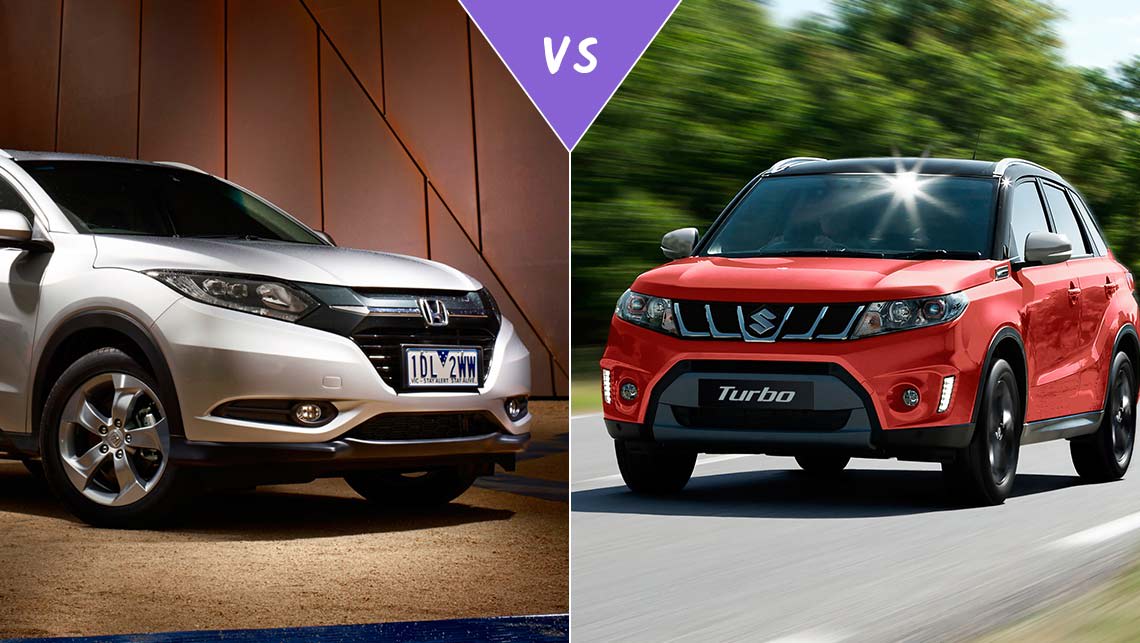 There are as many approaches to the SUV genre as there are models. Richard Blackburn weighs sedate quality against sporting intent.
Honda HR-V VTI-S
List price: $27,990
Has a $1000 advantage but doesn't get satnav or Apple CarPlay and the engine is noticeably less powerful. Its bigger cabin and higher quality materials make amends. Standard are cruise control, auto up front windows , daytime running lights, roof rails and climate control aircon. Service intervals are 12 months/10,000km, so the average driver will need four services in three years, at a cost of $1463 including fluids and filters. Warranty is three years/ 100,000km.
Suzuki Vitara Turbo
List price: $28,990
The extra $1000 spend buys extra equipment. Apart from satnav and Apple Car Play, there are rear parking sensors, imitation leather and suede seats with red stitching, alloy pedals and coloured surrounds for the aircon. Servicing is slightly more expensive at $1540 for three years or 60,000km, but includes six services. Warranty extends to five years/140,000km if you have your car serviced by an authorised Suzuki dealer.
A win here, courtesy of quality finishes and clever rear seats that fold to liberate a big cargo area with a flat floor. The load area is bigger than the Suzuki's with the rear seats in place (437Lto 375L) and folded (1462L to 710L). It has padded armrests and cloth inserts in the rear doors. The centre screen and controls are slightly easier to use and there are more storage cubbies.
More technology for the price but sporty design cues in the cabin can't disguise cost-cutting in the cabin. The plastics are hard and shiny and some of the switches and buttons look a little cheap. The touchscreen can be fiddly to operate. A slightly shorter wheelbase means there's less rear leg room, while the boot opening isn't as wide. It also lacks the storage options of the Honda.
There is more weight to haul with less grunt. The 1.8-litre four-cylinder is no match for the Suzuki's turbo 1.4-litre. It has slightly more power (105kW to 103kW) but noticeably less torque (172Nm to 220Nm) so it needs to be revved to produce its best. The continuously variable transmission keeps the engine in its sweet spot but ultimately it's adequate rather than impressive. Thrifty at 6.9L/100km.
Suzuki Vitara Turbo
Engine
The base Vitara's 1.6-litre engine is asthmatic — but the 1.4-litre turbo is a ripper. An abundance of torque available at low revs (from 1500pm compared to the HR-V's 4300rpm) combined with a weight advantage of more than 200kg means the Suzuki takes off like a greyhound. Fuel use is just 5.9L/100km, which makes it more frugal than the 1.6 and roughly 15 per cent better than the Honda.
Strong standard safety package for the class, with six airbags, automated emergency braking, reversing camera and seat belt reminders all round. "LaneWatch" blind spot monitor is gimmicky and only works on the passenger side. Awarded five stars by ANCAP with 36.22/37.
Hasn't been tested by ANCAP but the overseas model scored five stars in EuroNCAP testing. Seven airbags and big clear reversing camera are safety highlights, although it doesn't have the Honda's emergency braking intervention.
The HR-V feels more like a typical SUV than the Vitara. It's not as sporty through the corners, where you can feel the extra weight and height. The steering is light for city manoeuvring and provides reasonable feedback, although it isn't as sharp as the Suzuki. Feels fidgety when driven over pockmarked surfaces and larger bumps.
A hoot to drive, with sharp, accurate steering and great composure through the bends. It feels nimble and sits flat when asked to change direction and isn't overly upset by mid-corner bumps or corrugations. There's a bit of a tug at the steering wheel under heavy acceleration but ultimately it puts its power to the ground well. Paddle-shifters give it an added sportiness. Can tow more and has 15mm more ground clearance for bush tracks.
The Honda has a more practical interior and more upmarket finishes but the Suzuki has better road manners, more equipment and a superior engine.