BMW 225i vs Mercedes-Benz B250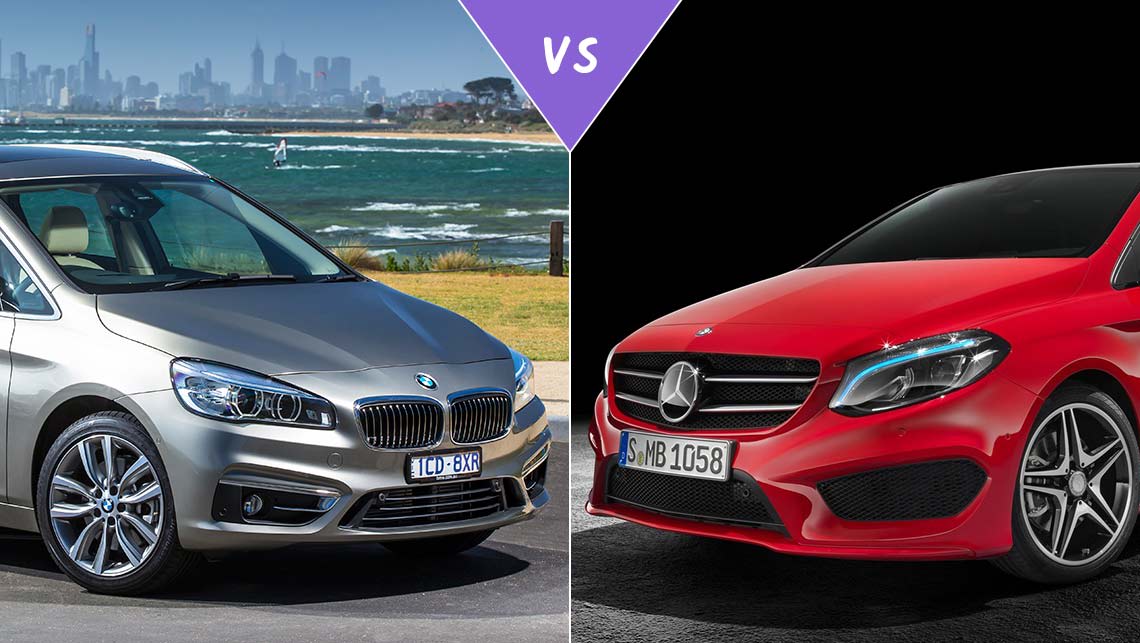 Prestige badge meets tall hatch in one of the slimmer market segments. James Stanford compares
BMW 225i Active Tourer
$54,900
The Active Tourer is pretty expensive when you consider it is a tall hatchback. As with the Mercedes, options can blow the price out. Standard gear includes 18-inch alloys, front and rear parking sensors, LED headlights, Dakota leather, automatic tailgate, satnav, adaptive suspension control and reversing camera. Warranty is three-years/unlimited km and servicing is condition-based.
Mercedes-Benz B250
$54,200
It is a Benz, so look elsewhere for a bargain. The all-wheel-drive B250 comes with 18-inch alloys, keyless entry and start, tinted windows, LED interior lights (in 12 colours), synthetic leather trim, AMG body kit, lowered suspension, self parking, parking sensors, satnav and full-LED headlights. Warranty is three-years/unlimited km and service intervals are 12 months/25,000km.
When it comes to design, it won't set hearts racing. The exterior styling might be a little awkward, but the interior is certainly smart and classy with high quality trim and surfaces. There is abundant cabin space and the rear seats are very comfortable, with a good view. The boot is quite deep, has a second floor for handy storage and even a charge point. The auto open/close function is great.
With its tall roof to maximise space efficiency, it is never going to be a style icon. This one looks a bit goofy, even with the bigger wheels. The ample interior space makes it a pretty handy hauler for young families. The updated interior design is contemporary Mercedes, with a well-designed layout and eight-inch infotainment screen. The man-made leather feels just as good as hide.
Our 225i, with 2.0-litre turbo (170kW /350Nm) and eight-speed automatic, uses 6.1L/100km and does the 0-100km/h dash in 6.6 secs. All 2 Series Active Tourer models are front-drive — there is no AWD option.
The B250 4Matic gets a 2.0-litre four-cylinder turbo (155kW/350Nm), enabling 0-100km/h in 6.7 seconds. Fuel economy is 6.8L/100km . Mercedes has thankfully ditched the awful continuously variable automatic, moving to a regular seven-speed automatic.
Yet to be tested locally but gets five stars from Euro NCAP. All models get six airbags, reversing camera, parking sensors, adaptive cruise control (with brake function), automatic emergency brake and lane departure warning. Excellent vision helps drivers keep out of trouble.
The B-Class gets five stars from ANCAP and has no less than nine airbags. A reversing camera is standard on all B-Class models, as are parking sensors, semi-automated braking and blind-spot warning. Good to see features standard on all models, not restricted to top-spec car. Outward vision is excellent.
It's a BMW but not a great handling machine, unlike the sedans and coupes. As BMW's first front-drive model, it is more focused on practicality and comfort. It is a good city car, gets along very well in traffic and fits easily in tight spaces. The acceleration is good in the 225i, although it can chirp its tyres, and the eight-speed auto is faultless. The power seems wasted because it isn't an exciting car to drive. Check out the cheaper base model.
Despite the rally car attributes (turbo four-cylinder and permanent AWD), it is more at home doing the school run. The B-Class is at its best in a straight line and moves along surprisingly quickly, even in slippery conditions. There is even a nice sporty exhaust note. The transmission shifts smoothly and quickly and is so much better than the old CVT. Cornering is nothing to write home about, but that is no surprise. The ride is on the firm side, but not uncomfortable.
If you want AWD, go the Mercedes, otherwise the BMW is better with a superior cabin and more standard features.