Audi S1 vs Mini Cooper S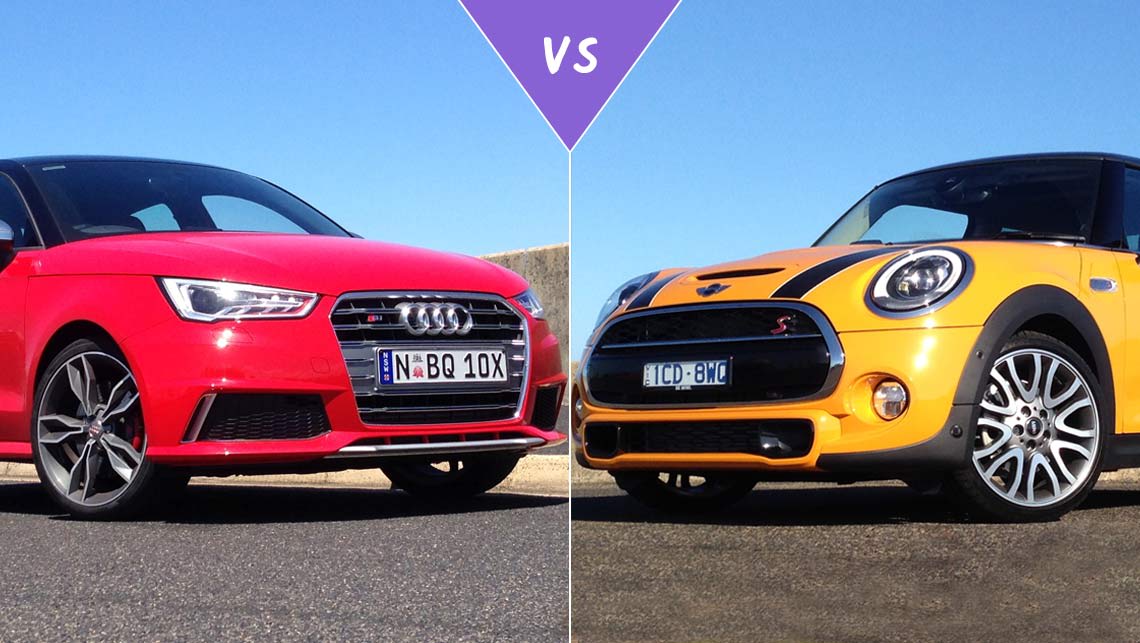 Performance and luxury come in pint-sized packages these days. How does Audi's smallest hot hatch compare to the new Mini Cooper S?
The $49,900 starting price is a tease. In true luxury-car fashion there is a lengthy options list – including Xenon headlights, 18-inch alloys, red brake calipers, leather sports seats, sports steering wheel – which blew the price of the test car out to $58,610. That's VW Golf R money. With change. Oddly, a sunroof and rear-view camera aren't available.
Mini Cooper S
from $36,950
The new model's starting price of $36,950 is $3750 less than the previous model but it doesn't take much to stretch to the $52,020 price of our test car. Options included a rear-view camera, LED headlights, a panorama glass sunroof, digital radio, premium audio, navigation and a heads-up display. The list goes on.
The 2.0-litre turbo four-cylinder is a powerhouse (170kW and 370Nm) borrowed from the VW Golf GTI but with a smidgeon more power and torque. With all-wheel-drive and a six-speed manual (no auto available) it sprints from 0 to 100km/h in a sharp 5.9 seconds. Servicing is every 15,000km or 12 months.
The 2.0-litre turbo four-cylinder has modest power in this company (141kW and 280Nm) but with the optional six-speed twin-clutch auto it can do the 0 to 100km/h dash in 6.7 seconds. The auto has shift paddles on the steering wheel should you want to be a control freak. Mini has "condition based servicing" (the car tells you when it needs routine maintenance) which apparently works out to 15,000km or 12 months.
A deeper front bumper, a black roof and tailgate section, and quad tail-pipes distinguish the S1 from the A1 on which it is based. Inside, the dashboard is a bland, functional, fuss-free design but the light grey plastic trim looks downmarket.
No mistaking this for anything else. It would have been nice for the design to have evolved more than previous models, but parked next to the Audi S1 the Cooper S definitely stands out. There is also much more detail and craftsmanship in the design inside and out. You discover new things every time you look at it.
The Audi S1 comes with six airbags, stability control and a five-star safety rating. All-wheel-drive provides excellent grip in the wet or dry. The glaring omission on a car in this price range is the lack of a rear-view camera – now standard on a $14,990 Honda Jazz – or radar cruise control or automatic emergency braking.
Six airbags and stability control earn a five-star safety rating. But the option of a rear-view camera, radar cruise control and automatic emergency braking give the tiny Mini big-car safety. We only wish a rear-view camera were standard given Exhibit A: the $14,990 Honda Jazz.
The Audi S1 is puts the rocket back into "pocket rocket". Such a big engine in such a small car makes for a wicked combination. The engine has urge at almost any revs and there's a pleasing note to the exhaust. Suspension is taut but won't break your back over bumps. It's faster, more responsive and more precise feeling than the Mini Cooper S.
Previous versions of the Mini Cooper S had a go-kart feel but the new model has grown up and has more of a luxury feel. Enthusiast buyers may find it a slightly numb experience, even if it is highly competent and gets the job done. I prefer a more involved driving experience but the reality is the new Mini copes better with the daily grind.
The Audi S1 is more involving to drive but the Mini Cooper S is the better all-round package – and it's cheaper price means you can option more of life's luxuries.