Hyundai Sonata vs Hyundai i40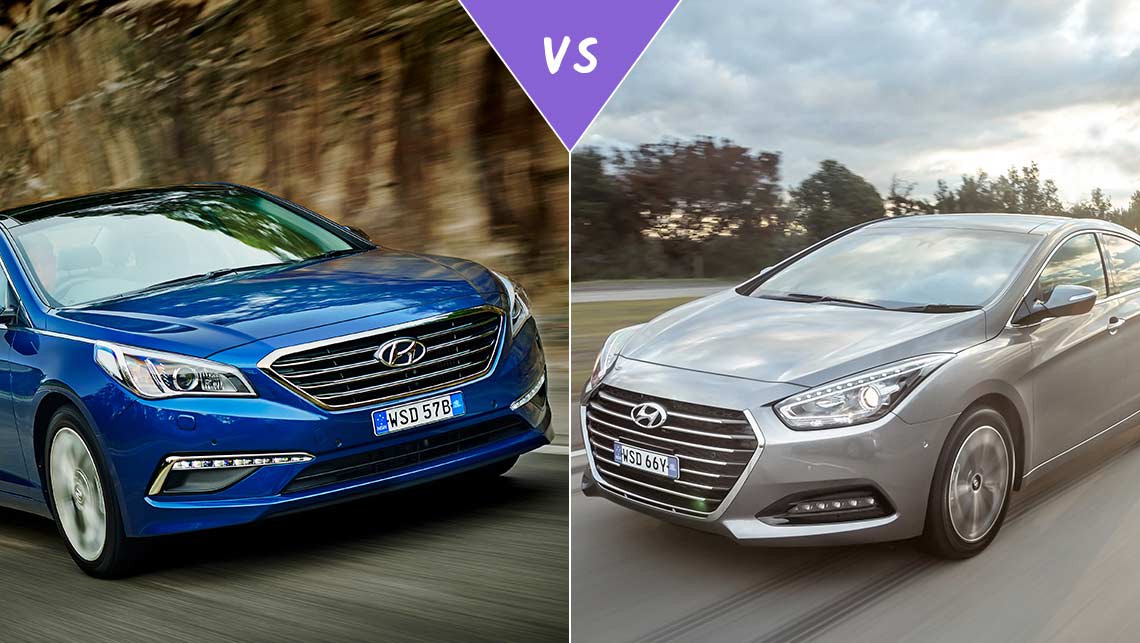 They are identically priced, but very different. Richard Blackburn investigates a sibling rivalry.
2015 Hyundai Sonata Premium
$41,990
Standard fare includes leather-appointed seats, satnav, smart bootlid that opens with the wave of your foot, sunroof, rear sun blinds and electronic park brake. Over the i40 it gets 18-inch wheels, powered front seats and HID headlights. Resale is 44 per cent. Capped servicing is $1254 over three years, at intervals of six months/7500km.
It's the same price as Sonata but gets more technology, including auto parking assistance, lane departure warning and premium audio. Resale is 42 per cent. Capped price servicing is cheaper at $1017 for three years but intervals are longer at 12 months/15,000km. Fuel bills are considerably lower. Over 15,000km with fuel at $1.40 the Sonata will cost $1932 to the i40's $1071.
2015 Hyundai Sonata Premium
The Sonata looks more conservative than the i40, with a more understated front grille and less sculpted panels. It's bigger inside and out, with more leg and headroom in the back seats, although the boot is only marginally bigger. The interior is neat and functional but lacks the pizazz and quality feel of a Mazda6 or Subaru Outback.
The i40 is based on the smaller Elantra sedan, so doesn't match the Sonata's acres of space. But it's surprisingly roomy, with a big boot. The cabin also has a more up-market ambience, with better attention to detail. The exterior design is sportier and more compact.
2015 Hyundai Sonata Premium
The Sonata's 2.0-litre turbo punches out a healthy 180kW/350Nm, putting it almost on par with the local six-cylinder cars for performance. The downside is it's thirstier than them too, using 9.2L/100km. The six-speed auto shifts smoothly but isn't as quick-witted as some of its rivals.
The 1.7-litre four-cylinder diesel is smaller and less powerful than other mid-size rivals but still performs well. Its 103kW of power is well down on the Sonata, but it almost matches it for torque with 340Nm. It's not nearly as quick as the Sonata's petrol turbo off the line but in-gear acceleration is strong and it's refined for a diesel. It's also 45 per cent more efficient.
2015 Hyundai Sonata Premium
The Sonata scored five stars and 33.84 points out of 37 in crash tests. It has six airbags, a standard reversing camera and seat belt reminders on all five seats. It also activates the hazard lights if it makes an emergency stop. No advanced aids such as blind-spot warning and lane departure.
The i40 narrowly outperformed the Sonata in crash testing, with a marginally better frontal offset crash result giving it 34.18 points. It has an extra airbag (knee), gets lane departure warning but doesn't get seat belt reminders in the rear.
2015 Hyundai Sonata Premium
The Sonata's locally tuned suspension puts some European brands to shame. It feels comfortable and composed over pockmarked country roads, isolating the occupants from bumps without wallowing or leaning. The steering lacks a little feel and the nose will push wide in corners but it's a relaxed cruiser in the big Aussie six fashion.
The i40's smaller footprint and stiffer suspension give it the edge on a winding country road, although the trade-off is a firmer ride. The steering is sharper and the tyres give up the ghost later, although the diesel lacks the instant punch of the Sonata out of corners. A genuinely enjoyable drive.
2015 Hyundai Sonata Premium
It's horses for courses to an extent but what the i40 gives away in space, it more than makes up for in driving enjoyment.