2017 Audi Q2
Pricing and Specs
Click here to see 2020 pricing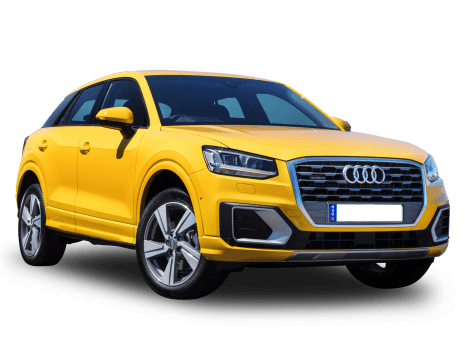 The Audi Q2 2017 prices range from $24,990 for the basic trim level SUV Q2 1.4 Tfsi Design to $38,990 for the top of the range SUV Q2 2.0 TDI Quattro YD.
The Audi Q2 2017 is available in Premium Unleaded Petrol and Diesel. Engine sizes and transmissions vary from the SUV 1.4L 7 SP Auto S-Tronic to the SUV 2.0L 7 SP Auto S-Tronic.
When we reviewed the 'price and features' of the Q2 2017, Peter Anderson gave it a rating of 7 out of 10. Find out more in the full review here.
A new generation of the Audi Q2 SUV was released this year.
Interested in an Audi Q2?
Request a Quote
Locate Stock
Book a Test Drive

Insurance Quote

Get Secured Car Loan
Price Guide
$32,490
Based on 48 cars listed for sale in the last 6 months
Explore prices for the
2017 Audi Q2
SUV
Audi Q2 Models
SPECS
PRICE
1.4 Tfsi Design

1.4L

PULP

Premium Unleaded Petrol

7 SP AUTO

7 speed automatic

$25,100 – 33,330

1.4 Tfsi YA COD

1.4L

PULP

Premium Unleaded Petrol

7 SP AUTO

7 speed automatic

$24,100 – 32,780

1.4 Tfsi YAC Edition 1 COD

1.4L

PULP

Premium Unleaded Petrol

7 SP AUTO

7 speed automatic

$30,300 – 39,710

2.0 TDI Quattro Sport

2.0L

Diesel

Diesel

7 SP AUTO

7 speed automatic

$31,200 – 40,810

2.0 TDI Quattro YD

2.0L

Diesel

Diesel

7 SP AUTO

7 speed automatic

$28,800 – 38,170

2.0 Tfsi Quattro Sport

2.0L

PULP

Premium Unleaded Petrol

7 SP AUTO

7 speed automatic

$30,700 – 40,260
* Manufacturer's Suggested Retail Price
Audi Q2 2017 FAQs
Check out real-world situations relating to the Audi here, particularly what our experts have to say about them.
Should I buy extended warranty?

There's good and bad news here, John. The transmission in the car you're looking at is code-named DL501 and it's a wet-clutch design. That's distinct from some of the dry-clutch designs also used by the VW Group which were much more troublesome with a high rate of failures. That's the good news.

The bad news is that even with its more durable wet-clutch design, the DL501 has also been known to suffer what appear to be inherent problems. Mainly, those relate to the mechatronic unit (more or less the transmission's central nervous system) and premature wear in the clutch plates themselves.

The car you're looking at has covered a very low distance, so it should be okay for now, but there's no telling what dramas might crop up with years and kilometres. The problems will likely be worse if the car has not been serviced by the book, so check the service handbook for evidence of this. Even then, it's a bit of a gamble.

But the only thing I'd stay further clear of than a DSG transmission would be an extended warranty from a car-yard. These are specifically written to exclude the things you're most likely to need them for. Have a close look at the fine print and you might find that the sort of transmission problems you'd expect in this car will be specifically excluded.

Show more
What oil does a 2004 Audi A4 use in the engine?

I'd go for a fully synthetic engine oil with a viscosity rating of 5W-40. The turbocharged 1.8-litre engine in that model is a pretty hard-working unit and quite a complex engine, so frequent oil changes are critical to its longevity. The brand of oil is not so important, provided you use a quality brand and not the Brand-X stuff sold at supermarkets and some online clearing houses. Don't forget to change the oil filter at the same time; putting clean, fresh oil through an old, dirty filter makes no sense at all.

Show more
Audi A5 2016: Petrol or diesel?

Both the petrol and diesel versions of Audi's V6 are high-performance units that will provide all the performance you'll ever need. But for most people buying an A5, there's really only one that's the right engine for them and it has nothing to do with reliability.

The turbo-diesel V6 is only really happy if you're regularly using it for longer journeys where the engine gets hot enough to regenerate its soot-filter. This isn't an Audi-specific thing; it applies across the board to all modern, common-rail diesel engines with soot-filters. For most urban-dwelling Australians, the pattern of vehicle usage doesn't include those critical long journeys at freeway speeds, and driving around the suburbs for 12 months without a regular gallop on the open road will almost guarantee problems with the diesel's emissions control systems (including the soot-filter).

Which means that for the vast majority of A5 buyers, the petrol V6 is the only way to go. While you will be losing a little fuel economy over the diesel, the petrol V6 is actually a nicer engine to use and live with. It's faster, smoother and definitely more refined. And you won't smell like a semi-trailer every time you fill up.

Show more
See All Audi FAQs
Disclaimer: You acknowledge and agree that all answers are provided as a general guide only and should not be relied upon as bespoke advice. Carsguide is not liable for the accuracy of any information provided in the answers.
Interested in an Audi Q2?
Request a Quote
Locate Stock
Book a Test Drive

Insurance Quote

Get Secured Car Loan