Top 5 tips for a great camping trip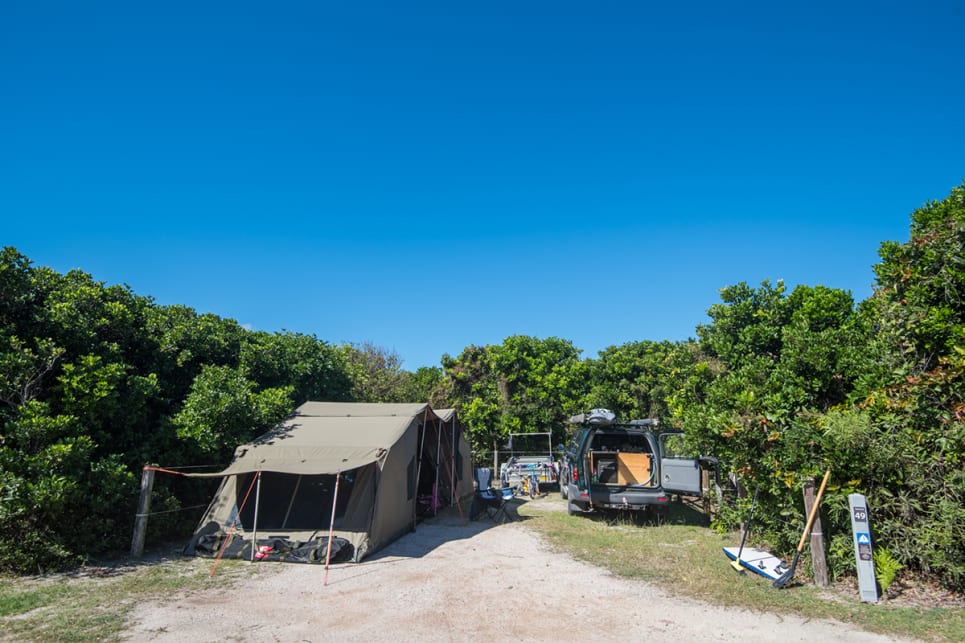 Millions of years of human evolution have brought us to the point where we live in sturdy houses filled with comforts that would have been unimaginable just half a century ago.
Yet despite that, there are few things in this world as satisfying as time spent as far away from those comforts as possible. And a great camping trip is none too hard to organise, either. Just keep in mind these five simple tips and you'll soon be wondering why you ever decided to live in a house. 
1. Choose the perfect camping spot. 

The best campsites are always the ones with no one around.
There are roughly 18,000 places in which to camp in Australia. These range from incredibly remote campsites where you need to be completely self-sufficient, to full-featured holiday resorts where you might sleep in a tent, but you dine in a restaurant and send your kids off to kids club each day, to a side-of-the-road rest area where an orchestra of trucks engine braking all-night long accompany your broken sleep. There is a handful of great tools to help you choose a spot that suits the experience you're chasing. Phone-based apps, such as WikiCamps, are databases of crowd-sourced campsite information, while camping guides and magazines often have very detailed guides to certain locations. 
Whatever you do, don't over-extend yourself. Choose a campsite that suits your ability to be self-sufficient. For example – if you don't want to dig a hole to do your business, but love the idea of being surrounded by nature, a National Park campground might be perfect. If you have a rambunctious load of kids with boundless energy, a caravan park complete with jumping pillow, waterfront and bike-tracks might be more your style. 
TOP TIP – Just because it looks great in an Instagram shot doesn't make a location the perfect campsite. Choose your site on its merits, not its outlook.
2. Don't skimp on comfort.

Nothing beats a good campfire while camping.
Sure, it's camping and it's supposed to be a little rugged, but if no one sleeps well, no one has fun. Bedding comfort is one of the most important aspects of a camping trip. That cheap air mattress you saw in a department store just isn't going to cut it and neither is the $30 tent or $15 icebox, especially if you're trying to impress a special someone to continue coming on camping trips with you. 
Camping gear is generally priced according to quality and disposability. If something seems so cheap you'd almost consider just using it once, there's a good chance that's how long it will last. Like most things in life, good quality is worth paying for, and good quality camping gear isn't always cheap. Spend as much money as you can afford on good bedding, quality shelter and effective food storage and you're well on your way to a perfect camping trip. 
TOP TIP – 12V Electric fridges are the bee's knees in camping convenience, but they can be a nightmare if you can't power them effectively. An icebox that'll keep ice cold for a week will never let you down.
3. Bring some toys

If you can't fit them all in, don't be afraid to bring a trailer.
As nice as it is to immerse yourself in nature, take a step back from the pressures of life and find your inner zen, that will get mighty boring once you've done it all, but still have the rest of the week to sit around at camp. Don't pack so much camping gear that you can't fit some toys – bikes, surfboards, fishing rods, books – if it's something you love doing normally, you'll love it even more while camping. If you want to sit around all week being bored, stay at work. Oh, and bring some stuff for the kids as well… 
TOP TIP – Hire a trailer if you need to, or even a caravan or camper trailer. Peer-to-peer RV hire companies are popping up all over the place.
4. Prepare for the worst

Don't set up your tent here, for example.
The best – and worst – thing about camping is that you get to experience nature in all its wondrous glory. Even if the forecast is for sunny days and light breezes, prepare for lightning storms and torrential rain. That might mean setting up a huge tarp or awning as protection from the elements, or just having a back-up plan if you need to pack up early. Trust me, there is nothing worse than sleeping in a damp tent and there is nothing more satisfying than sleeping perfectly dry inside a tent while the heavens are opening up outside. 
TOP TIP – Before setting up your tent, look for tell-tale signs of water flow. Dry cracked ground could mean that's a common place for a puddle, while leaf litter pushed into a dense pile is probably where a lot of water flows in heavy rain. 
5. Practice makes perfect

Keep it simple the first few times.
The first time you go camping something will go wrong. Don't worry about it. Consider setting up your tent at home so you know how it's done, or even better, go away with some mates who've done it heaps and just let them do it for you. As you go on more trips you will buy more gear and throw other things out – that's progression. You'll learn that the things you most commonly use at home are the same as what you use at camp, and start to pack accordingly. Eventually, one place will be as comfortable for you as the other. 
TOP TIP – Consider camping close to home the first few times, so if you forget something, it's not a long drive to go and get it.
So you reckon you've got some even better camping tips than ours? Well, then, tell us in the comments below.