19 October 2017
Someone turned a Mercedes V12 limo into the world's most absurd drift car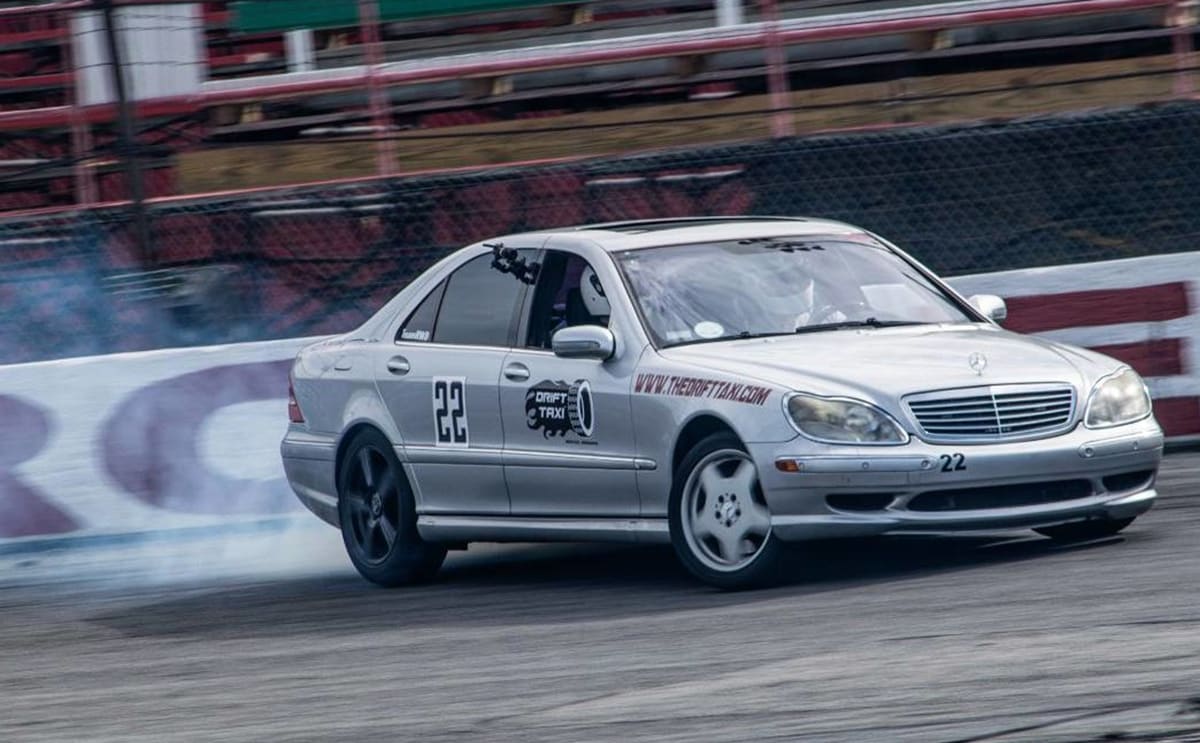 I doubt that when Mercedes was dropping billions on the W220 flagship it thought 'but what if someone wants to get the arse out?'
Well, it's 2017, and we do want to get the arse out. Which is pretty dumb when you think about it. But so is the W220 generation of the Mercedes-Benz S-Class. Particularly the S600 model.
Firstly, it has pretty much every single gadget under the sun: air suspension, adaptive cruise control, keyless ignition, 'soft close' doors, and automatic everything. Which is pretty cool, given this was made pre-iPod.

When the W220 first hit the market, you'd have to be pretty well off to get one. Now they're worth pennies. (image credit: the_drift_taxi/Instagram)
However, the downside of being one of the most cosseting cars in the world is that it's heavy. Really heavy. With a mass of circa-2000kg, you certainly don't really want to throw this bouncy castle on wheels into a tight, negatively cambered corner before having a long and proper think about it. If you do - best to roll up your Cartier cufflinks and scream 'Valhalla!' going in.
As this is a 600 grade of the S-Class, power is provided by a V12. A big one; 5.8-litres provides 270kW and 529Nm worth of effortless thrust in order to hit its electronically limited top speed of 250km/h. Though, we've seen derestricted versions hit upwards of 280km/h.

No obnoxious 'stu-tu-tu'-ing here, just the deep growl of a nuclear power station waking up.
So why would someone in their right mind want to turn it into a drift car? Who knows. But that hasn't stopped competitive drifter David Adams, aka the_drift_taxi, from giving it a go.
Fitted with a straight pipe exhaust, a locked rear diff, and strobe lights (no, really) this massive two-tonne leviathan is planned to offer drifting packages where you and your friends can be driven around sideways. Think of it like the Nurburgring Ring Taxi, except smokier. And in Indiana.

"How many degrees of yaw should I apply? Yes, sir. Very good sir." (image credit: the_drift_taxi/Instagram)
Apparently, Adams purchased the S600 after looking for a car that could get people sideways in 'comfort'. That, and how no one else ever uses them in motorsport.

If you take your phone, you'll get some pretty good shots of the front seat's headrest.
Makes you wonder what people will be doing with the current gen S-Class. Particularly given that there's now a 2.2-ton convertible in the range. And a hybrid.
Check out the video below for some extra driftastic footage.
What do you think of the Drift Taxi? Are there any other land barges that you'd like to see go sideways?