9 October 2017
Lamborghini once bolted two turbos to the Countach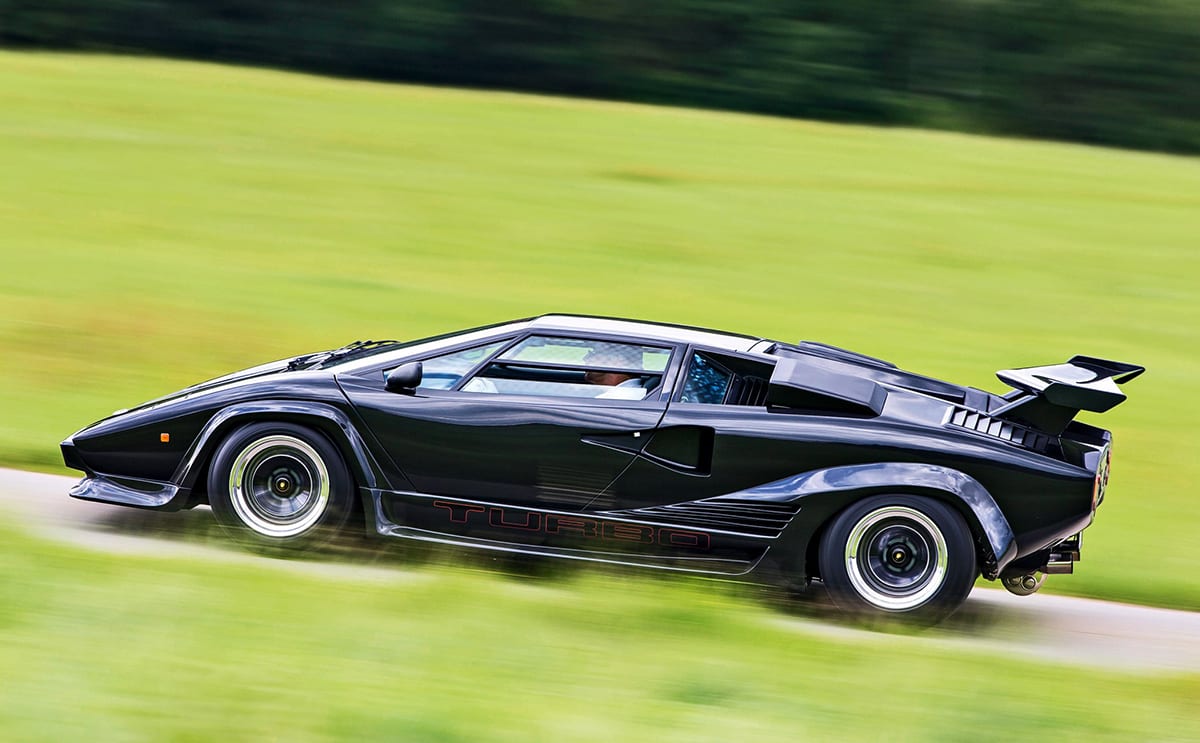 Because if there was a supercar from the 1980's that needed some extra kick, it was Lamborghini's halo superstar.
1984 was an interesting time for the motoring world. Ferrari brought out its soon-to-be iconic Testarossa, Ford dropped the little white RS200 bombshell on the Group B World Rally Championship, and Peugeot had just released the 205 GTi - what is considered by some anyway - to be the best hot hatch of all time.
But none of that mattered, because Lamborghini, in all of its pre-Audi ownership lunacy, concluded that it was a good idea to pump 1.5 bar of boost into an engine that was originally designed in 1963.

With Porsche, Saab, and Lotus going down the blown routes, we don't blame Lambo for being a little 'turbo-curious'. (image credit: gtplanet.net)
With said 'sensible' amount of boost, and a lick of black paint, power levels the 4.7-litre V12' rose from the adequate 276kW (375hp) found in the latest LP500 S, up to a colossal 549kW (746hp). 549kW - in 1984! What's more impressive is the torque figure, which was more than doubled, from 418Nm to 876Nm. This thing was still running on carbs, by the way. Six of them.

The Countach is famed for being one of the most difficult cars to drive; I doubt the addition of turbocharging eases that issue. (image credit: gtplanet.net)
Unlike most 'tuned' turbo cars of the era however, the 1515kg Countach could actually put most of its power down in the low-to-mid ranges. Whereas everything else with circa-600hp would just light up its wheels, the combination of the Countach's already tall gearing and fat 345-section rear tires (the widest in production, up until the Aventador S) meant that the added performance really paid dividends. Should you have the testies to hold it flat anyway.

Just earn your red P-plates? Manually crank up the boost from 0.7 to 1.5 Bar. (image credit: gtplanet.net)
Unfortunately though, because Lamborghini commissioned Austrian engineer, Franz Albert, to make just two of these, you'll probably never see one on the road today. But it gets worse - only one is known to still exist. Apparently, the other one was crashed, or 'lost'.
Either way, that makes the Lamborghini Countach LP 500 Turbo S, quite literally, one of a kind. Shame...
What do you think of the big twin-turbo Lambo? Should they do a 21st Century homage with the Aventador? Tell us what you think in the comments below.