7 August 2018
Here are the best parallel-dimension VW models built in Brazil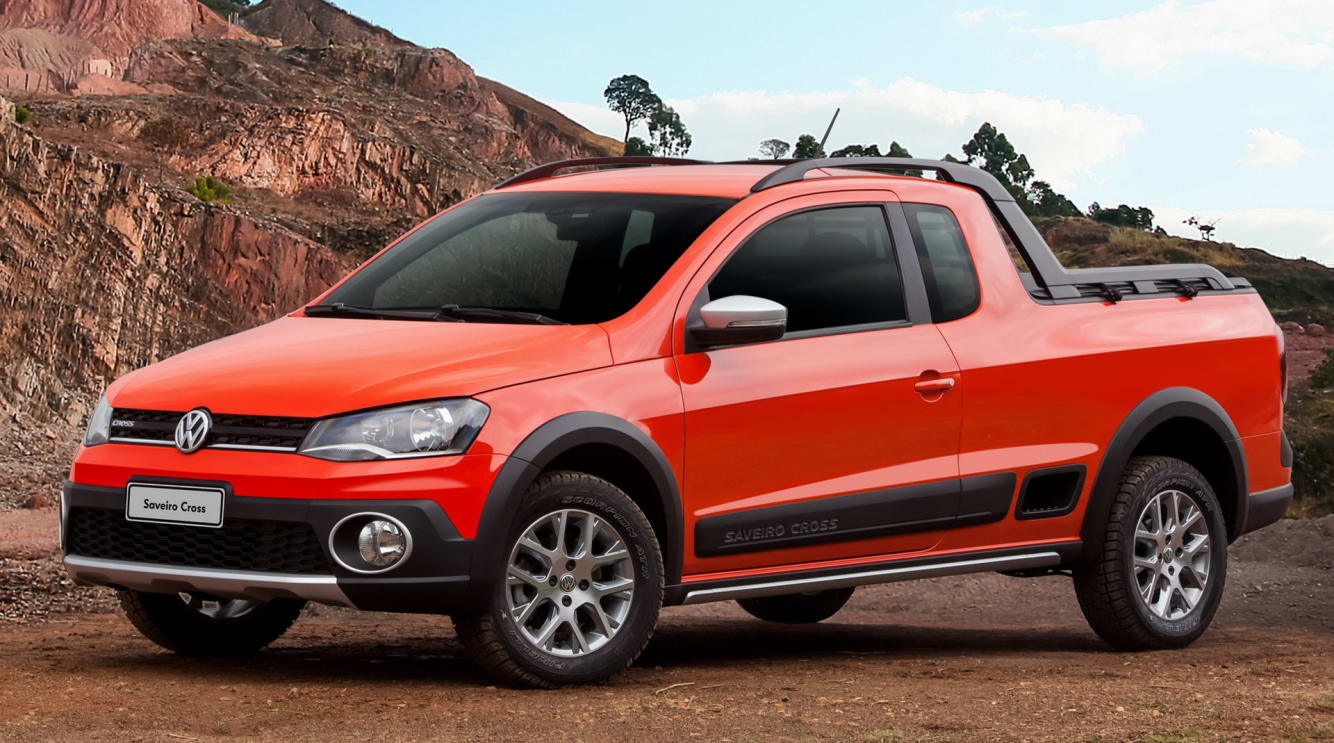 What do you think of when you think "Brazil"?
Delicious cuisine? Vibrant Latin language? Political instability? A half-decent Soccer team?
How about Volkswagen?
Volkswagen should come to mind, because the brand has a rich history in Brazil.
Did you know, for example, that Volkswagen was once the largest and best-selling vehicle manufacturer in the country, it has developed nine models locally in Brazil, and that the T2 Kombi was built brand-new there until December 2013? (yeah, it even made an ugly water-cooled version, check it out)

Just glue a radiator on the front, why not?
To this day, taking a look at Volkswagen's Brazilian website reveals a bunch of cars that look like they were dropped out of a parallel universe. Aussies will be fans of this first one.
Volkswagen Saveiro

Go for a surf in your weird Polo-ute-thing.
There's no better way to describe this. It's a Polo ute.
Well, sort of. It's based on VW Group's A04 platform which underpinned the Mk4 Polo, Audi A2 and Skoda Fabia from the early-to-mid '00s. In Brazil, it shares its chassis and component set with the Volkswagen Gol (yeah, the Gol, not Golf) which is a hatch that slots between the Up! and the Polo.
It's even sold in a variety of bodystyles from CS (single cab) CE (extra cab?) and CD (like a dual cab, sans the doors…).
It costs between the equivalent of AU$18,026 and $29,758 and is served with a 1.6-litre engine that produces roughly 78kW mated to a five-speed manual.
Volkswagen SP2

Looks fast. Is actually slow. The relatively-unknown successor to the Karmann Ghia.
Brazilians were, understandably, tired of the Karmann Ghia by the early '70s. The 'sportscar' dating back to 1955 was looking old, even by Brazil's far more lenient standards.
The trouble was, at this point in the country's tumultuous political history, vehicle imports had been banned. It wasn't a problem though, because Volkswagen do Brazil (VW of Brazil) decided to make its own successor.
The resulting car was called the SP2. It shared a chassis and some mechanicals with the Type 3, but had a worked, 1700cc version of the air-cooled flat-four boxer engine. Before you ask, there was an SP1, but after selling just 88 units it was discontinued thanks to it being fitted with a comically underpowered 1600cc engine (48kW). The SP2 wasn't much better, with power just north of 53kW, earning it the nickname 'Sem Potência' or 'No Power' in Portuguese.
Despite a surprising 11,123 units being produced, only a few hundred were exported, one of which sits in Volkswagen's Wolfsburg museum to this day. The remaining examples are prized collector's items.
Volkswagen Brasilia

Volkswagen somewhat successfully stared down GM's T-platform Chevette with the Brasilia.
Facing down a challenge laid by GM in the form of the Chevrolet Chevette (AKA the Opel Kadett C, or here as the Holden Gemini), Volkswagen do Brazil had to produce something a bit more appealing than the Beetle or Type 3.
From that was born the Brasilia. Remaining rear-engined and air-cooled, the body was re-designed for the expectations of a small family in the early '70s. It was not exciting with the 1.6-litre flat-four making just over 30kW allowing it to accelerate 0-100km/h in an excruciating 23 seconds but went on to sell over a million units in just nine years. It was a true air-cooled Beetle-replacement success story.
Would you travel to dimension Brazil to drive any of these oddities? Tell us what you think in the comments.